Synthesis of dual functional Al-doped ZnO particles for photocatalysis and heat shielding property applications
Original Paper: Sol-gel and hybrid materials for energy, environment and building applications
Abstract
The dual functional Al-doped ZnO (AZO) particles with photocatalysis and heat shielding capability were prepared by citric acid inducing sol-hydrothermal method. The effects of citric acid concentration on the microstructure, photocatalysis, and heat shielding property of AZO were investigated. The UV–Vis absorption spectra showed that the optical band gap energy of AZO were in the range of 2.93–2.79 eV and decreased with the increase of citric acid concentration in the precursor soliquid. The photocatalytic activity experiment results indicated that the as-prepared AZO products all exhibited higher photocatalytic efficiency than the pure TiO2-P25, and the photocatalytic efficiency increased with the increase of citric acid concentration. Particularly, the AZO sample synthesized with citric acid concentration 1.0 M exhibited the highest photocatalytic degradation rate for Rhodamine B under irradiation of ultraviolet light. Furthermore, the as-prepared AZO/polyvinyl alcohol (PVA) resin composite coatings on glass substrate exhibited better heat shielding property. The dual functional AZO particles with excellent photocatalytic activity and heat shielding property will have broad applications in the field of energy-saving and environmental purification.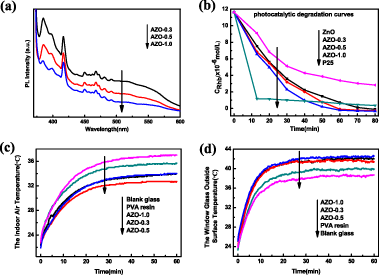 Keywords
Al-doped ZnO 
Sol-hydrothermal method 
Photocatalysis 
Heat shielding 
Notes
Acknowledgements
This work was financially supported by the National Natural Science Foundation of China (No. 51278074, No.51778098), the 2015 Science & Technology Project by the Ministry of Housing and Urban-Rural Development of China (2015-K1-042), the 2015 Liaoning Province Colleges and Universities Outstanding Talent Support Program (LR2015005), the project of Dalian Science & Technology Foundation (2015B11NC074) and the 2016 Dalian City Construction Science & Technology Project (201612).
Compliance with ethical standards
Conflict of interest
The authors declared that they have no conflicts of interest.
Copyright information
© Springer Science+Business Media, LLC, part of Springer Nature 2018