Facile and rapid synthesis of nanoplates Mg(OH)2 and MgO via Microwave technique from metal source: structural, optical and dielectric properties
Original Paper: Nano-structured materials (particles, fibers, colloids, composites, etc.)
Abstract
Magnesium hydroxide and magnesium oxide nanostructures have been prepared by microwave/hydrothermal technique using magnesium metal in hydrogen peroxide (H2O2). The applied power of the microwave was 700 W for 10 min at 145 °C. The method produced Mg(OH)2 powder as a base material for MgO by calcinations at 550 °C for 2 h. X-ray diffraction data confirms the microwave production of Mg(OH)2 and (MgO) through the agreement with the standard JCDPS cards. Scanning electron microscopy shows nanoplates morphology for Mg(OH)2 and large-scale nanoplates with a hexagonal shape for MgO. The fundamental direct optical band gap of Mg(OH)2 equals 5.8 eV while for MgO equals 5.2 eV from the analysis of diffused reflectance data. MgO has higher dielectric constant than Mg(OH)2 at the higher frequencies. AC electrical conductivity increases with increasing the applied frequency for both materials. The microwave-hydrothermal technique shows a promising method for production of magnesium compounds from magnesium metal which can be used in different aspects such as catalysis, wastewater treatment, pharmaceutical and coated materials.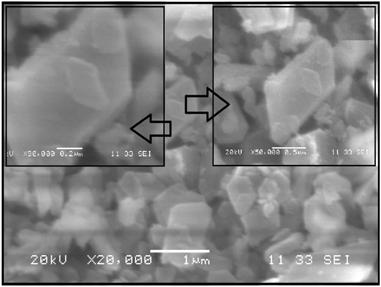 Keywords
Mg(OH)2 
MgO 
Nanoplates 
Microwave-hydrothermal technique 
Diffused reflectance 
Dielectric properties 
Notes
Acknowledgements
The authors are grateful to The Research Center for Advanced Material Science (RCAMS) at King Khalid University, with grant number (RCAMS-1-17-5).
Compliance with ethical standards
Conflict of interest
The authors declare that they have no conflict of interest.
Copyright information
© Springer Science+Business Media, LLC, part of Springer Nature 2018