A new route for the preparation of CoAl2O4 nanoblue pigments with high uniformity and its optical properties
Original Paper: Sol-gel and hybrid materials for optical, photonic and optoelectronic applications
Abstract
Gamma-ray irradiation assisted polyacrylamide gel route was used to prepare CoAl2O4 nanoblue pigments. In this route, citric acid was used as a carboxyl and hydroxyl type chelating agent. The phase purity, morphology, and optical and fluorescence properties of as-prepared samples were analyzed via X-ray diffraction (XRD), Fourier transform infrared (FTIR) spectrometer, transmission electron microscopy (TEM), UV–Visible spectrophotometer, and a confocal Raman system. XRD analysis indicates that the xerogel sintered at relatively low temperature (500 °C) to obtain single phase CoAl2O4 nanopowders. The primary crystal of CoAl2O4 nanoblue pigment is only 28 nm characterized by TEM, which is more likely to be realized with high uniformity than that the CoAl2O4 nanopowders prepared by conventional polyacrylamide gel route. Optical properties of CoAl2O4 nanoblue pigment shows that the optical energy gap (Eg) of nanoblue pigment increases with the decrease of crystallite size. The CIE parameter of CoAl2O4 nanoblue pigment indicates that a different sintering temperature causes a variation in the color of nanoparticles. The fluorescence spectra show that a major blue emission band around 400 nm and a weaker side band located at 430 nm are observed when the excitation wavelength is 325 nm. The chelation mechanism and fluorescence mechanism of the CoAl2O4 nanoblue pigment have been analyzed based on the experimental results.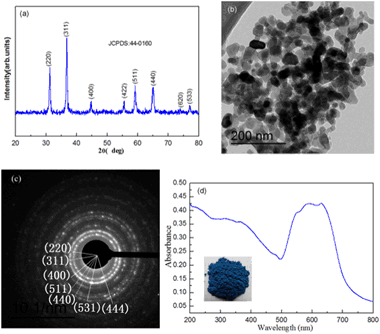 Keywords
Polyacrylamide gel route 
CoAl2O4 
Nanoblue pigment 
Chelation mechanism 
Fluorescence mechanism 
Notes
Acknowledgements
This work was supported by the National Natural Science Foundation of China (51662027, and 61540043).
Compliance with ethical standards
Conflict of interest
The authors declare that they have no conflict of interest.
Copyright information
© Springer Science+Business Media, LLC, part of Springer Nature 2018