Improving imprinted shape cavities of molecularly imprinted sol–gel host matrix with minimal relaxation for sensing of creatinine
Original Paper: Sol-gel, hybrids and solution chemistries
Abstract
Molecularly imprinted polymer (MIP) is of great attention in biomimetic recognition systems due to its selective molecular recognition towards any guest of interest. In this study, creatinine (Cre) was eluted from MIP via physical means to create the best molecular fitting to Cre. Among the polar eluents, methanol could overcome the intermolecular attractions between Cre and aluminium ion (Al3+) while conserving the Cre-shape memory to optimum with the minimal relaxation of the sol–gel host matrix simultaneously. With regard to the optimised shape complementarity of MIP, the solvation effect was scrutinised to reveal the interactions with Cre and MIP/NIP, respectively. Again, the Cre-adsorption in methanol compromised both the binding magnitude and imprinting factor reasonably the best at 19.48 ± 0.64 mg g−1 and 2.00 ± 0.09, respectively. Nevertheless, MIP was capable of selective uptake of Cre even in the presence of interfering analogues, i.e., creatine (Cr), N-hydroxysuccinimide (N-hyd), and 2-pyrrolidinone (2-pyr), by competitive selectivity coefficients of 3.01 ± 1.11, 3.75 ± 0.57, and 5.24 ± 4.59, respectively. In overall, MIP has proven its feasibility as a selective sorbent in capturing the molecule of interest with good recognition ability.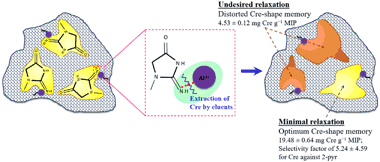 Keywords
Molecularly imprinted polymer 
Sol–gel host matrix 
Creatinine 
Template removal 
Minimal relaxation 
Shape complementarity 
Notes
Acknowledgements
The authors gratefully acknowledge the financial support from ScienceFund (305/PJKIMIA/6013393). QYA is financially assisted by the Ministry of Higher Education (MOHE) and Universiti Malaysia Perlis (UniMAP).
Compliance with ethical standards
Conflict of interest
The authors declare that they have no conflict of interest.
Copyright information
© Springer Science+Business Media, LLC, part of Springer Nature 2018