BN—hybrid polymer composites: influence of particle surface functionalization
Original Paper: Sol-gel and hybrid materials for dielectric, electronic, magnetic and ferroelectric applications
Abstract
Boron Nitride (BN) particles were functionalized with vinyl-trimethoxysilane (VTMS) and incorporated into a hybrid polymer (ORMOCER®) resin. The thermal conductivity and mechanical properties of the resulting composite were compared to materials prepared using unmodified particles. Results indicate that the chemical bonding between grain surface and ORMOCER® matrix has a pronounced effect on the final performance of the respective compounds.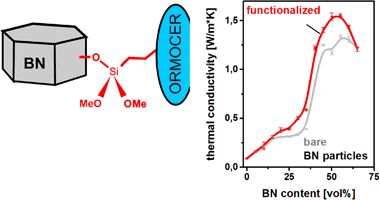 Keywords
ORMOCER® 
BN 
Surface modification 
Composite 
Thermal conductivity 
Mechanical properties 
Notes
Compliance with ethical standards
Conflict of interest
The authors declare that they have no conflict of interest.
Copyright information
© Springer Science+Business Media, LLC, part of Springer Nature 2018