Dissolution kinetics of mesoporous silica nanoparticles in different simulated body fluids
Original Paper: Sol-gel and hybrid materials for biological and health (medical) applications
Abstract
The application of mesoporous silica nanoparticles as a platform for drug delivery and bioimaging requires a good understanding of the degradability of these particles under physiological conditions. Optimally, the degradability should be studied in vivo using relevant administration routes and dosings, but such studies are complicated and expensive. Thus, the biodegradability is often studied in vitro using simulated body fluids. However, such studies are scarce to date, and the results are partially conflicting. The aims of this study were therefore (a) to determine the influence of the composition of different simulated body fluids on the observed silica dissolution rates and (b) to establish morphological key parameters that determine the dissolution kinetics of silica nanoparticles. As dissolution media, simulated body fluid (SBF), simulated lung fluid (SLF), simulated gastric juice (SGF) and PBS buffer were used, and the silica concentration was kept below the silica saturation limit. Three mesoporous silica particles of different sizes were studied together with one non-porous Stöber-type silica particle. The observed silica dissolution rates followed the order SLF > SBF ≈ PBS ≫ SGF. Apart from general pH effects, the presence of organic acids in SLF is suggested to enhance the silica dissolution rate. The specific surface area was identified as the main parameter controlling the rate of dissolution of the different silica particles studied, while particle size influences were minor.
Graphical Abstract
The dissolution of mesoporous silicas with different particle sizes has been studied in four different physiological buffers.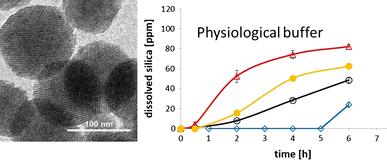 Keywords
Mesoporous silica 
Silica dissolution 
Physiological buffers 
Simulated body fluids 
Notes
Acknowledgments
The authors gratefully acknowledge Margit Lang from the Institute of Analytical and Bioanalytical Chemistry, Ulm University, who performed the ICP-OES analysis. The research was funded by the European Union's Seventh Framework Programme (FP7/2007-2013) under Grant Agreement No. 604182, FORMAMP-Innovative Nanoformulation of Antimicrobial Peptides to Treat Bacterial Infectious Diseases (http://ec.europa.eu.research).
Copyright information
© Springer Science+Business Media New York 2016