Oxygen-containing/amino groups bifunctionalized SBA-15 toward efficient removal of methylene blue: kinetics, isotherm and mechanism analysis
Abstract
Bifunctionalized SBA-15 with oxygen-containing/amino groups (NH2-SBA15-ox) has been synthesized using a sequential processing strategy: (1) direct conversion of P123 organic surfactant into a thin carbon layer on the interior framework of short-channeled SBA-15 (C-SBA-15), (2) as-prepared C-SBA-15 was then fully oxidized with (NH4)2S2O8 (C-SBA15-ox) and (3) the C-SBA15-ox was post-modified via treatment with APTMS, which created a high density of amino functional group mainly on the external surface of platelet particles. It was shown that bifunctionalized SBA-15 demonstrated much improved adsorption performance toward methylene blue under adsorption testing conditions. Specifically, the adsorption equilibrium time was significantly reduced from 180 min (initial SBA-15) to 60 min (C-SBA15-ox) and then to no more than 10 min (NH2-SBA15-ox); the maximum adsorption capacity was increased from 157 mg/g (initial SBA-15) to 379 mg/g (C-SBA15-ox) and then to 445 mg/g (NH2-SBA15-ox). In combination of short-channeled framework and bifunctionalized surface groups, the NH2-SBA15-ox should be considered as a potential adsorbent to remove other toxic substances from wastewater.
Graphical Abstract
Integration of oxygen-containing/amino functional surface group and platelet morphology endowed SBA-15-like sorbents with high affinity and fast adsorption kinetics toward methylene blue from aqueous solution.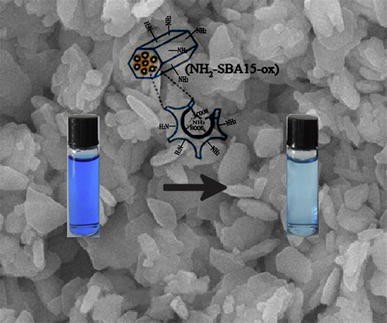 Keywords
Surface chemistry 
Adsorption 
Pore diameter 
Dye 
SBA-15 
Notes
Acknowledgments
Financial support from the National Natural Science Foundation of China (21446001), the Program for Liaoning Innovative Research Team in University (LT2013012) and the Program for Liaoning Excellent Talents in University (LJQ2014056) is highly appreciated.
Copyright information
© Springer Science+Business Media New York 2015