Entrapment of phenol red (PR) pH indicator into sol–gel matrix in presence of some surfactants
Abstract
Sol–gel entrapment method was used to entrap phenol red (PR) pH indicator into mesoporous silica materials, in presence of ethanediyl-1,2-bis (dimethyldodecylammonium bromide (Gemini 12-2-12), alkyl hydroxyethyl dimethyl ammonium chloride (HY, R = 12–14) and sodium dodecyl sulfate (SDS) surfactants. The use of surfactants has modified the morphology and porosity of silica host matrix for better sensing capabilities. The physical interactions of the different surfactants between PR molecules and host mesoporous silica network are well explained. The presence of SDS, Gemini 12-2-12 and HY surfactants has shifted pKa values of to less acidic and more basic in comparison with that of free PR and PR-entrapped silica system.
Graphical Abstract
Behavior of PR-entrapped porous silica in presence of Gemini 12-2-12.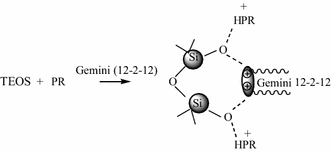 Keywords
Phenol red 
Sol–gel pH sensor 
Sol–gel entrapment method 
Surfactants 
Sol–gel matrix 
Entrapment of pH indicators 
Notes
Acknowledgments
The authors would like to thank the Chemistry Department at Al-Azhar University of Gaza for its generous support.
Copyright information
© Springer Science+Business Media New York 2015