Mn3+ ion in perovskite lattice: a potential Fenton's reagent exhibiting remarkably enhanced degradation of cationic and anionic dyes
Abstract
Lanthanum ferrite is reported to possess catalytic properties. However, catalytic activity of Mn-doped lanthanum ferrites has not been reported so far. The work reports, for the first time, the synthesis of LaMn x Fe1−x O3 (x = 0.0, 0.1, 0.2, 0.3, 0.4 and 0.5) and investigates their catalytic activity in the presence and absence of visible light irradiation. The synthesized ferrites possessed phase purity and had same symmetry as pure LaFeO3. The unit cell volume of ferrite compositions decreased with increasing manganese content. The average crystallite size was ~60 nm. The d.c. resistivity of ferrites decreased with increasing temperature, confirming semiconductor behaviour of ferrite compositions. Further, these were utilized to study the decomposition reaction of hydrogen peroxide solution. It was observed that the ferrites catalysed the decomposition of hydrogen peroxide. The rate of hydrogen peroxide decomposition increased with increasing manganese substitution. Based upon this observation, the ferrites were employed as heterogeneous catalysts in the H2O2-assisted degradation of anionic dyes (Remazol Turquoise Blue, Remazol Brilliant Yellow) and cationic dyes (Methylene Blue, Safranine-O) in absence as well as in the presence of visible light irradiation.
Graphical Abstract
The hydrogen peroxide decomposition using different types of ferrites as heterogeneous catalysis was studied. The catalytic activity was found to be strongly dependent on the particle size and the cation distribution of the ferrite sample.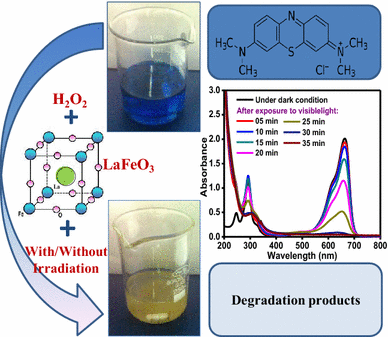 Keywords
Perovskite ferrites nanoparticles 
Catalysis 
H2O2 decomposition 
Dye degradation 
Notes
Acknowledgments
The authors express their deep gratitude to the University Grants Commission (UGC) and Department of Science and Technology (DST) for providing financial assistance.
Conflict of interest
None.
Copyright information
© Springer Science+Business Media New York 2015