A Sol–Gel based magneto-optical device for the NANOSAT space mission
Special Edition: Celebrating the 60th Anniversary of Professor David Avnir
Abstract
On December 2004, the Spanish Space Agency INTA (Instituto Nacional de Técnica Aeroespacial) launched the first nanosatellite called NANOSAT (Fig. 
1
) on board an European rocket Ariane 5, from the French Guyana. The satellite consists of a hexagonal device of <19 kg of weight with a diameter of about 50 cm, which describes a LEO orbit of 655 km of altitude. The main objective of the satellite is to probe the operation and performance of micro- and nanotechnologies in space environment. One of the scientific experiments implemented on board was the Sol–Gel based magnetic nanosensor.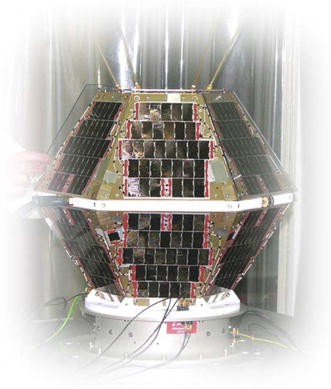 Keywords
Space applications 
Magneto-optical nanosensor 
Sol–Gel 
Notes
Acknowledgments
This work was supported by a research projects from MEC (ESP98-1332-C04-04 and NAN2004-09317-C04-02). R.Pardo is grateful to MEC for a research contract "Juan de la Cierva".
Copyright information
© Springer Science+Business Media, LLC 2009