Abstract
The kinetics of back-extraction of Pu(IV) from 30% Tri-Butyl-Phosphate/Odourless Kerosene (TBP/OK) into a nitric acid solution containing N,N-dimethylhydroxylamine (DMHAN) have been investigated using a Lewis cell. The different parameters affecting the back-extraction rate of Pu(IV) such as plutonium, nitric acid, DMHAN concentration in addition to temperature, stirring speed were separately studied and a rate equation was deduced. The activation energy of this process is 28.4 kJ/mol.
Access options
Buy single article
Instant access to the full article PDF.
US$ 39.95
Tax calculation will be finalised during checkout.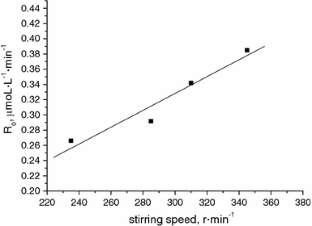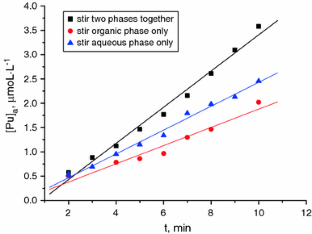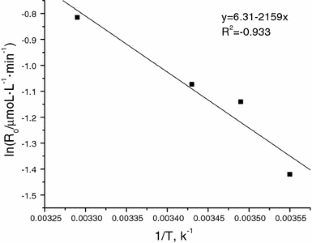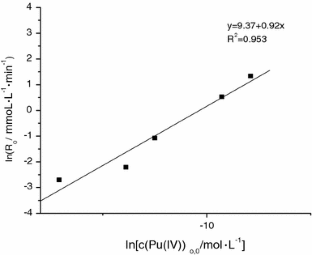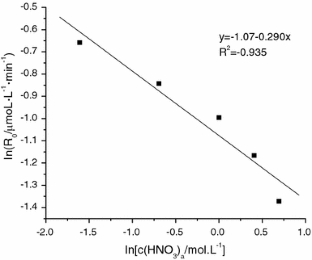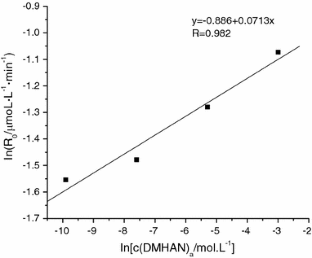 References
1.

Denniss IS, Jeapes AP (1996) Reprocessing irradiated fuel. In: Wilson P (ed) The nuclear fuel cycle: from ore to waste. Oxford Science Publications, Oxford

2.

Choppin GR, Liljenzin JO, Rydberg J (1995) Radiochemistry and nuclear chemistry, 2nd edn. Butterworth-Heinemann Ltd, Oxford

3.

Ren FY, Zhou ZX (2006) Foreign nuclear fuel reprocessing. Atomic Energy Press, Beijing, p 117

4.

Koltunov VS, Marchenko VI (1998) Stabilization of Pu and Np valences in purex process: problems and outlook. The 5th international nuclear conference on recycling, conditioning and disposal held at Nice, France, The French Nuclear Society and the European Nuclear Society, pp 425–431

5.

Ye G-A (2004) Review on the study and application of organic salt-free reagent in purex process. At Energy Sci Technol 38(2):152–158

6.

Koltunov SM, Koltunov VS, Tikhonov MF (1993) Reaction kinetics of Np and Pu ions with hydroxylamine derivatives IV. Reaction of Pu(IV) with N,N-dimetylhydroxylamine. Radiokhimiya 35(4):63–70

7.

Koltunov VS, Taylor RJ, Baravnov SM et al (1999) The reduction of plutonium and neptunium ions by N,N-dimetylhy(hydroxyethyl)droxylamine in nitric acid. Radiochim Acta 86:115–121

8.

Rogers MA (1955) Aliphatic hydroxylamines. Part I. Preparation. J Am Chem Soc 77:769–772

9.

Wallwork AL, Denniss IS, Taylor RJ (1999) Modelling of advanced flowsheets using data from miniature contactor trials: chemical process engineering in the nuclear industry. Nucl Energy 38(11):31–35

10.

Lim TM, Levins DM, Wiblin WA, Tran T (1996) Proceedings of the International Solvent Extraction Conference (ISEC'96), March 19–23, Melbourne, Australia 1, p 445

11.

El-Dessouky SI, Daoud JA, Aly FH (1999) Mechanism of the synergistic extraction of octahedral Co(II) from nitrate medium by 8-hydroxyquinoline-DB18C6 chloroform mixture. Radiochim Acta 85:79–82

12.

Teruo M, Kozo G (1986) Mass transfer coefficients of uranium and plutonium across aqueous/organic interfaces of solvent extraction. J Nucl Sci Tech 23(6):529–539

13.

Danesi PR, Chiarizia R, Coleman CF (1980) The kinetics of metal solvent extraction. Crit Rev Anal Chem 10:1

14.

Pushlenkov MF, Tikhomov NS, Shchepetil'nikov NN (1974) Reduction of Plutonium by means of bivalent iron. 3. CMEA symposium on investigations in the field of spent fuel reprocessing. Marianske Lazne, Czechoslovakia, 24–26 April

15.

Pushlenkov MF, Tikhomov NS, Shchepetil'nikov NN (1977) Kinetics of reductive reextraction of plutonium in two-phase system using various reagents. 4. CMEA symposium on investigations in the field of spent fuel reprocessing. Marianske Lazne, Czechoslovakia, March 28–April 1
About this article
Cite this article
Zuo, C., Yan, T., Zheng, W. et al. Kinetics and mechanism of stripping of Pu(IV) by N,N-dimethylhydroxylamine using a Lewis cell. J Radioanal Nucl Chem 283, 417–420 (2010). https://doi.org/10.1007/s10967-009-0371-5
Received:

Published:

Issue Date:
Keywords
Kinetics

Plutonium(IV)

Dimethylhydroxylamine

Stripping

Lewis cell