Aging induced ductile-brittle-ductile transition in bisphenol A polycarbonate
Abstract
The degradation of biphenol A polycarbonate under the combined action of the photo- and thermal-irradiation in the presence of humidity and oxygen was studied by tensile testing and physicochemical characterizations. A ductile-brittle-ductile transition dissimilar to previously reported aging-induced-embrittlement (ductile-brittle transition) has been revealed in the present article. Further increasing aging time (longer than 650 h) after ductile-brittle transition leads to the rejuvenation in ductile rather than continuous deterioration. Occurring with the second brittle-ductile transition, a competition between oxidation-induced chain scission and crosslinking has also been recorded by FTIR and DSC. Meanwhile, SEM results exclude the possibility that the rejuvenation in ductile is from the change in surface morphology upon aging. Thus, the aging-induced ductile-brittle-ductile transition could result from, at least partly, the competition between oxidation-induced chain-scission and chain crosslinking.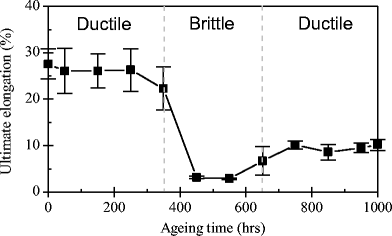 Keywords
Biphenol A polycarbonate 
Ductile-brittle-ductile transition 
Aging 
Chain scission 
Chain crosslinking 
Notes
Acknowledgements
The authors gratefully acknowledge the National Natural Science Foundation of China (No. 51403140 and No. 51133005) for financial support of this research.
Compliance with ethical standards
Conflict of interest
The authors declare no competing financial interest.
Copyright information
© Springer Science+Business Media B.V., part of Springer Nature 2018