Facile noncovalent assembly of MWCNT-LDH and CNF-LDH as reinforcing hybrid fillers in thermoplastic polyurethane/nitrile butadiene rubber blends
Abstract
Zinc-Aluminium layered double hydroxides (LDH) were assembled on pristine multiwalled carbon nanotubes (MWCNT) and carbon nanofiber (CNF) through noncovalent assembly and characterized. Further these hybrids were used as reinforcing filler in TPU/NBR (1:1 w/w) blend. Our investigations showed TPU/NBR blend containing 0.50 wt% MWCNT-LDH hybrid exhibit superior mechanical properties (Tensile strength: 126 % and storage modulus: 321 % at −60 °C) compared to neat TPU/NBR. In contrast, 0.50 wt% CNF-LDH hybrid filled TPU/NBR blend nanocomposites showed enhanced thermal stability (25 °C) and crystallization temperature (36 °C) with respect to neat blend. Such improvements in mechanical and thermal properties could be attributed to better homogeneous dispersion, stronger interfacial interaction and synergistic effect.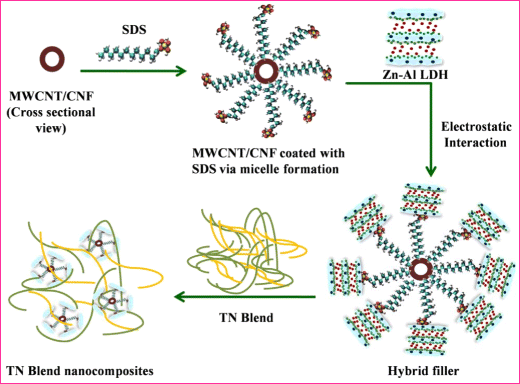 Keywords
Hybrid filler 
Noncovalent assembly 
TPU/NBR blends 
Mechanical properties 
Thermal properties 
Notes
Acknowledgments
The authors are grateful to CSIR, New Delhi, India, for financial support. We express our gratitude to Bayer Germany and Lanxess (Germany) for providing us TPU (Desmopan-9385) and NBR (Krynac 2865F) respectively. Author expresses thanks to Rubber Technology Centre, Indian Institute of Technology, Kharagpur for providing compression moulding and DMA.
Copyright information
© Springer Science+Business Media Dordrecht 2016