Crystallization kinetics of γ phase poly(vinylidene fluoride)(PVDF) induecd by tetrabutylammonium bisulfate
Abstract
The γ phase of poly(vinylidene fluoride) (PVDF) was induced by tetrabutylammonium bisulfate and the kinetics of isothermal and non-isothermal crystallization of the induced γ-PVDF in the absence of α phase were investigated with differential scanning calorimeter. The crystallization kinetics were evaluated on the basis of the theory of Avrami and those modified by Jeziorny, Ozawa, Liu and Mo. The Avrami exponent n of the induced γ-PVDF was evaluated and was found to be in the range of 2.4–2.9 for isothermal crystallization and in the range of 3.1−4.5 for non-isothermal crystallization, much higher than those of γ-PVDF homogeneously nucleated at high temperatures as reported in literature. Moreover, the accelerated crystallization rate of the induced γ-PVDF, even faster than the kinetically most favored α phase, was demonstrated by the drastically shortened half-time of crystallization t1/2 and enhanced crystallization rate constant K. It is shown that dominating γ-PVDF could be melt crystallized with a drastically enhanced crystallization rate with the incorporation of tetrabutylammonium bisulfate.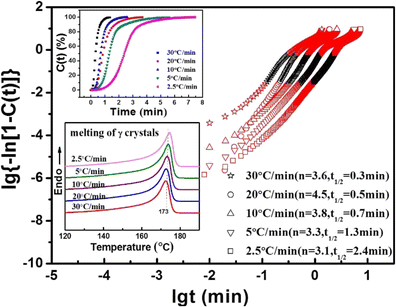 Keywords
Poly (vinylidene fluoride) 
Crystallization kinetics 
Tetrabutylammonium bisulfate 
Notes
Acknowledgments
This work was supported by the National Natural Science Foundation of China (NNSFC Grants 51422305 and 51121001), the MOST (Grant 2012CB025902), the Fundamental Research Funds for the Central Universities (Grant 2011SCU04A03) and the Innovation Team Program of Science & Technology Department of Sichuan Province (Grant 2013TD0013).
Copyright information
© Springer Science+Business Media Dordrecht 2014