Synthesis and optoelectronic properties of polyimides with naphthyldiphenylamine chromophores
Abstract
A series of electroactive polyimides with naphthyldiphenylamine units were prepared from the polycondensation reactions of N,N′-bis(4-aminophenyl)-N,N′-di-2-naphthyl-1,4-phenylenediamine with four tetracarboxylic dianhydrides via a conventional two-step technique. Most of the polyimides were readily soluble in many organic solvents and could be solution-cast into tough and amorphous films. These polyimides exhibited glass-transition temperatures of 288–329 °C and did not show significant decomposition before 500 °C. They showed well-defined and reversible redox couples during both p- and n-doping processes, together with multi-electrochromic behaviors.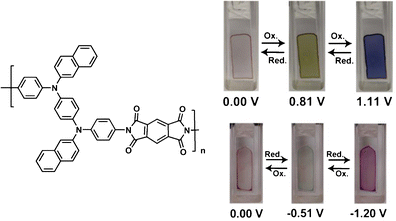 Keywords
Polyimides 
Triarylamine 
Electrochemistry 
Electrochromic polymers 
Redox polymers 
Notes
Acknowledgments
The financial support of the National Science Council in Taiwan is greatly appreciated.
Copyright information
© Springer Science+Business Media Dordrecht 2014