Abstract
Research examining associations between unhealthy weight and sexual risk behaviors derives primarily from cross-sectional studies conducted at varying ages during adolescence. The present study examined longitudinal associations between adolescent sexual risk behaviors and Body Mass Index (BMI), the latter measured prospectively from childhood through adolescence. Data were drawn from an 8095 individuals between the ages of 14 and 19 at last assessment, including 1768 Hispanic (52% female), 2659 non-Hispanic Black (Black; 50% female), and 3668 non-Hispanic, non-Black (predominantly White; 49% female). Childhood BMI predicted increased sexual risk-taking during adolescence for Black and White youth, and increases in BMI predicted increased sexual risk-taking for White females and Black males. The findings highlight differential patterns of association between BMI and sexual risk behaviors for Hispanic, Black, and White females and males with implications for prevention discussed.
This is a preview of subscription content, log in to check access.
Access options
Buy single article
Instant access to the full article PDF.
US$ 39.95
Price includes VAT for USA
Subscribe to journal
Immediate online access to all issues from 2019. Subscription will auto renew annually.
US$ 199
This is the net price. Taxes to be calculated in checkout.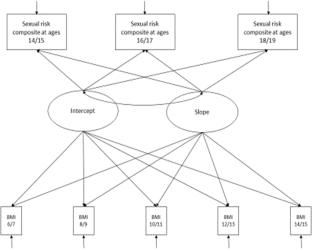 References
Agresti, A. (2003). Categorical data analysis (Vol. 482). New York, NY: John Wiley & Sons.

Ahmed, M. L., Ong, K. K., & Dunger, D. B. (2009). Childhood obesity and the timing of puberty. Trends in Endocrinology & Metabolism, 20(5), 237–242.

Akers, A. Y., Cohen, E. D., Marshal, M. P., Roebuck, G., Yu, L., & Hipwell, A. E. (2016). Objective and perceived weight: associations with risky adolescent sexual behavior. Perspectives on Sexual and Reproductive Health, 48(3), 129–137.

Akers, A. Y., Lynch, C. P., Gold, M. A., Chang, J. C.-C., Doswell, W., Wiesenfeld, H. C., & Bost, J. (2009). Exploring the relationship among weight, race, and sexual behaviors among girls. Pediatrics, 124(5), e913–e920.

Ali, M. M., Rizzo, J. A., & Heiland, F. W. (2013). Big and beautiful? evidence of racial differences in the perceived attractiveness of obese females. Journal of Adolescence, 36(3), 539–549.

Ames, M., & Leadbeater, B. (2017). Overweight and isolated: the interpersonal problems of youth who are overweight from adolescence into young adulthood. International Journal of Behavioral Development, 41(3), 390–404.

Averett, S., Corman, H., & Reichman, N. E. (2013). Effects of overweight on risky sexual behavior of adolescent girls. Economic Inquiry, 51(1), 605–619.

Baskin-Sommers, A., & Sommers, I. (2006). The co-occurrence of substance use and high-risk behaviors. Journal of Adolescent Health, 38(5), 609–611.

Beadnell, B., Morrison, D. M., Wilsdon, A., Wells, E. A., Murowchick, E., Hoppe, M., & Nahom, D. (2005). Condom use, frequency of sex, and number of partners: multidimensional characterization of adolescent sexual risk‐taking. Journal of Sex Research, 42(3), 192–202.

Blum, R. W., Kelly, A., & Ireland, M. (2001). Health-risk behaviors and protective factors among adolescents with mobility impairments and learning and emotional disabilities. Journal of Adolescent Health, 28(6), 481–490.

Biro, F. M., Khoury, P., & Morrison, J. A. (2006). Influence of obesity on timing of puberty. International Journal of Andrology, 29(1), 272–277.

Bollen, K. A., & Curran, P. J. (2006). Latent Curve Models: A Structural Equation Perspective. Hoboken, New Jersey: John Wiley & Sons.

Brookmeyer, K. A., & Henrich, C. C. (2009). Disentangling adolescent pathways of sexual risk taking. The Journal of Primary Prevention, 30(6), 677–696.

Bureau of Labor Statistics, U. D. o. L. (2014). National Longitudinal Survey of Youth 1979 cohort, 1979-2014 (rounds 1-25) [computer file]. Columbus, OH: Center for Human Resource Research, The Ohio State University.

Burkhauser, R. V., & Cawley, J. (2008). Beyond BMI: The value of more accurate measures of fatness and obesity in social science research. The Journal of Health Economics, 27(2), 519–529.

Byrne, B. M. (2013). Structural Equation Modeling with Mplus: Basic Concepts, Applications, and Programming. New York, NY: Routledge.

Cawley, J., Joyner, K., & Sobal, J. (2006). Size matters the influence of adolescents' weight and height on dating and sex. Rationality and Society, 18(1), 67–94.

Centers for Disease Control and Prevention (CDC). (2019). Sexually Transmitted Disease Surveillance 2018. Atlanta: U.S. Department of Health and Human Services. https://doi.org/10.15620/cdc.79370.

Cheng, Y. A., & Landale, N. S. (2010). Teen overweight, weight stigma, and intimate relationship development from adolescence to young adulthood. Max Planck Institute for Demographic Research Working Paper, Rostock, Germany (2010–008).

Cheng, Y. A., & Landale, N. S. (2011). Adolescent overweight, social relationships and the transition to first sex: Gender and racial variations. Perspectives on Sexual and Reproductive Health, 43(1), 6–15.

Cesario, S. K., & Hughes, L. A. (2007). Precocious puberty: a comprehensive review of literature. Journal of Obstetric, Gynecologic & Neonatal Nursing, 36(3), 263–274.

Copeland, W., Shanahan, L., Miller, S., Costello, E. J., Angold, A., & Maughan, B. (2010). Outcomes of early pubertal timing in young women: A prospective population-based study. American Journal of Psychiatry, 167(10), 1218–1225.

Diedrichs, P. C., & Halliwell, E. (2012). School-based interventions to promote positive body image and the acceptance of diversity in appearance. In Oxford Handbook of the Psychology of Appearance. Oxford University Press, Oxford, UK.

Dietz, W. H., & Bellizzi, M. C. (1999). Introduction: the use of body mass index to assess obesity in children. The American Journal of Clinical Nutrition, 70(1), 123s–125s.

Duckworth, J. C., & Waldron, M. (2018). Associations between childhood weight status and timing of first sex in an ethnically diverse sample. Childhood Obesity, 14(8), 566–572. https://doi.org/10.1089/chi.2018.0175.

Euling, S. Y., Herman-Giddens, M. E., Lee, P. A., Selevan, S. G., Juul, A., SØrensen, T. I., & Swan, S. H. (2008). Examination of US puberty-timing data from 1940 to 1994 for secular trends: panel findings. Pediatrics, 121 (Supplement 3), S172–S191.

Finer, L. B., & Philbin, J. M. (2014). Trends in ages at key reproductive transitions in the United States, 1951–2010. Women's Health Issues, 24(3), e271–e279.

Garcia, J. R., Reiber, C., Massey, S. G., & Merriwether, A. M. (2012). Sexual hookup culture: a review. Review of General Psychology, 16(2), 161.

Gordon, L. P., Diaz, A., Soghomonian, C., Nucci-Sack, A. T., Weiss, J. M., Strickler, H. D., & Ochner, C. N. (2016). Increased body mass index associated with increased risky sexual behaviors. Journal of Pediatric and Adolescent Gynecology, 29(1), 42–47.

Gray, L., & Leyland, A. H. (2008). Overweight status and psychological well-being in adolescent boys and girls: A multilevel analysis. The European Journal of Public Health, 18(6), 616–621.

Herman-Giddens, M. E. (2006). Recent data on pubertal milestones in United States children: the secular trend toward earlier development. International Journal of Andrology, 29(1), 241–246.

James, J., Ellis, B. J., Schlomer, G. L., & Garber, J. (2012). Sex-specific pathways to early puberty, sexual debut, and sexual risk taking: Tests of an integrated evolutionary–developmental model. Developmental Psychology, 48(3), 687.

Kann, L., McManus, T., Harris, W. A., Shanklin, S. L., Flint, K. H., Queen, B., & Thornton, J. (2018). Youth risk behavior surveillance—United States, 2017. MMWR Surveillance Summaries, 67(8), 1.

Kuczmarski, R. J., Ogden, C. L., Guo, S. S., Grummer-Strawn, L. M., Flegal, K. M., Mei, Z., & Johnson, C. L. (2002). 2000 CDC Growth Charts for the United States: Methods and Development. Vital Health Statistics, 11(246), 1–190.

Kuortti, M., & Kosunen, E. (2009). Risk-taking behaviour is more frequent in teenage girls with multiple sexual partners. Scandinavian Journal of Primary Health Care, 27(1), 47–52.

Latner, J. D., Stunkard, A. J., & Wilson, G. T. (2005). Stigmatized students: age, sex, and ethnicity effects in the stigmatization of obesity. Obesity Research, 13(7), 1226–1231. https://doi.org/10.1038/oby.2005.145.

Leech, T. G., & Dias, J. J. (2012). Risky sexual behavior: a race-specific social consequence of obesity. Journal of Youth and Adolescence, 41(1), 41–52.

Lohman, B. J., & Billings, A. (2008). Protective and risk factors associated with adolescent boys' early sexual debut and risky sexual behaviors. Journal of Youth and Adolescence, 37(6), 723.

Lowry, R., Robin, L., Kann, L., & Galuska, D. A. (2014). Associations of body mass index with sexual risk-taking and injection drug use among US high school students. Journal of Obesity, 2014, 816071.

Manning, W. D., Longmore, M. A., & Giordano, P. C. (2005). Adolescents' involvement in non-romantic sexual activity. Social Science Research, 34(2), 384–407.

McVey, G. L., Davis, R., Tweed, S., & Shaw, B. F. (2004). Evaluation of a school‐based program designed to improve body image satisfaction, global self‐esteem, and eating attitudes and behaviors: a replication study. International Journal of Eating Disorders, 36(1), 1–11.

Moilanen, K. L., Crockett, L. J., Raffaelli, M., & Jones, B. L. (2010). Trajectories of sexual risk from middle adolescence to early adulthood. Journal of Research on Adolescence, 20(1), 114–139.

Moore, S. M., & Rosenthal, D. A. (2007). Sexuality in adolescence: Current trends. New York, NY: Routledge.

Muthén, B. O., & Muthén, L. K. (2017). Mplus User's Guide. Eighth Edition Los Angeles, CA: Muthén & Muthén.

Negriff, S., Susman, E. J., & Trickett, P. K. (2011). The developmental pathway from pubertal timing to delinquency and sexual activity from early to late adolescence. Journal of Youth and Adolescence, 40(10), 1343–1356.

Ogden, C. L., Carroll, M. D., Kit, B. K., & Flegal, K. M. (2012). Prevalence of obesity and trends in body mass index among US children and adolescents, 1999-2010. JAMA: The Journal of the American Medical Association, 307(5), 483–490.

Ogden, C. L., Carroll, M. D., Kit, B. K., & Flegal, K. M. (2014). Prevalence of childhood and adult obesity in the United States, 2011-2012. JAMA: The Journal of the American Medical Association, 311(8), 806–814. https://doi.org/10.1001/jama.2014.732.

Pedlow, C. T., & Carey, M. P. (2004). Developmentally appropriate sexual risk reduction interventions for adolescents: rationale, review of interventions, and recommendations for research and practice. Annals of Behavioral Medicine, 27(3), 172.

Pont, S. J., Puhl, R., Cook, S. R., & Slusser, W. (2017). Stigma experienced by children and adolescents with obesity. Pediatrics, 140(6), e20173034.

Puhl, R. M., & Heuer, C. (2009). The stigma of obesity: a review and update. Obesity, 17(5), 941–964.

Raffaelli, M., & Crockett, L. J. (2003). Sexual risk taking in adolescence: the role of self-regulation and attraction to risk. Developmental Psychology, 39(6), 1036.

Ratcliff, M. B., Jenkins, T. M., Reiter-Purtill, J., Noll, J. G., & Zeller, M. H. (2011). Risk-taking behaviors of adolescents with extreme obesity: normative or not? Pediatrics, 127(5), 827–834. https://doi.org/10.1542/peds.2010-2742.

Richmond, T. K., Austin, S. B., Walls, C. E., & Subramanian, S. V. (2012). The association of body mass index and externally perceived attractiveness across race/ethnicity, gender, and time. Journal of Adolescent Health, 50(1), 74–79.

Sabia, J. J., & Rees, D. I. (2011). The effect of body weight on adolescent sexual activity. Health Economics, 20(11), 1330–1348.

Sanderson, J. M., Desai, M. M., & White, M. A. (2015). The influence of race in the association between weight status and risk behaviors among adolescents. American Journal of Health Education, 46(5), 255–265.

Sandfort, T. G., Orr, M., Hirsch, J. S., & Santelli, J. (2008). Long-term health correlates of timing of sexual debut: Results from a national US study. American Journal of Public Health, 98(1), 155–161.

SAS (2014). Base SAS 9.4 Procedures Guide: Statistical Procedures: SAS Institute, Cary, NC.

Strauss, R. S. (2000). Childhood obesity and self-esteem. Pediatrics, 105(1), e15–e15. https://doi.org/10.1542/peds.105.1.e15.

Tolman, D. L., & McClelland, S. I. (2011). Normative sexuality development in adolescence: a decade in review, 2000–2009. Journal of Research on Adolescence, 21(1), 242–255.

Yanover, T., & Thompson, J. K. (2010). Perceptions of health and attractiveness: the effects of body fat, muscularity, gender, and ethnicity. Journal of Health Psychology, 15(7), 1039–1048.
Acknowledgements
The authors would like to acknowledge Drs David Estell and David Lohrmann for their initial feedback on the study, as well as acknowledge the participants of the NLSY79.
Authors' Contributions
J.D. developed the research questions and study design, wrote the initial draft of the manuscript, and conducted all analyses; L.R. advised on the analytic approach and provided feedback on the methods, results, and discussion; M.W. helped with study conceptualization, providing feedback on research questions, study design, and writing of the manuscript. All authors read and approved the final manuscript.
Data Sharing and Declaration
The datasets analyzed during the current study are publicly available and can be located at: https://www.bls.gov/nls/nlsy79.htm.
Ethics declarations
Conflict of Interest
The authors declare that they have no conflict of interest.
Ethical Approval
As confirmed with Indiana University's Institutional Review Board (IRB), IRB approval was not needed for this study because analyses were limited to secondary data which was publicly available and de-identified.
Informed Consent
For this type of study formal consent is not required.
Additional information
Publisher's note Springer Nature remains neutral with regard to jurisdictional claims in published maps and institutional affiliations.
Supplementary Information
About this article
Cite this article
Duckworth, J.C., Rutkowski, L. & Waldron, M. Sexual Risk Behaviors during Adolescence: Associations with Childhood and Adolescent BMI. J Youth Adolescence 49, 1433–1446 (2020). https://doi.org/10.1007/s10964-020-01192-3
Received:

Accepted:

Published:

Issue Date: