Abstract
This paper investigates informal mechanisms of knowledge transfer (KT) from a local university to entrepreneurial teams comprising students and recent graduates. While the extant literature on university-industry KT largely focuses on formal mechanisms aimed at stimulating entrepreneurial initiatives in high-tech (HT) sectors, it overlooks the effect of university-industry KT on nascent entrepreneurship in low-medium tech (LMT) sectors. To fill this gap in the literature, we carry out a mixed-method analysis that exploits a dataset of 154 new business ideas (and 535 team members) presented at a business plan competition in Rimini from 2010 to 2017. Our findings highlight a robust relationship between educational field and the R&D intensity of entrepreneurial projects: students take advantage of the knowledge acquired at university to develop entrepreneurial projects with higher technological content than those planned by non-graduates. Furthermore, the empirical evidence shows that the local university nurtures the formation of ties among students and recent graduates enrolled in the same courses and fosters their efforts to launch new ventures. Finally, the qualitative analysis identifies relevant and non-traditional mechanisms of KT that are being exploited by nascent entrepreneurs to develop their business ideas in the LMT and HT sectors.
This is a preview of subscription content, log in to check access.
Access options
Buy single article
Instant access to the full article PDF.
US$ 39.95
Price includes VAT for USA
Subscribe to journal
Immediate online access to all issues from 2019. Subscription will auto renew annually.
US$ 99
This is the net price. Taxes to be calculated in checkout.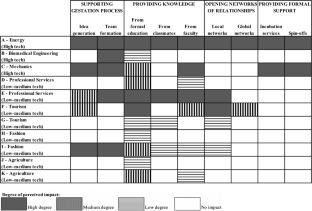 Notes
1.

The province of Rimini is in the Emilia Romagna region and has a population of 337,000. While it is world-renowned for its tourism industry, the Province also hosts important firms operating in many other economic sectors, such as textile and fashion, buildings, electronics, and services. The Republic of San Marino is an enclaved microstate, surrounded by the Province of Rimini and the Province of Pesaro-Urbino, with a population of 33,000. Its economy is mostly based on banks and financial services.

2.

The scientific-technical committee is composed of 13 experts: the President and the Vice President of the Association, two representatives from the Chambers of Commerce of Rimini and San Marino, one entrepreneur from the Rimini branch of the Italian Industrial Association, one entrepreneur from the San Marino Industrial Association, two representatives from the most important local bank, three scholars from the local university, and two business consultants.

3.

Descriptive statistics of our main variables also do not change significantly from 2010 to 2017. We therefore pooled the data for the empirical analysis of this paper. We also run a one-way analysis of variance for the main variables discussed in our paper using the years of competition as the factor variable. The results of this analysis, available from the authors, do not reveal statistically significant differences across years.

4.

Whereas the adoption of this taxonomy allows comparability of the results in our study with empirical evidence originating in other settings at the international level, it is worth reminding the limitations that surround the use of R&D as an indicator of innovation (see Becheikh et al. 2006 for a review): (1) R&D represents an input of the innovation process which does not necessarily leads to technologically new products or processes; (2) innovations can originate from serendipity or in response to a specific problem without any investment in basic or applied research; (3) R&D effort in small and medium sized enterprises (SMEs) is often informal and occasional: hence, it might be overlooked in industries and countries where SMEs account for a large share of business organizations.

5.
References
Addie, J.-P. D., Keil, R., & Olds, K. (2014). Beyond town and gown: universities, territoriality and the mobilization of new urban structures in Canada. Territory, Politics, Governance,3(1), 27–50.

Adekiya, A. A., & Ibrahim, F. (2016). Entrepreneurship intention among students. The antecedent role of culture and entrepreneurship training and development. International Journal of Management Education,14(2), 116–132.

Amason, A., Shrader, R. C., & Thompson, G. H. (2006). Newness and novelty: Relating top management team composition to new venture performance. Journal of Business Venturing,21, 125–148.

Åstebro, T., Bazzazian, N., & Braguinsky, S. (2012). Start-ups by recent university graduates and their faculty: Implications for university entrepreneurship policy. Research Policy,41(4), 663–677.

Åstebro, T., & Thompson, P. (2011). Entrepreneurs: jacks of all trades or hobos? Research Policy,40(5), 637–649.

Audretsch, D. (2014). From the entrepreneurial university to the university of entrepreneurial society. Journal of Technology Transfer,39, 313–321.

Autio, E., Kenney, M., Mustar, P., Siegel, D., & Wright, M. (2014). Entrepreneurial innovation: the importance of context. Research Policy,43(7), 1097–1108.

Baldini, N., Grimaldi, R., & Sobrero, M. (2006). Institutional changes and the commercialization of academic knowledge: a study of Italian universities' patenting activities between 1965 and 2002. Research Policy,35(4), 518–532.

Becheikh, N., Landry, R., & Amara, N. (2006). Lessons from innovation empirical studies in the manufacturing sector: a systematic review of the literature from 1993–2003. Technovation,26(5–6), 644–664.

Bell, S. T., Villado, A. J., Lukasik, M. A., Belau, L., & Briggs, A. L. (2011). Getting specific about demographic diversity variable and team performance relationships: a meta-analysis. Journal of Management,37(3), 709–743.

Bergmann, H., Hundt, C., & Sternberg, R. (2016). What makes student entrepreneurs? On the relevance (and irrelevance) of the university and the regional context for student start-ups. Small Business Economics,47, 53–76.

Berkovitz, J., & Feldman, M. (2004). Academic entrepreneurs: Social learning and participation in university technology transfer. Toront: University of Toronto.

Beyhan, B., & Findik, D. (2017). Student and graduate entrepreneurship: ambidextrous universities create more nascent entrepreneurs. Journal of Technology Transfer,43(5), 1346–1374.

Boh, W. F., De Haan, U., & Strom, R. (2016). University technology transfer through entrepreneurship: Faculty and students in spinoffs. Journal of Technology Transfer,41(4), 661–669.

Boschma, R. (2005). Proximity and innovation: a critical assessment. Regional Studies,39(1), 61–74.

Bowers, C. A., Pharmer, J. A., & Salas, E. (2000). When member homogeneity is needed in work teams: a meta-analysis. Small Group Research,31(3), 305–326.

Boyatzis, R. E. (1998). Transforming qualitative information: Thematic analysis and code development. Thousand Oaks, CA: Sage.

Braun, V., & Clarke, V. (2006). Using thematic analysis in psychology. Qualitative Research in Psychology,3(2), 77–101.

Bruneel, J., D'Este, P., & Salter, A. (2010). Investigating the factors that diminish the barriers to university—industry collaboration. Research Policy,39, 858–868.

Carey, T. A., Flanagan, D. J., & Palmer, T. B. (2010). An examination of university student entrepreneurial intentions by type of venture. Journal of Developmental Entrepreneurship,15(4), 503–517.

Cesaroni, F., & Piccaluga, A. (2016). The activities of university knowledge transfer offices: Towards the third mission in Italy. International Journal of Technology Transfer,41(4), 753–777.

Cohen, W. M., & Levinthal, D. A. (1990). Absorptive capacity: a new perspective on learning and innovation. Administrative Science Quarterly,35, 128–152.

D'Este, P., Guy, F., & Iammarino, S. (2012). Shaping the formation of university–industry research collaborations: What type of proximity does really matter? Journal of Economic Geography,13(4), 537–558.

Ellison, G., & Glaeser, E. L. (1997). Geographic concentration in US manufacturing industries: a dartboard approach. Journal of Political Economy,105(5), 889–927.

Etzkowitz, H. A., Webster, A., Gebhardt, C., & Terra, B. R. C. (2000). The future of the university and the university of the future: Evolution of ivory tower to entrepreneurial paradigm. Research Policy,29(2), 313–330.

European Commission. (2012). Effects and impact of entrepreneurship programmes in higher education. Brussels: European Commission.

European Commission. (2013). Entrepreneurship 2020 Action Plan: Rethinking the entrepreneurial spirit in Europe. Brussels: European Commission.

Ferrante, F., Federici, D., & Parisi, V. (2018). The entrepreneurial engagement of Italian university students: Some insights from a population-based survey. Studies in Higher Education. https://doi.org/10.1080/03075079.2018.1458223.

Fini, R., Meoli, A., Sobrero, M., Ghiselli, S., & Ferrante, F. (2016). Student entrepreneurship: Demographics, competences and obstacles. Bologna: AlmaLaurea Consortium.

Foo, M. (2011). Teams developing business ideas: How member characteristics and conflict affect member-rated team effectiveness. Small Business Economics,36, 33–46.

Foo, M., Sin, H., & Yiong, L. (2006). Effects of team inputs and intrateam processes on new venture team effectiveness. Strategic Management Journal,27, 389–399.

Foo, M., Wong, P., & Ong, A. (2005). Do others think you have a viable business idea? Team diversity and judges' evaluation of ideas in a business plan competition. Journal of Business Venturing,20, 385–402.

Franke, N., & Lüthje, C. (2004). Entrepreneurial intentions of business students—a benchmarking study. International Journal of Innovation and Technology Management,1(3), 269–288.

Galindo-Rueda, F., & Verger, F. (2016). OECD Taxonomy of economic activities based on R&D intensity. OECD Science, Technology and Industry Working Papers, 2016/04, Paris, OECD Publishing.

Galloway, L., & Brown, W. (2002). Entrepreneurship education at university: a driver in the creation of high growth firms? Education + Training,44(8/9), 398–405.

GEM. (2017). Global entrepreneurship monitor report 2016/2017. Babson College, MA: Global Entrepreneurship Research Association.

Giuliani, E., & Bell, M. (2005). The micro-determinants of meso-level learning and innovation: Evidence from a Chilean wine cluster. Research Policy,34(1), 47–68.

Giuri, P., & Mariani, M. (2013). When distance disappears: Inventors, education, and the locus of knowledge spillovers. Review of Economics and Statistics,95, 449–463.

Grimaldi, R., Kenney, M., Siegel, D. S., & Wright, M. (2011). 30 years after Bayh–Dole: Reassessing academic entrepreneurship. Research Policy,40(8), 1045–1057.

Grimpe, C., & Fier, H. (2010). Informal university technology transfer: a comparison between the United States and Germany. Journal of Technology Transfer,35, 637–650.

Grimpe, C., & Hussinger, K. (2008). Formal and informal technology transfer from academia to industry: Complementarity effects and innovation performance. ZEW Discussion Papers 08-080.

Guest, G., MacQueen, K. M., & Namey, E. E. (2012). Applied thematic analysis. London: Sage.

Hayter, C. S., Lubynsky, R., & Maroulis, S. (2017). Who is the academic entrepreneur? The role of graduate students in the development of university spinoffs. Journal of Technology Transfer,42(6), 1237–1254.

Henneke, D., & Lüthje, C. (2007). Interdisciplinary heterogeneity as a catalyst for product innovativeness of entrepreneurial teams. Creativity and Innovation Management,16(2), 121–132.

Hirsch-Kreinsen, H. (2008). 'Low-technology': a forgotten sector in innovation policy. Journal of Technology Management & Innovation,3(3), 11–20.

Hsu, D. H., Roberts, E. B., & Eesley, C. E. (2007). Entrepreneurs from technology-based universities: Evidence from MIT. Research Policy,36, 768–788.

ISTAT. (2009). Classificazione delle attività economiche: Ateco 2007. Metodi e Norme n. 40, Roma, ISTAT.

Jansen, S., van de Zande, T., Brinkkemper, S., Stam, E., & Varma, V. (2015). How education, stimulation, and incubation encourage student entrepreneurship: Observations from MIT, IIIT, and Utrecht University. The International Journal of Management Education,13, 170–181.

Kaiser, U., & Müller, B. (2015). Skill heterogeneity in startups and its development over time. Small Business Economics,45(4), 787–804.

Klotz, A. C., Hmieleski, K. M., Bradley, B. H., & Busenitz, L. W. (2014). New venture teams: a review of the literature and roadmap for future research. Journal of Management,40(1), 226–255.

Lange, J. E., Marram, E., Jawahar, A. S., Yong, W., & Bygrave, W. (2011). Does an entrepreneurship education have lasting value? A study of careers of 4000 alumni. Frontiers of Entrepreneurship Research,31(6), 210–224.

Lazear, E. P. (2005). Entrepreneurship. Journal of Labor Economics,23, 649–680.

Lazzeroni, M., & Piccaluga, A. (2015). Beyond 'town and gown': the role of the university in small and medium-sized cities. Industry and Higher Education,29(1), 11–23.

Lerner, J., & Malmendier, U. (2011). With a little help from my (random) friends: Success and failure in Post-business School Entrepreneurship. NBER Working Paper.

Link, A. N., Siegel, D. S., & Bozeman, B. (2007). An empirical analysis of the propensity of academics to engage in informal university technology transfer. Industrial and Corporate Change,16(4), 641–655.

Marchand, J., & Hermens, A. (2015). Student entrepreneurship: a research agenda. The International Journal of Organizational Innovation,8(2), 266–281.

Maresch, D., Harms, R., Kailer, N., & Wimmer-Wurm, B. (2016). The impact of entrepreneurship education on the entrepreneurial intentions of students in science and engineering versus business studies university programs. Technological Forecasting and Social Change,104(C), 172–179.

Markman, G. D., Gianiodis, P. T., Phan, P. H., & Balkin, D. B. (2005a). Innovation speed: Transferring university technology to market. Research Policy,34(7), 1058–1075.

Markman, G. D., Phan, P. H., Balkin, D. B., & Gianiodis, P. T. (2005b). Entrepreneurship and university-based technology transfer. Journal of Business Venturing,20(2), 241–263.

Merton, R. K. (1975). Thematic analysis in science: Notes on Holton's concept. Science,188(4186), 335–338.

Meyer-Krahmer, F., & Schmoch, U. (1998). Science-based technologies: University-industry interactions in four fields. Research Policy,27, 835–851.

Morris, M., Shirokova, G., & Tsukanova, T. (2017). Student entrepreneurship and the university ecosystem: a multi-country empirical exploration. European Journal of International Management,11(1), 65–85.

Mowery, D. C., Nelson, R. R., Sampat, B. N., & Ziedonis, A. A. (2001). The growth of patenting and licensing by the U.S. universities: an assessment of the effects of the Bayh–Dole act of 1980. Research Policy,30(1), 99–119.

OECD. (2017). Entrepreneurship at glance 2017. Paris: OECD Publishing.

Perkmann, M., & Walsh, K. (2007). University–industry relationships and open innovation: Towards a research agenda. International Journal of Management Reviews,9(4), 259–280.

Reynolds, P. D. (2000). National panel study of U.S. business start-ups: Background and methodology. In J. A. Katz (Ed.), Databases for the study of entrepreneurship (pp. 153–227). Amsterdam: JAI Press.

Reynolds, P. D., Bosma, N., Autio, E., Hunt, S., De Bono, N., Servais, I., et al. (2005). Global Entrepreneurship Monitor: Data collection design and implementation 1998–2003. Small Business Economics,24, 205–231.

Reynolds, P. D., & Curtin, R. T. (2008). Business creation in the United States: Panel study of entrepreneurial dynamics II. Initial assessment. Foundations and Trends in Entrepreneurship,4(3), 155–307.

Roberts, E. B., & Eesley, C. E. (2011). Entrepreneurial impact: the role of MIT—an updated report. Foundations and Trends in Entrepreneurship,7(1–2), 1–149.

Rothaermel, F. T., Agung, S. D., & Jiang, L. (2007). University entrepreneurship: a taxonomy of the literature. Industrial and Corporate Change,16(4), 691–791.

Ruef, M., Aldrich, H. E., & Carter, N. M. (2003). The structure of founding teams: Homophily, strong ties, and isolation among U.S. entrepreneurs. American Sociological Review,68(2), 195–222.

Shane, S. (2002a). Executive forum: University technology transfer to entrepreneurial companies. Journal of Business Venturing,17(6), 537–552.

Shane, S. (2002b). Selling university technology: Patterns from MIT. Management Science,48(1), 122–137.

Sheeran, P. (2002). Intention-behavior relations: a conceptual and empirical review. European Review of Social Psychology,12(1), 1–36.

Shirokova, G., Osiyevskyy, O., & Bogatyreva, K. (2016). Exploring the intention-behavior link in student entrepreneurship: Moderating effects of individual and environmental characteristics. European Management Journal,34(4), 386–399.

Silva, O. (2007). The jack of all trades entrepreneur. Innate talent or acquired skills. Economic Letters,97(2), 118–123.

Stuetzer, M., Obschon, M., & Schmitt-Rodermund, E. (2013). Balanced skills among nascent entrepreneurs. Small Business Economics,41(1), 93–114.

Teixeira, A. A. C., & Forte, R. P. (2017). Prior education and entrepreneurial intentions: the differential impact of a wide range of fields of study. Review of Management Science,11, 253–394.

Thursby, J. G., & Thursby, M. C. (2002). Who is selling the Ivory tower? Sources of growth in university licensing. Management Science,48(1), 90–104.

UNESCO Institute for Statistics. (2014). ISCED fields of education and training 2013 (ISCED-F 2013). Montreal: UNESCO.

Vogel, R., Puhan, T. X., Shehu, E., Kliger, D., & Beese, H. (2014). Funding decisions and entrepreneurial team diversity: a field study. Journal of Economic Behavior & Organization,107, 595–613.

Wagner, J. (2006). Nascent entrepreneurs. In S. C. Parker (Ed.), The life cycle of entrepreneurial ventures (pp. 15–37). New York, NY: Springer.

Yin, R. K. (1994). Case study research: Design and methods. Newbury Park, CA: Sage.
Additional information
Publisher's Note
Springer Nature remains neutral with regard to jurisdictional claims in published maps and institutional affiliations.
About this article
Cite this article
Barbini, F.M., Corsino, M. & Giuri, P. How do universities shape founding teams? Social proximity and informal mechanisms of knowledge transfer in student entrepreneurship. J Technol Transf (2020). https://doi.org/10.1007/s10961-020-09799-1
Keywords
Student entrepreneurship

Graduate entrepreneurship

Technology transfer

New firms, Founding teams
JEL Classification
L26 (entrepreneurship)

M13 (new firms, start-ups)

I23 (higher education)