Abstract
Photophysical and association properties of a diazo dye (acid blue 113) in the presence of a structure breaking additive (urea) and Ag nanoparticles (AgNPs) were investigated at different dye and additive concentrations (0–3 mol·L−1 urea and 0.1 mmol·L−1 AgNPs). The ionic dye, with strong hydrophilic character, has an aromatic diazo skeleton and two sulfide functional groups. The dye concentrations ranging from 1 × 10−6 to 5 × 10−4 mol·L−1 were chosen and studied, to avoid formation of the higher-order aggregates. The dye spectra were analyzed using linear and nonlinear decomposition algorithms. Using the least squares fitting approach, the dimerization constant Kd and individual monomer and dimer spectra were determined. A reduction of the dimerization constant for AB 113 in aqueous solutions containing additives was observed. The spectral parameters, structure of the dimeric species and the interaction energy between the monomers in the dye solution were estimated based on the molecular exciton theory.
Access options
Buy single article
Instant access to the full article PDF.
US$ 39.95
Tax calculation will be finalised during checkout.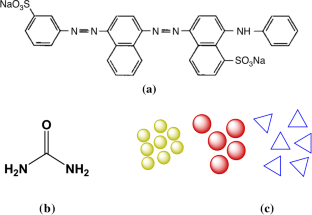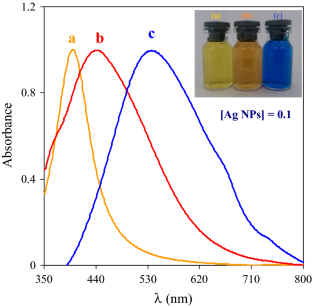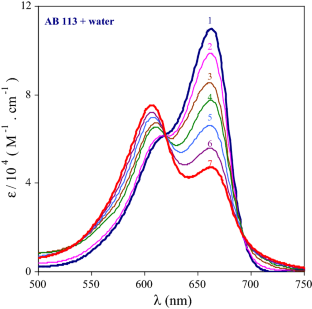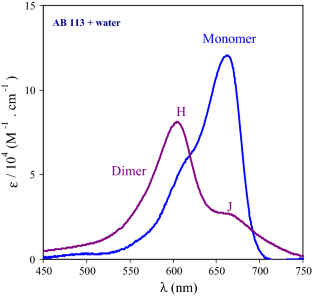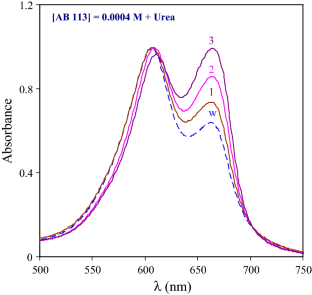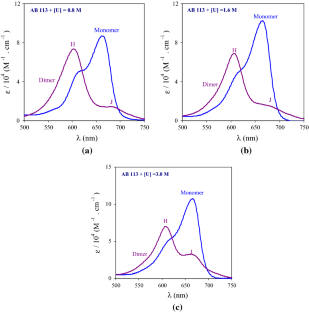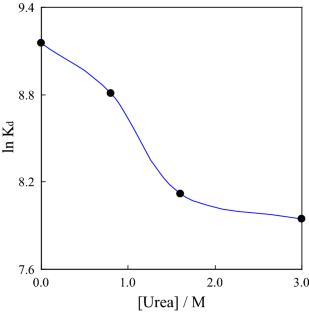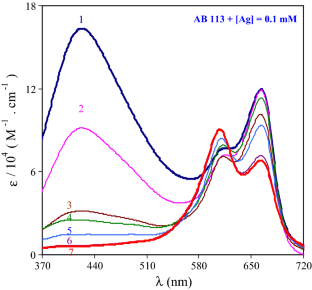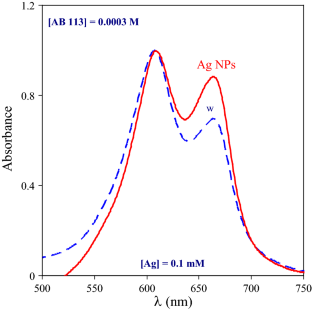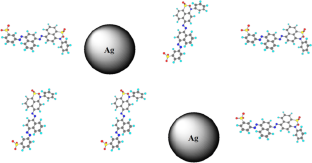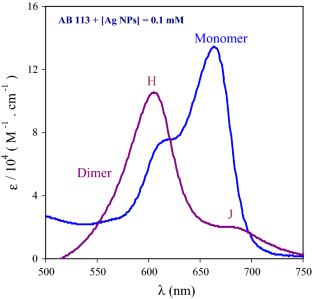 References
1.

Green, F.J.: The Sigma-Aldrich Handbook of Stains, Dyes and Indicators, 2nd edn. Aldrich Chemical Company Inc, Wisconsin (1991)

2.

Nachiyar, C.V., Sunkar, S., Kumar, G.N., Karunya, A., Ananth, P., Prakash, P., Jabasingh, S.A.: Biodegradation of acid blue 113 containing textile effluent by constructed aerobic bacterial consortia: optimization and mechanism. J. Bioremediat. Biodegrad. 3, 2–10 (2012)

3.

Sekar, S., Mahadevan, S., Shanmugam, B.K., Mandal, A.B.: Bioenergetics and pathway of acid blue 113 degradation by Staphylococcus lentus. Biotechnol. Prog. 28, 1400–1408 (2012)

4.

Chianca de Moura, D., Quiroz, M.A., Ribeiro da Silva, D., Salazar, R., Martínez-Huitle, C.A.: Electrochemical degradation of acid blue 113 dye usingTiO2-nanotubes decorated with PbO2 as anode. Environ. Nanotechnol. Monit. Manage. 5, 13–20 (2016)

5.

Suganya Josephine, G.A., Mary Nisha, U., Meenakshi, G., Sivasamy, A.: Nanocrystalline semiconductor doped rare earth oxide for the photocatalytic degradation studies on acid blue 113: a di-azo compound under UV slurry photoreactor. Ecotox. Environ. Safe. 121, 67–72 (2015)

6.

Shu, H.-Y., Chang, M.-C., Fan, H.-J.: Effects of gap size and UV dosage on decolorization of C.I. acid blue 113 wastewater in the UV/H2O2 process. J. Hazard. Mater. 118, 205–211 (2005)

7.

Shokoofehpoor, F., Chaibakhsh, N., Ghanadzadeh Gilani, A.: Optimization of sono-Fenton degradation of acid blue 113 using iron vanadate nanoparticles. Sep. Sci. Technol. 54, 2943–2958 (2018)

8.

Gupta, V.K., Gupta, B., Rastogi, A., Agarwal, S., Nayak, A.: A comparative investigation on adsorption performances of mesoporous activated carbon prepared from waste rubber tire and activated carbon for a hazardous azo dye-acid blue 113. J. Hazard. Mater. 186, 891–901 (2011)

9.

Lopez Arbeloa, F., Martınez Martınez, V., Arbeloa, T., Lopez Arbeloa, I.: Photoresponse and anisotropy of rhodamine dye intercalated in ordered clay layered films. J. Photochem. Photobiol. C 8, 85–108 (2007)

10.

Herkstroeter, W.G., Martic, P.A., Farid, S.: Inclusion by cyclodextrins to control dye aggregation equilibria in aqueous solution. J. Am. Chem. Soc. 112, 3583–3589 (1990)

11.

Ghanadzadeh, A., Zeini, A., Kashef, A., Moghadam, M.: Concentration effect on the absorption spectra of oxazine1 and methylene blue in aqueous and alcoholic solutions. J. Mol. Liq. 138, 100–106 (2008)

12.

Chakraborty, A., Ali, M., Saha, S.K.: Molecular interaction of organic dyes in bulk and confined media. Spectrochim. Acta A 75, 1577–1583 (2010)

13.

Bolotin, P.A., Baranovsky, S.F., Evstigneev, M.P.: Spectrophotometric investigation of the hetero-association of caffeine and thiazine dye in aqueous solution. Spectrochim. Acta A 64, 693–697 (2006)

14.

Ghanadzadeh, A., Zanjanchi, M.A., Tibandpay, R.: The role of host environment on the aggregative properties of some ionic dye materials. J. Mol. Struct. 616, 167–174 (2002)

15.

Frank, H.S., Franks, F.: Structural approach to the solvent power of water for hydrocarbons; urea as a structure breaker. J. Chem. Phys. 48, 4746–4757 (1968)

16.

England, J.L., Haran, G.: Role of solvation effects in protein denaturation: from thermodynamics to single molecules and back. Annu. Rev. Phys. Chem. 62, 257–277 (2011)

17.

Stumpe, M.C., Grubmüller, H.: Interaction of urea with amino acids: Implications for urea-induced protein denaturation. J. Am. Chem. Soc. 129, 16126–16131 (2007)

18.

Ramondo, F., Bencivenni, L., Caminiti, R., Pieretti, A., Gontrani, L.: Dimerisation of urea in water solution: a quantum mechanical investigation. Phys. Chem. Chem. Phys. 9, 2206–2215 (2007)

19.

Shankar, S.S., Ahmad, A., Sastry, M.: Geranium leaf assisted biosynthesis of silver nanoparticles. Biotechnol. Prog. 19, 1627–1631 (2003)

20.

Liu, T., Li, D., Yang, D., Jiang, M.: Fabrication of flower-like silver structures through anisotropic growth. Langmuir 27, 6211–6217 (2011)

21.

Tang, B., Zhang, M., Hou, X., Li, J., Sun, L., Wang, X.: Coloration of cotton fibers with anisotropic silver nanoparticles. Ind. Eng. Chem. Res. 51, 12807–12813 (2012)

22.

Farbod, M., Kajbafvala, M.: Effect of nanoparticle surface modification on the adsorption-enhancedphotocatalysis of Gd/TiO2 nanocomposite. Powder Technol. 239, 434–440 (2013)

23.

Jiang, X., Zeng, Q., Yu, A.: Thiol-frozen shape evolution of triangular silver nanoplates. Langmuir 23, 2218–2223 (2007)

24.

Ghanadzadeh Gilani, A., Poormohammadi-Ahandani, Z., Kian, R.: Additive-induced aggregate changes of two structurally similar dyes in aqueous solutions: a comparative photophysical study. Spectrochim. Acta A 189, 543–555 (2018)

25.

Ghanadzadeh Gilani, A., Moghadam, M., Hosseini, S.E., Zakerhamidi, M.S.: A comparative study on the aggregate formation of two oxazine dyes in aqueous and aqueous urea solutions. Spectrochim. Acta A 83, 100–105 (2011)

26.

Ghanadzadeh Gilani, A., Ghorbanpour, T., Salmanpour, M.: Additive effect on the dimer formation of thiazine dyes. J. Mol. Liq. 177, 273–282 (2013)

27.

Ghanadzadeh Gilani, A., Shokri, S.: Spectral and aggregative properties of two oxazine dyes in aqueous solutions containing structure-breaking and multifunctional additives. J. Mol. Liq. 193, 194–203 (2014)

28.

Ghanadzadeh Gilani, A., Dezhampanah, H., Poormohammadi-Ahandani, Z.: A comparative spectroscopic study of thiourea effect on the photophysical and molecular association behavior of various phenothiazine dyes. Spectrochim. Acta A 179, 132–143 (2017)

29.

Jin, R.C., Cao, Y.W., Mirkin, C.A., Kelly, K.L., Schatz, G.C., Zheng, J.G.: Photoinduced conversion of silver nanospheres to nanoprisms. Science 294, 1901–1903 (2001)

30.

Ghanadzadeh Gilani, A., Moghadam, M., Zakerhamidi, M.S.: Dimeric spectra analysis in Microsoft Excel: a comparative study. Comput. Methods Prog. Biomed. 104, 175–181 (2011)

31.

Kasha, M., Rawls, H.R., El-Bayoumi, A.: The exciton model in molecular spectroscopy. Pure Appl. Chem. 11, 371–393 (1965)

32.

Costantino, L., D'Errico, G., Ortona, O., Vitagliano, V.: Transport properties of urea and alkylureas aqueous solutions. A velocity correlation study. J. Mol. Liq. 84, 179–191 (2000)

33.

Takahashi, T., Hoshino, H., Yotsuyanagi, T.: The use of water structure breakers, urea and guanidium chloride, new mobile phase modifiers in reversed-phase partition high-performance liquid chromatography. Anal. Sci. 17, 847–851 (2001)

34.

Feng, Y., Yu, Z.-W., Quinn, P.J.: Effect of urea, dimethylurea, and tetramethylurea on the phase behavior of dioleoylphosphatidylethanolamine. Chem. Phys. Lipids. 114, 149–157 (2002)
Additional information
Publisher's Note
Springer Nature remains neutral with regard to jurisdictional claims in published maps and institutional affiliations.
About this article
Cite this article
Shokoofehpoor, F., Ghanadzadeh Gilani, A., Chaibakhsh, N. et al. Spectral and Aggregative Properties of Acid Blue 113 in Aqueous and Aqueous Solutions of Urea and in Colloids of Silver Nanoparticles. J Solution Chem 49, 849–862 (2020). https://doi.org/10.1007/s10953-020-00995-z
Received:

Accepted:

Published:

Issue Date:
Keywords
Acid blue 113

Self-association

Additive effect

DECOM program

Exciton theory