Abstract
Variation of Moho depth and Vp/Vs ratio beneath the Zagros using 3 years of teleseismic recording at twenty permanent broadband seismic stations of the Iranian Seismological Center (IRSC) where are scattered all over Zagros is presented in this paper. The results of this study are the first receiver function study for the Moho depth beneath these stations on this new dataset. We determine receiver functions by the time domain iterative deconvolution method and Moho depth and Vp/Vs ratio using a modified Zhu and Kanamori method. Our results indicate that the Moho depth beneath the Zagros Mountain Range varies from ~ 30–35 km in western Zagros near the Arabian platform, up to ~ 45 km beneath Central Zagros. In the main Zagros zone, our results indicate a uniform pattern for the Moho depth. The Moho depth reaches ~ 50–54 km beneath stations near Sanandaj-Sirjan Zone (SSZ), indicating a considerable increase of Moho depth from the west toward the east of Zagros. The depth of Moho in the southeast of Zagros is less than other parts of Zagros. We found deepening of the Moho depths beneath stations near the SSZ which can be due to the overthrusting of the crust of Zagros by the crust of central Iran along the MZT. The average Vp/Vs ratio in Zagros is 1.8.
Access options
Buy single article
Instant access to the full article PDF.
US$ 39.95
Tax calculation will be finalised during checkout.
Subscribe to journal
Immediate online access to all issues from 2019. Subscription will auto renew annually.
US$ 79
Tax calculation will be finalised during checkout.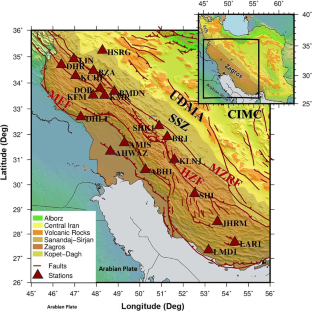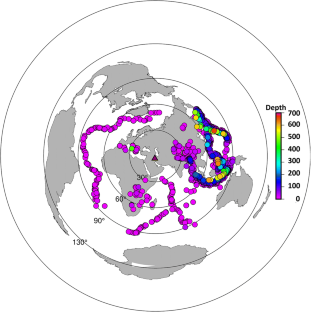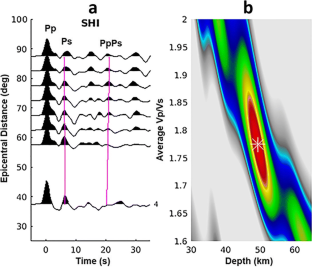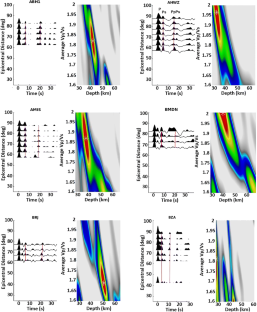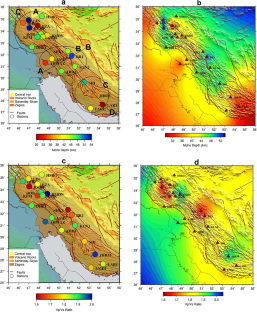 References
Afsari N, Sodoudi F, Taghizadeh-Farahmand F, Ghassemi MR (2011) Crustal structure of Northwest Zagros (Kermanshah) and Central Iran (Yazd and Isfahan) using teleseismic Ps converted phases. J Seismol 15:341–353

Al-Lazki AI, Sandvol E, Seber D, Barazangi M, Türkelli N, Mohamad R (2004) Pn tomographic imaging of mantle lid velocity and anisotropy at the junction of the Arabian, Eurasian and African plates. Geophys J Int 158:1024–1040

Allen M, Jackson J, Walker R (2004) Late Cenozoic reorganization of the Arabia-Eurasia collision and the comparison of short-term and long-term deformation rates. TECTONICS 23. https://doi.org/10.1029/2003TC001530

Ammon CJ, Randall GE, Zandt G (1990) On the nonuniqueness of receiver function inversions. J Geophys Res 95:15303–15318

Berberian M (1994) Master "blind" thrust faults hidden under the Zagros folds: Active basement tectonics and surface morphotectonics. Tectonophysics 241:193–224

Berberian M, King GCP (1981) Towards a palaeogeography and tectonic evolution of Iran. Can J Earth Sci 18:210–265

Blanc EP, Allen MB, Inger S, Hassani H (2003) Structural styles in the Zagros simple folded zone, Iran. J Geol Soc 160(3):401–412

Crotwell HP, Owens TJ, Ritsema J (1999) The TauP Toolkit: flexible seismic travel-time and ray-path utilities. Seismol Res Lett 70:154–160

Dehgani GA, Makris J (1984) The gravity field and crustal structure of Iran. N Jb Geol Paläont 168:215–229

Eaton DW, Dineva S, Mereu R (2006) Crustal thickness and Vp/Vs variations in the Grenville orogen (Ontario, Canada) from analysis of teleseismic receiver functions. Tectonophysics 420(1-2):223–238

Falcon NL (1974) An outline of the geology of the Iranian Makran. Geogr J 140:284–291

Gillard D, Wyss M (1995) Comparison of strain and stress tensor orientation: application to Iran and southern California. J Geophys Res Solid Earth 100(B11):22197–22213

Goldstein P, Snoke A (2005) SAC Availability for the IRIS Community. Incorporated Institutions for Seismology Data Management Center Electronic Newsletter, vol 7, no 1. http://www.iris.edu/news/newsletter/vol7no1/page1.htm

Hatzfeld D, Tatar M, Priestley K, Ghafory-Ashtiany M (2003) Seismological constraints on the crustal structure beneath the Zagros Mountain belt (Iran). Geophys J Int 155:403–410

Hearn TM, Ni JF (1994) Pn velocities beneath continental collision zones: the TurkishIranian Plateau. Geophys J Int 117:273–283

Hessami K, Jamali F, Tabassi H (2003) Major Active Faults of Iran (map). Ministry of Science, Research and Technology, International Institute of Earthquake Engineering and Seismology, Tehran

Hessami K, Nilforoushan F, Talbot C (2006) Active deformation within the Zagros Mountains deduced from GPS measurements. J Geol Soc Lond 163:143–148

Jackson J, Fitch T (1981) Basement faulting and the focal depths of the larger earthquakes in the Zagros mountains (Iran). Geophys J Int 64(3):561–586

Jackson J, McKenzie D (1984) Active tectonics of the Alpine-Himalayan Belt between western Turkey and Pakistan. Geophys J R Astron Soc 77(1):185–264

Jamalreyhani M, Rezapour M, Cesca S, Heimann S, Vasyura-Bathke H, Sudhaus H, Paul Isken M, Dahm T (2019) The 2017 November 12 Mw 7.3 Sarpol-Zahab (Iran-Iraq border region) earthquake: source model, aftershock sequence and earthquakes triggering. EGU Gen Assemb 2020:1068

Kennett BLN, Engdahl ER, Buland R (1995) Constraints on seismic velocities in the Earth from traveltimes. Geophys J Int 122:108–124

Langston CA (1977) The effect of planar dipping structure on source and receiver responses for constant ray parameter. Bull Seismol Soc Am 67:1029–1050

Ligorria JP, Ammon CJ (1999) Iterative deconvolution of teleseismic seismograms and receiver function estimation. Bull Seismol Soc Am 89:1395–1400

McQuarrie N (2004) Crustal scale geometry of the Zagros fold–thrust belt, Iran. J Struct Geol 26(3):519–535

Molinaro M, Leturmy P, Guezou JC, Frizon de Lamotte D, Eshraghi SA (2005) The structure and kinematics of the southeastern Zagros fold-thrust belt, Iran: from thin-skinned to thick-skinned tectonics. Tectonics 24(3)

Motaghi K, Priestley K, Tatar M, Romanelli F, Doglioni C, Panza GF (2015) The deep structure of the Iranian Plateau. Gondwana Res 28(1):407–418

Motaghi K, Shabanian E, Tatar M, Cuffaro M, Doglioni C (2017) The south Zagros suture zone in teleseismic images. Tectonophysics 694:292–301

Ni J, Barazangi M (1986) Seismotectonics of the Zagros continental collision zone and a comparison with the Himalayas. J Geophys Res Solid Earth 91(B8):8205–8218

Ottemöller L, Voss PH, Havskov J (2020) Seismological observatory software: 30 yr of SEISAN. Seismol Res Lett 91(3):1846–1852

Paul A, Kaviani A, Hatzfeld D, Vergne J, Mokhtari M (2006) Seismological evidence for crustal-scale thrusting in the Zagros mountain belt (Iran). Geophys J Int 166(1):227–237

Paul A, Hatzfeld D, Kaviani A, Tatar M, Péquegnat C (2010) Seismic imaging of the lithospheric structure of the Zagros mountain belt (Iran). Geol Soc Lond, Spec Publ 330(1):5–18

Snyder DB, Barazangi M (1986) Deep crustal structure and flexure of the Arabian plate beneath the Zagros collisional mountain belt as inferred from gravity observations. Tectonics 5(3):361–373

Stocklin J (1968) Structural history and tectonics of Iran: a review. AAPG Bull 52(7)

Stocklin J (1974) Possible ancient continental margin in Iran. In: Burke CA, Drake CL (eds) The geology of continental margins. Springer, New York, pp 873–887. https://doi.org/10.1007/978-3-662-01141-6_64

Taghizadeh-Farahmand F, Afsari N, Sodoudi F (2014) Crustal thickness of Iran inferred from converted waves. Pure Appl Geophys 172:309–331

Tatar M, Nasrabadi A (2013) Crustal thickness variations in the Zagros continental collision zone (Iran) from joint inversion of receiver functions and surface wave dispersion. J Seismol 17(4):1321–1337

Tatar M, Hatzfeld D, Ghafory-Ashtiany M (2004) Tectonics of the Central Zagros (Iran) deduced from microearthquake seismicity. Geophys J Int 156(2):255–266

Vernant P, Nilforoushan F, Hatzfeld D, Abbassi M, Vigny C, Masson F, Nankali H, Martinod J, Ashtiani A, Bayer R, Tavakoli F, Ch'ery J (2004) Present-day crustal deformation and plate kinematics in the Middle East constrained by GPS measurements in Iran and northern Oman. Geophys J Int 157:381–398

Wessel P, Smith WHF (1995) New version of the generic mapping tools released. EOS Trans AGU 76:329

Yamini-Fard F, Hatzfeld D, Tatar M, Mokhtari M (2006) Microearthquake seismicity at the intersection between the Kazerun fault and the Main Recent Fault (Zagros, Iran). Geophys J Int 166:186–196

Zhu H, Kanamori H (2000) Moho depth variation in southern California from teleseismic receiver functions. J Geophys Res 105:2969–2980
Additional information
Publisher's note
Springer Nature remains neutral with regard to jurisdictional claims in published maps and institutional affiliations.
About this article
Cite this article
Shiranzaei, G., Nasrabadi, A. & Sepahvand, M. Moho depth variations and Vp/Vs ratio in the Zagros (Iran) from teleseismic converted waves. J Seismol (2021). https://doi.org/10.1007/s10950-021-09986-z
Received:

Accepted:

Published:
Keywords
Moho depth

Receiver function

Vp/Vs ratio

Zagros