Abstract
The continuous monitoring of the space-time-magnitude evolution of seismicity is a crucial task to assess the geo-mechanical conditions of hydrocarbon reservoirs. It is fundamental to design optimized high-sensitivity and cost-effective seismic networks able to detect and locate low magnitude events with high accuracy. In Italy, after the concern for the 2012 Emilia earthquake, the government released the guidelines for monitoring the seismicity in areas surrounding subsurface industrial activities. In this work, we propose an optimization study for seismic monitoring networks based on the guideline requirements. We evaluated the performance, in terms of detection/location thresholds and events location errors, of different network layouts constructed by varying the station density and geometry and considering also the integration of seismic arrays. We simulated sets of seismic sources at different depths by varying magnitude and stress drop values. We considered two different values of noise level at the stations. The results show that the station density and the noise level represent the crucial parameters for the seismic network performances. The performances of a standard network comply the guidelines requirements in terms of detection/location thresholds. Only the integration of seismic networks with arrays allows to decrease the location errors of several hundreds of meters and to reach the location accuracy required by the Italian guidelines. We foresee the integration of standard networks with seismic arrays to achieve high performance in terms of detection capability and location accuracy.
This is a preview of subscription content, log in to check access.
Access options
Buy single article
Instant access to the full article PDF.
US$ 39.95
Tax calculation will be finalised during checkout.
Subscribe to journal
Immediate online access to all issues from 2019. Subscription will auto renew annually.
US$ 99
Tax calculation will be finalised during checkout.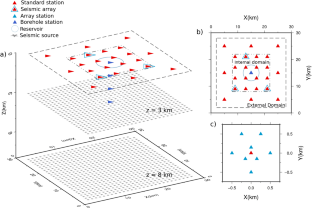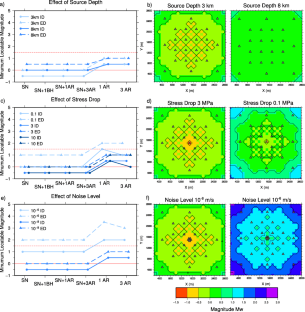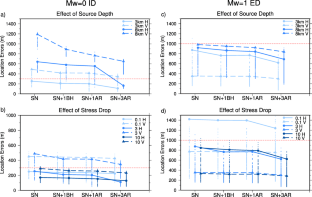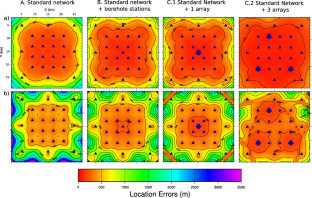 References
Adinolfi GM, Cesca S, Picozzi M, Heimann S, Zollo A (2019) Detection of weak seismic sequences based on arrival time coherence and empiric network detectability: an application at a near fault observatory. Geophys J Int 218:2054–2065

D'Alessandro A, Luzio D, D'Anna G, Mangano G (2011) Seismic network evaluation through simulation: an application to the Italian National Seismic Network. Bull Seismol Soc Am 101(3):1213–1232

Dahm T, Tilmann F, Morgan JP (2006) Seismic broadband ocean-bottom data and noise observed with free-fall stations: experiences from long-term deployments in the North Atlantic and the Tyrrhenian Sea. Bull Seismol Soc Am 96(2):647–664

Davies R, Foulger G, Bindley A, Styles P (2013) Induced seismicity and hydraulic fracturing for the recovery of hydrocarbons. Mar Pet Geol 45:171–185

De Landro G, Amoroso O, Stabile TA, Matrullo E, Lomax A, Zollo A (2015) High-precision differential earthquake location in 3-D models: evidence for a rheological barrier controlling the microseismicity at the Irpinia fault zone in southern Apennines. Geophys J Int 203:1821–1831

Dyer BC, Jones R, Cowles H, Barkved O, Folstad PG (1999) Microseismic survey of a North Sea reservoir. World Oil 3:74–77

Ellsworth WL (2013) Injection-induced earthquakes. Science 341(6142):1225942

Goertz-Allmann BP, Goertz A, Wiemer S (2011) Stress drop variations of induced earthquakes at the Basel geothermal site. Geophys Res Lett 38:L09308. https://doi.org/10.1029/2011GL047498

Goertz-Allmann BP, Gibbons SJ, Oye V, Bauer R, Will R (2017) Characterization of induced seismicity patterns derived from internal structure in event clusters. J Geophys Res Solid Earth 122. https://doi.org/10.1002/2016JB013731

Grigoli F, Cesca S, Priolo E, Rinaldi AP, Clinton JF, Stabile TA, Dost B, Fernandez MG, Wiemer S, Dahm T (2017) Current challenges in monitoring, discrimination, and management of induced seismicity related to underground industrial activities: a European perspective. Rev Geophys 55. https://doi.org/10.1002/2016RG000542

ICHESE (2014). Report on the hydrocarbon exploration and seismicity in Emilia Region. Paper presented at International Commission on Hydrocarbon Exploration and Seismicity in the Emilia Region - ICHESE, 213 pp

Kijko A (1977) An algorithm for the optimum distribution of a regional seismic network—I. Pure Appl Geophys 115(4):999–1009

Lomax A, Michelini A, Curtis A (2009) Earthquake location, direct, global-search methods. Encyclopedia of complexity and systems science, pp 2449–2473

Madariaga R (1976) Dynamics of an expanding circular fault. Bull Seismol Soc Am 66(3):639–666

Maxwell SC, Bossu R, Young RP, & Dangerfield J (1998) Processing of induced microseismicity recorded in the Ekofisk reservoir. In SEG Technical Program Expanded Abstracts 1998. Society of Exploration Geophysicists, pp 904-907

Maxwell SC, Rutledge J, Jones R, Fehler M (2010) Petroleum reservoir characterization using downhole microseismic monitoring. Geophysics 75(5):75A129–75A137

Minshull TA, Singh SC (1993) Shallow structure of oceanic crust in the western North Atlantic from seismic waveform inversion and modeling. J Geophys Res Solid Earth 98(B2):1777–1792

MiSE (2014) Guidelines for monitoring seismicity, ground deformation and pore pressure in subsurface industrial activities. http://unmig.MiSE.gov.it/unmig/agenda/upload/151_238.pdf (last accessed on August 30th, 2016)

Moratto L, Romano MA, Laurenzano G, Colombelli S, Priolo E, Zollo A, Saraò A, Picozzi M (2019) Microearthquake source parameters in the area around the Collalto gas storage (Venetian Alpine foothills, NE Italy). Tectonophysics 762:159–168. https://doi.org/10.1016/j.tecto.2019.04.030

Nanjo KZ, Schorlemmer D, Woessner J, Wiemer S, Giardini D (2010) Earthquake detection capability of the Swiss Seismic Network. Geophys J Int 181(3):1713–1724

Ogwari PO, Horton SP, Ausbrooks S (2016) Characteristics of induced/triggered earthquakes during the startup phase of the Guy-Greenbrier earthquake sequence in north-central Arkansas. Seismol Res Lett 87:620–630

Olofsson B (2010) Marine ambient seismic noise in the frequency range 1–10 Hz. Lead Edge 29(4):418–435

Peters DC, Crosson RS (1972) Application of prediction analysis to hypocenter determination using a local array. Bull Seismol Soc Am 62(3):775–788

Picozzi M, Parolai S, Bindi D (2010) Deblurring of frequency – wavenumber images from small-scale seismic arrays. Geophys J Int, ISSN: 0956-540X. https://doi.org/10.1111/j.1365-246X.2009.04471.x

Picozzi M, Oth A, Parolai S, Bindi D, De Landro G, Amoroso O (2017) Accurate estimation of seismic source parameters of induced seismicity by a combined approach of generalized inversion and genetic algorithm: application to the Geysers geothermal area, California. J Geophys Res Solid Earth 122:3916–3933

Priolo E, Romanelli M, Plasencia Linares M, Garbin M, Peruzza L, Romano MA, Marotta P, Bernardi P, Moratto L, Zuliani D, Fabris P (2015) Seismic monitoring of an underground natural gas storage facility: the Collalto seismic network. Seismol Res Lett 86:109–123

Rabinowitz N, Steinberg DM (1990) Optimal configuration of a seismographic network: a statistical approach. Bull Seismol Soc Am 80(1):187–196

Raymer DG, Leslie HD (2011) Microseismic network design-estimating event detection. In 73rd EAGE Conference and Exhibition incorporating SPE EUROPEC 2011

Rost S, Thomas C (2009) Improving seismic resolution through array processing techniques. Surv Geophys 30:271–299

Schorlemmer D, Woessner J (2008) Probability of detecting an earthquake. Bull Seismol Soc Am 98(5):2103–2117

Schweitzer J, Fyen J, Mykkeltveit S, Kværna T, Bormann P (2002) Seismic arrays. IASPEI new manual of seismological observatory practice. pp 1–51

Stabile TA, De Matteis R, Zollo A (2009) Method for rapid high-frequency seismogram calculation. Comput Geosci 35(2):409–418

Stabile TA, Iannaccone G, Zollo A, Lomax A, Ferulano MF, Vetri MLV, Barzaghi LP (2013) A comprehensive approach for evaluating network performance in surface and borehole seismic monitoring. Geophys J Int 192(2):793–806

Steck LK, Velasco AA, Cogbill AH, Patton HJ (2001) Improving regional seismic event location in China. Pure Appl Geophys 158:211–240

Uhrhammer RA (1980) Analysis of small seismographic station networks. Bull Seismol Soc Am 70(4):1369–1379

Vassallo M, Bobbio A, Iannaccone G (2008) A comparison of sea-floor and on-land seismic ambient noise in the Campi Flegrei caldera, southern Italy. Bull Seismol Soc Am 98(6):2962–2974

Venisti N, Calcagnile G, Pontevivo A, Panza GF (2005) Tomographic study of the Adriatic plate. Pure Appl Geophys 162(2):311–329

Zeiler C, Velasco AA (2009) Seismogram picking error from analyst review (SPEAR): single-analyst and institution analysis. Bull Seismol Soc Am 99(5):2759–2770
Acknowledgments
Editor Tony Alfredo Stabile and two anonymous reviewers are acknowledged for their constructive comments, which helped in improving this article. This study has been partly supported by the Italian Ministry for Economic Development (MiSE), General Directorate for Mining Resources, within the context of a Program Agreement with the University of Naples "Federico II."
Additional information
Publisher's note
Springer Nature remains neutral with regard to jurisdictional claims in published maps and institutional affiliations.
About this article
Cite this article
De Landro, G., Picozzi, M., Russo, G. et al. Seismic networks layout optimization for a high-resolution monitoring of induced micro-seismicity. J Seismol 24, 953–966 (2020). https://doi.org/10.1007/s10950-019-09880-9
Received:

Accepted:

Published:

Issue Date:
Keywords
Induced seismicity

Hydrocarbon reservoirs monitoring

Optimized seismic network

Seismic arrays

Minimum detectable/locatable magnitude

Ultra-micro-seismicity detection

Monitoring guidelines