Abstract
The consequences of the random pinning in the presence of weak disorder are studied systematically based on the appearance of the second magnetization peak (SMP) and peak effect in the magnetic measurement. Here, we have observed the system dependency of the SMP effect. We have analysed the dc magnetization curves and the associated vortex pinning mechanisms of V0.0007NbSe2 single crystal at different temperatures and magnetic fields to estimate its pinning strengths in the external magnetic field H oriented parallel to the crystallographic ab plane. The characteristics of critical current density result in the presence of weak collective pinning near zero-magnetic field and the large bundle collective pinning along with SMP effect at the intermediate magnetic fields. The field dependence characteristics of the pinning force density highlights the presence of Bean-Livingstone's zero-field peak with the presence of intermediate peak and high-field peak effect phenomena. The temperature dependence of the critical current density shows the dominating nature of δl pinning in the intermediate fields region. The vortex phase diagram of V0.0007NbSe2 is drawn showing different vortex phases at altered temperatures and magnetic fields. Thus, this study depicts the SMP effect and the diverse pinning characteristics in the quasi-two-dimensional superconductor associated with the external defects.
This is a preview of subscription content, log in to check access.
Access options
Buy single article
Instant access to the full article PDF.
US$ 39.95
Price includes VAT for USA
Subscribe to journal
Immediate online access to all issues from 2019. Subscription will auto renew annually.
US$ 199
This is the net price. Taxes to be calculated in checkout.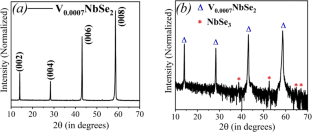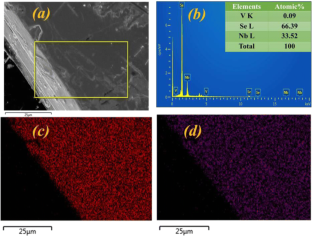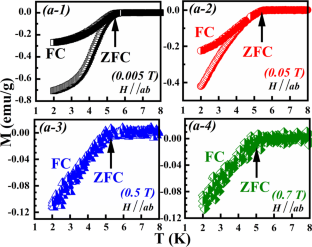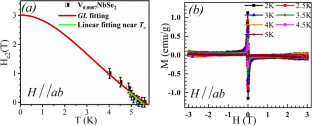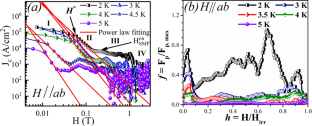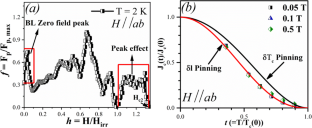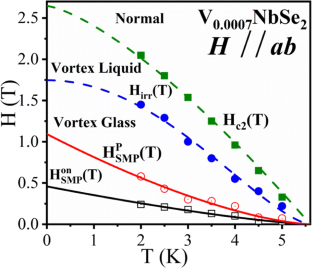 References
1.

Ertas, D., Kardar, M.: Anisotropic scaling in depinning of a flux line. Phys. Rev. Lett. 73, 1703–1706 (1994)

2.

Nelson, D.R., Vinokur, V.M.: Boson localization and correlated pinning of superconducting vortex arrays. Phys. Rev. B. 48, 13060–13097 (1993)

3.

Si, W., Han, S.J., Shi, X., Ehrlich, S.N., Jaroszynski, J., Goyal, A., Li, Q.: High current superconductivity in FeSe0.5Te0.5-coated conductors at 30 tesla. Nat. Commun. 4, 1347 (2013)

4.

Devoret, M.H., Schoelkopf, R.J.: Superconducting circuits for quantum information: an outlook. Science. 339, 1169–1174 (2013)

5.

Welp, U., Kodawaki, K., Kleiner, R.: Superconducting emitters of THz radiation. Nat. Photon. 7, 702–710 (2013)

6.

Gurevich, A., Ciovati, G.: Dynamics of vortex penetration, jumpwise instabilities, and nonlinear surface resistence of type-II superconductors in strong rf fields. Phys. Rev. B. 77, 104501 (2008)

7.

Bonura, M., Giannini, E., Viennois, R., Senatore, C.: Temperature and time scaling of the peak-effect vortex configuration in FeTe0.7Se0.3. Phys. Rev. B. 85, 134532 (2012)

8.

Miu, L., Adachi, T., Omori, K., Koike, Y., Miu, D.: Temperature dependence of the second magnetization peak in underdoped La2-xSrxCuO4 single crystals. Phys. Rev. B. 82, 064520 (2010)

9.

Pramanik, A.K., Harnagea, L., Nacke, C., Wolter, A.U.B., Wurmehl, S., Kataev, V., Buchner, B.: Fishtail effect and vortex dynamics in LiFeAs single crystals. Phys. Rev. B. 83, 094502 (2011)

10.

Elbaum, L.K., Civale, L., Vinokur, V.M., Holtzberg, F.: "Phase diagram" of the vortex-solid phase in Y-Ba-Cu-O crystals: a crossover from single-vortex (1D) to (3D) pinning regimes. Phys. Rev. Lett. 69, 2280 (1992)

11.

Wu, Z.F., Wang, Z.H., Tao, J., Qiu, L., Yang, S.G., Wen, H.H.: Flux pinning and relaxation in FeSe0.5Te0.5 single crystals. Supercond. Sci. Technol. 29, 035006 (2016)

12.

Bhoi, D., Mondal, P., Choudhury, P.: Vortex dynamics and second magnetization peak in PrFeAsO0.60F0.12 superconductor. J. Appl. Phys. 113, 183902 (2013)

13.

Miu, D., Noji, T., Adachi, T., Koike, Y., Miu, L.: On the nature of the second magnetization peak in FeSe1-xTex single crystals. Supercond. Sci. Technol. 25, 115009 (2012)

14.

Giamarchi, T., Le Doussal, P.: Phase diagrams of flux lattices with disorder. Phys. Rev. B. 55, 6577 (1997)

15.

Prozorov, R., Ni, N., Tanatar, M.A., Kogan, V.G., Gordon, R.T., Martin, C., Blomberg, E.C., Prommapan, P., Yan, J.Q., Bud'ko, S.L., Canfield, P.C.: Vortex phase diagram of Ba (Fe0.93Co0.07)2As2 single crystals. Phys. Rev. B. 78, 224506 (2008)

16.

Pervin, R., Ghosh, A., Ghosh, H., Shirage, P.M.: Study of transport properties in Se-deficient and Fe-intercalated NbSe2 single crystals: experiments and theory. J. Mater. Sci. 55, 250–262 (2020)

17.

Pervin, R., Krishnan, M., Rana, A.K., Kannan, M., Arumugam, S., Shirage, P.M.: Enhancement of superconducting critical current density by Fe impurity substitution in NbSe2 single crystals and the vortex pinning mechanism. Phys. Chem. Chem. Phys. 19, 11230–11238 (2017)

18.

Pervin, R., Krishnan, M., Rana, A.K., Arumugam, S., Shirage, P.M.: Effect of Cr atoms in vortex dynamics of NbSe2 superconductor and study of second magnetization peak effect. Mater. Res. Express. 5, 076001 (2018)

19.

Iavarone, M., Di Capua, R., Karapetrov, G., Koshelev, A.E., Rosenmann, D., Claus, H., Malliakas, C.D., Kanatzidis, M.G., Nishizaki, T., Kobayashi, N.: Effect of magnetic impurities on the vortex lattice properties in NbSe2 single crystals. Phys. Rev. B. 78, 174518 (2008)

20.

Luo, H., Nowak, J.S., Li, J., Tao, J., Klimczuk, T., Cava, R.J.: S-shaped suppression of the superconducting transition temperature in Cu-intercalated NbSe2. Chem. Mater. 29, 3704–3737 (2017)

21.

Chen, L., Li, C., Tang, H., Li, H., Liu, X., Meng, J.: First-principles calculations on structural, electronic properties of V-doped 2H-NbSe2. RSC Adv. 4, 9573 (2014)

22.

Yan, D., Lin, Y., Wang, G., Zhu, Z., Wang, S., Shi, L., He, Y., Li, M.R., Zheng, H., Ma, J.: The unusual suppression of superconducting transition temperature in double-doping 2H-NbSe2. Supercond. Sci. Technol. 32, 085008 (2019)

23.

Bayard, M., Mentzen, B.F., Sienko, M.J.: Synthesis and structural aspects of the vanadium-substituted niobium diselenides. Inorg. Chem. 15, 1963–1967 (1976)

24.

Naik, I., Tiwari, G.C., Yadav, C.S., Rastogi, A.K.: Effect of magnetic exchange interaction in resistivity on 2H-Nb1-xVxSe2. Indian J. Phys. 87, 1075–1078 (2013)

25.

Arumugam, S., Krishnan, M., Ishigaki, K., Goughi, J., Pervin, R., Selvan, G.K., Shirage, P.M., Uwatoko, Y.: Enhancement of superconducting properties and flux pinning mechanism on Cr0.0005NbSe2 single crystal under hydrostatic pressure. Sci. Rep. 9, 347 (2019)

26.

Shruti, M.V.K., Neha, P., Srivastava, P., Patnaik, S.: Superconductivity by Sr intercalation in the layered topological insulator Bi2Se3. Phys. Rev. B. 92(R), 020506 (2015)

27.

Zehetmeyer, M., Weber, H.W.: Experimental evidence for a two-band superconducting state of NbSe2 single crystals. Phys. Rev. B: Condens. Mater. Mater. Phys. 82, 014524 (2010)

28.

Tissen, V.G., Osorio, M.R., Brison, J.P., Nemes, N.M., Hernandez, M.G., Cario, L., Rodiere, P., Vieira, S., Suderow, H.: Pressure dependence of superconducting critical temperature and upper critical field of 2H-NbS2. Phys. Rev. B. 87, 134502 (2013)

29.

Khim, S., Lee, B., Kim, J.W., Choi, E.S., Stewart, G.R., Kim, K.H.: Pauli-limiting effects in the upper critical fields of a clean LiFeAs single crystal. Phys. Rev. B. 84, 104502 (2011)

30.

Helfand, E., Werthamer, N.R.: Temperature and purity dependence of the superconducting critical field, Hc2. ||. Phys. Rev. 147, 288–294 (1966)

31.

Hunte, F., Jaroszynski, J., Gurevich, A., Larbalestier, D.C., Jin, R., Sefat, A.S., McGuire, M.A., Sales, B.C., Christen, D.K., Mandrus, D.: Two-band superconductivity in LaFeAsO0.89F0.l1 at very high magnetic fields. Nature. 453, 903–905 (2008)

32.

Paltiel, Y., Fuchs, D.T., Zeldov, E., Myasoedov, Y.N., Shtrikman, H., Rappaport, M.L., Andrei, E.Y.: Surface barrier dominated transport in NbSe2. Phys. Rev. B. 58, R14763–R14766 (1998)

33.

Zhou, W., Xing, X., Wu, W., Zhao, H., Shi, Z.: Second magnetization peak effect, vortex dynamics, and flux pinning in 112-type superconductor Ca0.8La0.2Fe(1-x)CoxAs2. Sci. Rep. 6, 22278 (2016)

34.

Shen, B., Cheng, P., Wang, Z., Fang, L., Ren, C., Shan, L., Wen, H.H.: Flux dynamics and vortex phase diagram in Ba (Fe1-xCox)2As2 single crystals revealed by magnetization and its relaxation. Phys. Rev. B. 81, 014503 (2010)

35.

Yang, G., Shang, P., Sutton, S.D., Jones, I.P., Abell, J.S., Gough, C.E.: Competing pinning mechanisms in Bi2Sr2CaCu2Oy single crystals by magnetic and defect structural studies. Phys. Rev. B. 48, 4054–4060 (1993)

36.

Bean, C.P.: Magnetization of high-field superconductors. Rev. Mod. Phys. 36, 31–39 (1964)

37.

Liu, Y., Zhou, L., Sun, K., Straszheim, W.E., Tanatar, M.A.: Doping evolution of the second magnetization peak and magnetic relaxation in (Ba1-xKx)Fe2As2 single crystals. Phys. Rev. B. 97, 054511 (2018)

38.

Blatter, G., Feigel'man, M.V., Geshkenbein, V.B., Larkin, A.I., Vinokur, V.M.: Vortices in high-temperature superconductors. Rev. Mod. Phys. 66, 1125–1388 (1994)

39.

Higgins, M.J., Bhattacharya, S.: Varieties of dynamics in a disordered flux-line lattice. Physica C. 257, 232–254 (1996)

40.

Haberkon, N., Miura, M., Baca, J., Maiorov, B., Usov, I., Dowden, P., Foltyn, S.R., Holesinger, T.G., Willis, J.O., Marken, K.R., Izumi, T., Shiohara, Y., Civale, L.: High-temperature change of the creep rate in YBa2Cu3O7−δ films with different pinning landscapes. Phys. Rev. B. 85, 174504 (2012)

41.

Dew-Hughes, D.: Flux pinning mechanisms in type II superconductors. Phil. Mag. 30, 293–305 (1974)

42.

Sun, Y., Shi, Z.X., Gu, D.M., Miura, M., Tamegai, T.: Peak effect of flux pinning in Sc5Ir4Si10 superconductor. J. Appl. Phys. 108, 073920 (2010)

43.

Griessen, R., Hu, W.H., Van Dalen, A.J.J., Dam, B., Rector, J., Schnack, H.G., Libbrecht, S., Osquiguil, E., Bruynseraede, Y.: Evidence for mean free path fluctuation induced pinning in YBa2Cu3O7 and YBa2Cu4O8 films. Phys. Rev. Lett. 72, 1910 (1994)

44.

Ghorbani, S.R., Wang, X.L., Shahbazi, M., Dou, S.X., Lin, C.T.: Fluctuation of mean free path and transition temperature induced vortex pinning in (Ba, K)Fe2As2 superconductors. Appl. Phys. Lett. 100, 212601 (2012)

45.

Das, P., Thakur, A.D., Yadav, A.K., Tomy, C.V., Lees, M.R., Balakrishnan, G., Ramakrishnan, S., Grover, A.K.: Magnetization hysteresis and time decay measurements in FeSe0.50Te0.50: evidence for fluctuation in mean free path induced Pinning. Phys. Rev. B. 84, 214526 (2011)

46.

Yang, H., Luo, H., Wang, Z., Wen, H.H.: Fishtail effect and the vortex phase diagram of single crystal Ba0.6K0.4Fe2As2. Appl. Phys. Lett. 93, 142506 (2008)
Acknowledgements
PMS acknowledges IIT Indore and SIC for providing accessibility to equipment for research.
Funding
This work was supported by the Department of Science and Technology (SERB-DST), India, by acknowledging prestigious 'Ramanujan Fellowship' award (SR/S2/RJN-121/2012), India, and a CSIR support project (Grant No. 03(1349)/16/EMR-II) to PMS. The author RP received esteemed SRF Inspire fellowship (DST/INSPIRE Fellowship/2015/IF150330) from DST, India. The author MK received meritorious fellowship from UGC-RGNF-SRF, India. The author SA received financial assistance from DST (SERB, FIST, and PURSE), India.
Additional information
Publisher's note
Springer Nature remains neutral with regard to jurisdictional claims in published maps and institutional affiliations.
About this article
Cite this article
Pervin, R., Krishnan, M., Arumugam, S. et al. Disordering Induced Second Magnetization Peak Effect and the Vortex Pinning Mechanism in V0.0007NbSe2 Single Crystal. J Supercond Nov Magn (2020). https://doi.org/10.1007/s10948-020-05542-x
Received:

Accepted:

Published:
Keywords
Single crystals

Critical current density

Second magnetization peak

Small bundle pinning region

Large bundle collective pinning region

Bean-Livingstone surface barrier effect

Lattice softening

Peak effect