Abstract
The present research is a descriptive analytical study which is conducted on 540 students. Multistage random sampling method was used. Data gathered by questionnaire consist of demographic factors and spirituality assessment questionnaire and self-efficacy questionnaire. Data were analyzed using statistical tests including t test, Chi-square, one-way ANOVA and correlation between variables through SPSS16 and EQS6.1 Software. Positive coefficients in regression equations showed positive relationship of spiritual capability (P < 0.001, r = 0.932) and spirituality with perceived self-efficacy (P < 0.001, r = 0.394) so that an increase in one of them will lead to increase in another one; this result is matched with research hypothesis. It is recommended to officials and managers of universities to create some mechanisms in order to improve and promote spirituality in university to promote self-efficacy of students and also to adopt a spiritual approach in curriculums of higher education.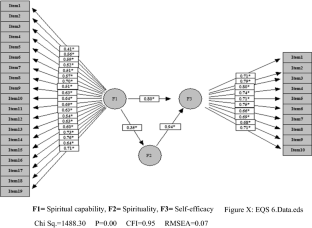 References
Abdal, M., Alavi, N. M., & Adib-Hajbaghery, M. (2015). Clinical self-efficacy in senior nursing students: A mixed-methods study. Nursing and Midwifery Studies, 4(3), e29143.

Adegbola, M. (2011). Spirituality, self-efficacy, and quality of life among adults with sickle cell disease. Southern Online Journal of Nursing Research, 11(1), pii 5.

Azad Marzabadi, E., et al. (2015). Study the relationship between social support and self-efficacy in staffs of one of the military organizations. Journal of Police Medicine, 4(1), 57–64.

Bandura, A. (2003). Commentary: "On the psychosocial impact and mechanisms of spiritual modeling". The International Journal for the Psychology of Religion, 13(3), 167–173.

Capri, B., Ozkendir, O. M., Ozkurt, B., & Karakus, F. (2012). General self-efficacy beliefs, life satisfaction and burnout of university students. Procedia-Social and Behavioral Sciences, 47, 968–973.

DeWitz, S. J., & Walsh, W. B. (2002). Self-efficacy and college student satisfaction. Journal of Career Assessment, 10(3), 315–326.

Doménech-Betoret, F., Abellán-Roselló, L., & Gómez-Artiga, A. (2017). Self-efficacy, satisfaction, and academic achievement: The mediator role of students' expectancy-value beliefs. Frontiers in Psychology, 8, 1193.

Farahaninia, M., Abbasi, M., Givari, A., & Haghani, H. (2006). Nursing students' spiritual well-being and their perspectives towards spirituality and spiritual care perspectives. Iran Journal of Nursing, 18(44), 7–14.

Feldman, D. B., & Snyder, C. R. (2005). Hope and the meaningful life: Theoretical and empirical associations between goal-directed thinking and life meaning. Journal of Social and Clinical Psychology, 24(3), 401–421.

Frouzandeh, N., Aein, F., & Noorian, C. (2015). Introducing a spiritual care training course and determining its effectiveness on nursing students' self-efficacy in providing spiritual care for the patients. Journal of Education and Health Promotion, 4, 34.

Ghaffari, M., Mehrabi, Y., Rakhshanderou, S., Safari-Moradabadi, A., & Samiei-e-Nasr, M. (2019). Predictors of physical activity among employees in Tehran: A cross-sectional study based on the trans-theoretical model. Journal of Public Health. https://doi.org/10.1007/s10389-019-01156-3.

Ghaffari, M., Rakhshanderou, S., Safari-Moradabadi, A., & Torabi, S. (2018). Oral and dental health care during pregnancy: Evaluating a theory-driven intervention. Oral Diseases, 24(8), 1606–1614.

Glanz, K., Rimer, B. K., & Viswanath, K. (2008). Health behavior and health education: Theory, research, and practice. Hoboken: Wiley.

González-Rivera, J., & Rosario-Rodríguez, A. J. R. (2018). Spirituality and self-efficacy in caregivers of patients with neurodegenerative disorders: An overview of spiritual coping styles. Religions, 9(9), 276.

Hammouri, K. A., & Alenzi, S. A. (2016). Spiritual intelligence and the differences among gifted and non-gifted students, according to gender and class level. American Journal of Educational Research, 4(15), 1086–1095.

Heydarzadegan, A., & Kochakzaei, M. (2015). Study of the relationship between spiritual well-being and self-efficacy of students of faculty of engineering and psychology and educational sciences. Majallah-i Amuzih-i Muhandisi-i Iran, 17(65), 79.

Hooper, D., Coughlan, J., & Mullen, M. (2008). Structural equation modelling: Guidelines for determining model fit. Electronic Journal of Business Research Methods, 6(1), 53–60.

Karademas, E. C. (2006). Self-efficacy, social support and well-being: The mediating role of optimism. Personality and Individual Differences, 40(6), 1281–1290.

Kim, Y., & Seidlitz, L. (2002). Spirituality moderates the effect of stress on emotional and physical adjustment. Personality and Individual Differences, 32(8), 1377–1390.

Marzabadi, A. (2015). Relationship between physical–mental health and spirituality with self-efficacy in military staff. Journal of Military Medicine, 16(4), 217–223.

Oman, D., Thoresen, C. E., Park, C. L., Shaver, P. R., Hood, R. W., & Plante, T. G. (2009). How does one become spiritual? The spiritual modeling inventory of life environments (SMILE). Mental Health, Religion and Culture, 12(5), 427–456.

Puchalski, C. M., & Guenther, M. (2012). Restoration and re-creation: Spirituality in the lives of healthcare professionals. Current Opinion in Supportive and Palliative Care, 6(2), 254–258.

Rahmanian, M., Hojat, M., Jahromi, M. Z., & Nabiolahi, A. (2018). The relationship between spiritual intelligence with self-efficacy in adolescents suffering type 1 diabetes. Journal of Education and Health Promotion, 7, 100.

Schwarzer, R., & Hallum, S. (2008). Perceived teacher self-efficacy as a predictor of job stress and burnout: Mediation analyses. Applied Psychology, 57(s1), 152–171.

Shahidi, Sh, & Fall, F. S. (2012). Designing and validating a spiritual assessment questionnaire. Ravanshenasi-va Din, 19(5), 97–116.

Smith II, J. P. (2011). The effects of self-efficacy and spirituality on the job satisfaction and motivation to lead among redeploying soldiers as moderated by transformational leadership. Regent University.

Sullivan, R. J., & Atkins, M. B. (2009). Molecular-targeted therapy in malignant melanoma. Expert Review of Anticancer Therapy, 9(5), 567–581.

Taghipour, A., Shahroudi, M. V., Tabesh, H., Safari-Moradabadi, A., & Alipour, A. M. (2019). The effect of educational intervention based on the theory of planned behavior and stages of change construct on women's physical activity. Journal of Education and Health Promotion, 8, 195.

Van Waeyenberg, T., Decramer, A., & Anseel, F. (2015). Home nurses' turnover intentions: The impact of informal supervisory feedback and self-efficacy. Journal of Advanced Nursing, 71(12), 2867–2878.

van Zyl, Y., & Dhurup, M. (2018). Self-efficacy and its relationship with satisfaction with life and happiness among university students. Journal of Psychology in Africa, 28(5), 389–393.

Zamirinejad, S., Azizi, S., Shakeri, A., Hassandoust, Z., Mohammad, P. M., Yousefi, H., et al. (2016). Predicting self-efficacy of students based on spiritual intelligence. Journal of Sabzevar University of Medical Sciences., 23(2), 196–203.
Acknowledgements
We appreciate all students who participated and collaborated in this study.
Ethics declarations
Conflict of interest
The authors declare that they have no conflict of interest.
Ethical Approval
The present study involves the use of human participants and was approved by Religion and Health Studies Center in Shahid Beheshti University of Medical Sciences, Tehran, Iran (Project Number: 6654—Ethics Committee Code: IR.SBMU.PHNS.rec.1395.88).
Informed Consent
All participants viewed an informed consent page and consented to participation in the study.
Additional information
Publisher's Note
Springer Nature remains neutral with regard to jurisdictional claims in published maps and institutional affiliations.
About this article
Cite this article
Rakhshanderou, S., Safari-Moradabadi, A. & Ghaffari, M. Structural Equation Modeling of the Spirituality and Self-efficacy Among College Students. J Relig Health 60, 488–499 (2021). https://doi.org/10.1007/s10943-020-00984-y
Keywords
Spirituality

Perceived self-efficacy

College students

Structural equation modeling