Abstract
Objectives
The civil society perspective predicts that civic and voluntary organizations promote the welfare of communities by enhancing social capital and cohesion. Here, I examine whether black Protestant churches, because of their dual emphasis on personal piety and social justice, function as agents of civil society in the southern United States by reducing crime, and whether structural context moderates the relationship between black religious ecology and crime.
Methods
With data from the 2010 Religious Congregations and Membership Survey, I used spatial regression analyses to estimate models of arrest rates in 799 southern counties. I examined indices representing both property and violent crime provided in the FBI Uniform Crime Reports.
Results
In main effects models, black Protestant density related inversely to county-level property crime arrest rates, but it was unrelated to violent crime arrest rates. Interactive models revealed that black Protestant affiliation was particularly protective of property crime in counties with the highest levels of resource disadvantage. While black Protestant affiliation was protective of both property and violent crime in low-income counties, it had a positive association with arrest rates in high-income counties.
Conclusions
Net of total religious adherence, the Black Church has a uniquely protective effect against crime in the most disadvantaged southern communities. Findings were largely consistent with ecological theories related to social capital, social organization, and collective efficacy. They also highlight limits to the moral communities thesis. Results suggest that more scholarship should examine racialized law enforcement practices in high-income counties.
Access options
Buy single article
Instant access to the full article PDF.
US$ 39.95
Tax calculation will be finalised during checkout.
Subscribe to journal
Immediate online access to all issues from 2019. Subscription will auto renew annually.
US$ 79
Tax calculation will be finalised during checkout.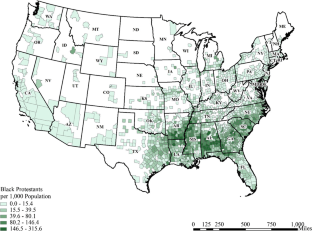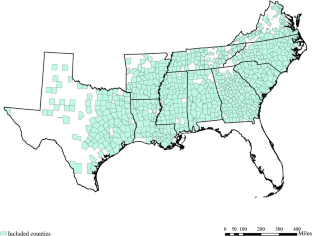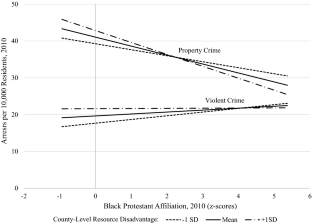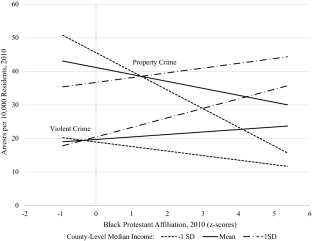 Notes
1.

Very few studies, in contrast, address potential bidirectionality between religion and crime, despite Thornberry's (1987) important articulation of just such a theoretical imperative. Just as factors like unemployment might be both predictor and outcome to deviant behavior, so might religious participation. The limited research is mixed. Some studies, for instance, demonstrate a null relationship between prior substance use and later religiosity but a significant relationship between prior religiosity and later substance use at the micro-level (Jang 2018; Thomson 2016). At the collective level, rising crime rates in a neighborhood might deter individuals from attending religious services, or as Heaton (2006) argues, those involved in crime might abstain from religious involvement due to guilt or institutional censure, though mission-oriented churches might also intentionally plant in distressed neighborhoods. While an important theoretical consideration, the question of bidirectionality between religion and crime is beyond the scope of the present study.

2.

Harris and Ulmer (2017), in contrast, replicate analyses with mainline Protestant, evangelical Protestant, Catholic, and overall adherence rather than black Protestant adherence in separate models, which allows them to conclude that black Protestantism has a unique effect, but not a net effect.

3.

Excluding counties in Florida, African Americans comprised a significantly smaller share of the population in counties excluded due to missing data on religious adherence of black Protestants than included counties (5.4 vs. 25.0%). Lack of data thus likely reflects relative absence of the Black Church, rendering such counties less relevant to the present study. Excluded counties are also significantly less urban and less disadvantaged in terms of income, inequality, unemployment, poverty, and female-headed households, but they have a significantly smaller share of residents with a high school diploma. Both property and violent crime rates were significantly lower in excluded counties than in included counties, as expected based on socioeconomic indicators (except education). Substantively, I would also expect—consistent with hypotheses developed herein—that black Protestant churches would not necessarily be related to crime in these more affluent counties.

4.

I do not control for percent black as a potential covariate of crime rates because it is strongly correlated with my primary independent variable of interest (black Protestant affiliation rate, r = .68, p = .0001). I do consider the relative size of Hispanic populations, however, as research consistently demonstrates a negative relationship to crime rates for reasons similar to those hypothesized herein for black Protestant affiliation. Namely, Harris and Feldmeyer (2015) found that Hispanic immigrant rates were positively associated with religious adherence, civically engaged religious adherence, and religious homogeneity, each of which were negatively related to violent crime.

5.

Median household income also loaded onto the common factor, though in a direction opposite to the other variables. I therefore modeled it as an independent measure.
References
Ammerman N (1996) Congregation and community, 1st edn. Rutgers University Press, New Brunswick

Anselin L, Rey SJ (2014) Modern spatial econometrics in practice: a guide to GeoDa, GeoDaSpace and PySAL. GeoDa Press LLC, Chicago

Beyerlein K, Hipp J (2005) Social capital, too much of a good thing? American religious traditions and community crime. Soc Forces 84(2):995–1013

Beyerlein K, Hipp J (2006) From pews to participation: the effect of congregation activity and context on bridging civic engagement. Soc Probl 53(1):97–117

Blanchard T, Matthews TL (2006) The configuration of local economic power and civic participation in the global economy. Soc Forces 84(4):2241–2257

Blanchard TC, Tolbert C, Mencken C (2011) The health and wealth of US counties: how the small business environment impacts alternative measures of development. Camb J Regions Econ Soc 5(1):149–162

Bruce S (2002) God is dead: secularization in the west (Religion in the Modern World). Wiley, New York

Caldwell CH, Greene AD, Billingsley A (1992) The black church as a family support system: instrumental and expressive functions. Natl J Sociol 6(1):21–40

Chamlin MB, Cochran JK (1995) Assessing Messner and Rosenfeld institutional anomie theory—a partial test. Criminology 33(3):411–429

Davis RC, Henderson NJ (2003) Willingness to report crimes: the role of ethnic group membership and community efficacy. Crime Delinq 49(4):564–580

Desmond SA, Kikuchi G, Morgan KH (2010) Congregations and crime: is the spatial distribution of congregations associated with neighborhood crime rates? J Sci Study Relig 49(1):37–55

Ellison CG, Sherkat DE (1994) The semi-involuntary institution revisited: regional variations in church participation among black americans. Soc Forces 73:1415–1438

Ellison CG, Burr JA, Mccall PL (2003) The enduring puzzle of southern homicide: is regional religious culture the missing piece? Homicide Stud 7(4):326–352

Emerson MO, Smith C (2000) Divided by faith: evangelical religion and the problem of race in America. Oxford University Press, Oxford

Grammich C, Hadaway K, Houseal R, Jones DE, Krindatch A, Stanley R, Taylor RH (2012) 2010 U.S. Religion Census: religious congregations & membership study. Association of Statisticians of American Religious Bodies, Lenexa

Harris DA (1999) The stories, the statistics, and the law: why driving while black matters. Minn Law Rev 84:265

Harris CT, Feldmeyer B (2015) A shot of morality? Hispanic immigration, religious contextual characteristics, and violence. Sociol Spectr 35(3):229–253

Harris CT, Ulmer JT (2017) "Mighty Like A River": the black protestant church and violence in black communities. Sociol Quart 58(2):295–314

Heaton P (2006) Does religion really reduce crime? J Law Econ 49(1):147–172

Higgins PC, Albrecht GL (1977) Hellfire and delinquency revisited. Soc Forces 55(4):952–958

Hipp JR, Petersilia J, Turner S (2010) Parolee recidivism in California: the effect of neighborhood context and social service agency characteristics. Criminology 48(4):947–979

Hipp JR, Jannetta J, Shah R, Turner S (2011) Parolees' physical closeness to social services: a study of California parolees. Crime Delinq 57(1):102–129

Hirschi T, Stark R (1969) Hellfire and delinquency. Soc Probl 17(2):202–213

Hoge DR, Zech C, McNamara P, Donahue MJ (1998) The value of volunteers as resources for congregations. J Sci Study Relig 37(3):470–480

Irwin M, Blanchard T, Tolbert C, Nucci A, Lyson T (2004) Why people stay: the impact of community context on nonmigration in the USA. Population (English Edition) 59:567–591

Jang SJ (2018) Religiosity, crime, and drug use among juvenile offenders: a test of reciprocal relationships over time. Int J Offender Ther Comp Criminol. https://doi.org/10.1177/0306624x18769606

Jang SJ, Johnson BR (2001) Neighborhood disorder, individual religiosity, and adolescent use of illicit drugs: a test of multilevel hypotheses. Criminology 39(1):109–144

Jang SJ, Johnson BR (2003) Strain, negative emotions, and deviant coping among African Americans: a test of general strain theory. J Quant Criminol 19(1):79–105

Jang SJ, Johnson BR (2004) explaining religious effects on distress among African Americans. J Sci Study Relig 43(2):239–260

Johnson BR, Jang SJ (2011) Crime and Religion: assessing the role of the faith factor. In: Rosenfeld R, Quinet K, Garcia C (eds) Contemporary Issues in criminological theory and research: the role of social institutions. Wadsworth, Belmont, pp 117–149

Johnson BR, Jang SJ, Li SD, Larson D (2000a) The "invisible institution" and black youth crime: the church as an agency of local social control. J Youth Adolesc 29(4):479–498

Johnson BR, Larson DB, Li SD, Jang SJ (2000b) Escaping from the crime of inner cities: church attendance and religious salience among disadvantaged youth. Justice Q 17(2):377–391

Johnson BR, Li S, Larson DB, McCullough M (2000c) A systematic review of the religiosity and delinquency literature: a research note. Psychology 16(1):32–52

Kelly PE, Polanin JR, Jang SJ, Johnson BR (2015) Religion, delinquency, and drug use a meta-analysis. Crim Justice Rev 40(4):505–523

Koch JR, Beckley RE (2006) Under the radar: AIDS ministry in the Bible Belt. Rev Relig Res 47(4):393–408

Lee MR (2006) The religious institutional base and violent crime in rural areas. J Sci Study Relig 45(3):309–324

Lee MR (2008) Civic community in the Hinterland: toward a theory of rural social structure and violence. Criminology 46(2):447–478

Lee MR, Bartkowski JP (2004) Love thy neighbor? Moral communities, civic engagement, and juvenile homicide in rural areas. Soc Forces 82(3):1001–1035

Lee MR, Bankston WB, Hayes TC, Thomas SA (2007) Revisiting the southern culture of violence. Sociol Q 48(2):253–275

Lincoln CE, Mamiya LH (1990) The Black church in the African American experience. Duke University Press, Durham

Liu B, Austin SDW, Orey BD (2009) Church attendance, social capital, and black voting participation. Soc Sci Q 90(3):576–592

Meehan AJ, Ponder MC (2002) Race and place: the ecology of racial profiling African American motorists. Justice Q 19(3):399–430

Messner SF, Anselin L, Baller RD, Hawkins DF, Deane G, Tolnay SE (1999) The spatial patterning of county homicide rates: an application of exploratory spatial data analysis. J Quant Criminol 15(4):423–450

Montgomery WE (1993) Under their own vine and fig tree: the African-American Church in the South: 1865–1900. Louisiana State University Press, Baton Rouge

Morris A (1996) The Black Church in the civil rights movement. In: Smith C (ed) Disruptive Religion. Routledge, New York, pp 29–46

Norris P, Inglehart R (2011) Sacred and secular: religion and politics worldwide, 2nd edn. Cambridge University Press, Cambridge

Ohmer ML (2007) Citizen participation in neighborhood organizations and its relationship to volunteers' self- and collective efficacy and sense of community. Soc Work Res 31(2):109–120

Patillo-McCoy M (1998) Church culture as a strategy of action in the black community. Am Sociol Rev 63:767–784

Pattillo-McCoy M (1998) Church culture as a strategy of action in the black community. Am Sociol Rev 63(6):767–784

Putnam RD (2000) Bowling alone: the collapse and revival of American Community. Simon and Schuster, New York

Putnam RD, Campbell DE (2010) American grace: how religion divides and unites us. Simon & Schuster, New York

Raboteau AJ (1978) Slave religion: the "invisible institution" in the Antebellum South. Oxford University Press, New York

Regnerus MD (2003) Moral communities and adolescent delinquency: religious contexts and community social control. Sociol Q 44(4):523–554

Robinson WS (1950) Ecological correlations and the behavior of individuals. Am Sociol Rev 15:351–357

Sampson RJ, Raudenbush SW (1999) Systematic social observation of public spaces: a new look at disorder in urban neighborhoods. Am J Sociol 105(3):603–651

Sampson RJ, Raudenbush SW, Earls F (1997) Neighborhoods and violent crime: a multilevel study of collective efficacy. Science 277(5328):918–924

Schnabel L, Bock S (2017) The persistent and exceptional intensity of American religion: a response to recent research. Sociol Sci 4:686–700

Sharkey P, Torrats-Espinosa G, Takyar D (2017) Community and the crime decline: the causal effect of local nonprofits on violent crime. Am Sociol Rev 82(6):1214–1240

Shelton JE, Emerson MO (2012) Blacks and whites in Christian America: how racial discrimination shapes religious convictions. NYU Press, New York

Stark R (1996) Religion as context: hellfire and delinquency one more time. Soc Relig 57(2):163–173

Stark R, Finke R (2000) Acts of faith: explaining the human side of religion. University of California Press, Berkeley

Thomson RA (2016) More than friends and family? Estimating the direct and indirect effects of religiosity on substance use in emerging adulthood. J Drug Issues 46(4):326–346

Thornberry T (1987) Toward an interactional theory of delinquency. Criminology 25(4):863–892

Tita GE, Radil SM (2010) Making space for theory: the challenges of theorizing space and place for spatial analysis in criminology. J Quant Criminol 26(4):467–479

Tolbert CM, Lyson TA, Irwin MD (1998) Local capitalism, civic engagement, and socioeconomic well-being. Soc Forces 77(2):401–427

Ulmer JT, Harris CT (2013) Race and the religious contexts of violence: linking religion and white, black, and Latino violent crime. Sociol Q 54(4):610–646

Voas D, Chaves M (2016) Is the United States a counterexample to the secularization thesis? Am J Sociol 121(5):1517–1556
Acknowledgements
I wish to express my deepest appreciation to Paul Froese for his guidance and mentorship, as well as Lindsay Wilkinson, Matt Bradshaw, Jerry Park, Carson Mencken, and Charles Tolbert for their feedback on early drafts of the manuscript. Thanks also to Elaine Howard Ecklund, Brielle Bryan, Tony Brown, James Elliott, Sharan Mehta, and Raul Casarez, the editor, and blind reviewers for their substantive feedback as well.
Additional information
Publisher's Note
Springer Nature remains neutral with regard to jurisdictional claims in published maps and institutional affiliations.
About this article
Cite this article
Thomson, R.A. Religion in Civil Society: The Influence of Black Religious Ecology on Crime in the South. J Quant Criminol 37, 73–99 (2021). https://doi.org/10.1007/s10940-019-09444-7
Keywords
Race

Structural disadvantage

Religious ecology

Crime rates

Civil society perspective