Abstract
Catalysts of AlMCM-48 with different Si/Al molar rations were synthesized by modified hydrothermal method with respect to previous works. As a consequence, the materials showed different porous structures making them of high adsorption capacities and high efficiency to high-density polyethylene (HDPE). Samples synthesized with various Si/Al molar ratios were characterized by X-ray diffraction (XRD), nitrogen adsorption at – 196 °C, scanning electron microscope (SEM), transmission electron microscope (TEM), Fourier transform infrared (FTIR) and dispersive energy X-ray spectrometry (EDX). Characterization results suggested the presence of tetrahedral Al species on AlMCM-48(x), giving highly ordered materials that exhibit thermal stability. It is important to highlight that the use pseudoboehmite as a promising Al source for the synthesis of this type of molecular sieves, leading to materials with slight morphological differences due to the formation of interconnected particles spherical. The catalytic performance showed that the high-density polyethylene (HDPE) degradation reaction occurs in complex reaction steps in the heating rates 5, 10 and 20 °C min−1. The pore diameters of the catalysts influence the degradation process under non-isothermal condition. Furthermore, on the conditions studied, the AlMCM-48(x) catalysts exhibited high conversion values and play important roles in the decrease of HDPE degradation temperature, potentially leading to an efficient process in terms of energy expenditure.
Access options
Buy single article
Instant access to the full article PDF.
US$ 39.95
Tax calculation will be finalised during checkout.
Subscribe to journal
Immediate online access to all issues from 2019. Subscription will auto renew annually.
US$ 79
Tax calculation will be finalised during checkout.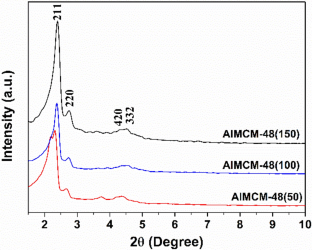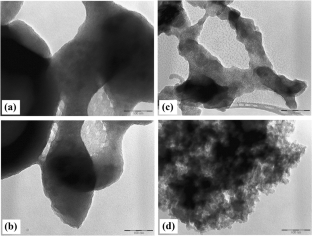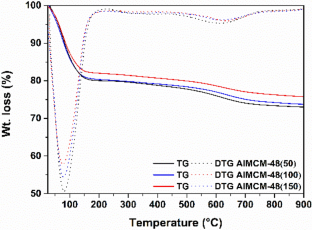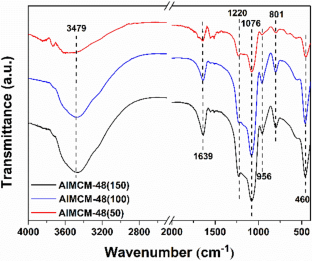 Acknowledgements
This work was supported by the National Council for Scientific and Technological Development (CNPq) and the Coordination for the Improvement of Higher Education Personnel—Brazil (CAPES)—Finance code 001. T.G. dos Santos expresses his appreciation for a fellowship granted by CNPq. For their contributions, the authors thank the GCAR/IQB/UFAL, LabCat/UFS, LSCAT/CTEC/UFAL and IFAL.
Additional information
Publisher's Note
Springer Nature remains neutral with regard to jurisdictional claims in published maps and institutional affiliations.
Supplementary Information
Below is the link to the electronic supplementary material.
About this article
Cite this article
dos Santos, T.G., Silva, A.O.S., Pedrosa, A.M.G. et al. Structure and catalytic activity of highly ordered AlMCM-48 materials with different Si/Al ratios on the degradation of high-density polyethylene. J Porous Mater (2021). https://doi.org/10.1007/s10934-021-01044-w
Keywords
AlMCM-48

Pseudoboehmite

Modified hydrothermal synthesis

High-density polyethylene

Catalytic degradation