Abstract
People tend to assign higher attractiveness to an individual viewed from the back than head on. This tendency is pronounced when males rate the attractiveness of women. This study investigated reasons for the previously observed gender difference in this bias, focusing on the social relationship between raters (participants) and rated models (stimuli). To manipulate the assumed social relationship, we explicitly instructed participants in advance to rate the front/back view of an opposite-gender individual as a romantic partner (romance-based condition) or as a friend (friend-based condition). The back-view bias was robustly observed in both male and female raters under every condition. More importantly, male raters showed an enhanced back-view bias under the romance-based condition compared to the friend-based condition, whereas female raters showed less bias, irrespective of the assumed social relationship. We discuss these results in terms of gender differences in criteria used to form judgments of attractiveness.
Access options
Buy single article
Instant access to the full article PDF.
US$ 39.95
Tax calculation will be finalised during checkout.
Subscribe to journal
Immediate online access to all issues from 2019. Subscription will auto renew annually.
US$ 79
Tax calculation will be finalised during checkout.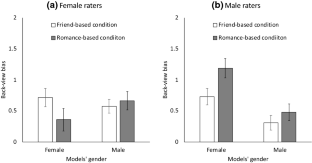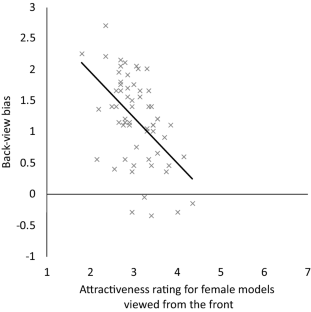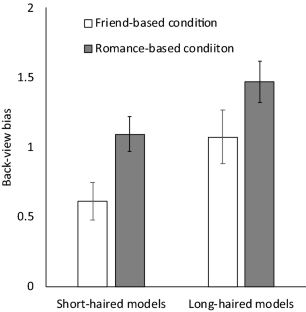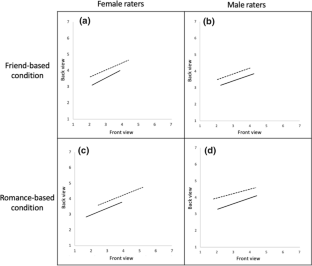 Availability of Data and Material
Notes
1.

We thank the reviewer for suggesting this hypothesis.
References
Bailey, J. M., Gaulin, S., Agyei, Y., & Gladue, B. A. (1994). Effects of gender and sexual orientation on evolutionarily relevant aspects of human mating psychology. Journal of Personality and Social Psychology, 66, 1081.

Bateman, A. J. (1948). Intra-sexual selection in Drosophila. Heredity, 2, 349–368.

Bruce, V., Valentine, T., & Baddeley, A. (1987). The basis of the 3/4 view advantage in face recognition. Applied Cognitive Psychology, 1, 109–120.

Buss, D. M. (1987). Selection, evocation, and manipulation. Journal of Personality and social Psychology, 53, 1214.

Buss, D. M. (1989). Sex differences in human mate preferences: Evolutionary hypotheses tested in 37 cultures. Behavioral and Brain Sciences, 12, 1–14.

Buss, D. M., & Barnes, M. (1986). Preferences in human mate selection. Journal of Personality and Social Psychology, 50, 559.

Buss, D. M., Shackelford, T. K., Kirkpatrick, L. A., & Larsen, R. J. (2001). A half century of mate preferences: The cultural evolution of values. Journal of Marriage and Family, 63, 491–503.

Cohen, J. (1988). Statistical power analysis for the behavioral sciences. . Routledge Academic.

Conroy-Beam, D., Buss, D. M., Pham, M. N., & Shackelford, T. K. (2015). How sexually dimorphic are human mate preferences? Personality and Social Psychology Bulletin, 41, 1082–1093.

Faul, F., Erdfelder, E., Lang, A. G., & Buchner, A. (2007). G*Power 3: A flexible statistical power analysis program for the social, behavioral, and biomedical sciences. Behavior Research Methods, 39, 175–191.

Franklin, R. G., Jr., & Adams, R. B., Jr. (2009). A dual-process account of female facial attractiveness preferences: Sexual and nonsexual routes. Journal of Experimental Social Psychology, 45, 1156–1159.

Gangestad, S. W., & Scheyd, G. J. (2005). The evolution of human physical attractiveness. Annual Review of Anthropology, 34, 523–548.

Grøntvedt, T. V., & Kennair, L. E. O. (2013). Age preferences in a gender egalitarian society. Journal of Social, Evolutionary, and Cultural Psychology, 7, 239.

Haselton, M. G., & Buss, D. M. (2000). Error management theory: A new perspective on biases in cross-sex mind reading. Journal of Personality and Social Psychology, 78, 81.

Hill, H., Schyns, P. G., & Akamatsu, S. (1997). Information and viewpoint dependence in face recognition. Cognition, 62, 201–222.

Hinsz, V. B., Matz, D. C., & Patience, R. A. (2001). Does women's hair signal reproductive potential? Journal of Experimental Social Psychology, 37, 166–172.

Kenrick, D. T., & Keefe, R. C. (1992). Age preferences in mates reflect sex differences in human reproductive strategies. Behavioral and Brain Sciences, 15, 75–91.

Koo, T. K., & Li, M. Y. (2016). A guideline of selecting and reporting intraclass correlation coefficients for reliability research. Journal of Chiropractic Medicine, 15, 155–163.

Langlois, J. H., & Roggman, L. A. (1990). Attractive faces are only average. Psychological Science, 1, 115–121.

Lassek, W. D., & Gaulin, S. J. (2019). Evidence supporting nubility and reproductive value as the key to human female physical attractiveness. Evolution and Human Behavior, 40, 408–419.

Marlowe, F. W. (2004). Mate preferences among Hadza hunter-gatherers. Human Nature, 15, 365–376.

Olson, I. R., & Marshuetz, C. (2005). Facial attractiveness is appraised in a glance. Emotion, 5, 498.

Perrett, D. I., Lee, K. J., Penton-Voak, I., Rowland, D., Yoshikawa, S., Burt, D. M., & Akamatsu, S. (1998). Effects of sexual dimorphism on facial attractiveness. Nature, 394, 884–887.

Rule, N. O., & Ambady, N. (2008). Brief exposures: Male sexual orientation is accurately perceived at 50 ms. Journal of Experimental Social Psychology, 44, 1100–1105.

Rule, N. O., Ambady, N., & Adams, R. B., Jr. (2009). Personality in perspective: Judgmental consistency across orientations of the face. Perception, 38, 1688–1699.

Symons, D. (1979). The evolution of human sexuality. . Oxford University Press.

Thornhill, R., & Gangestad, S. W. (1999). Facial attractiveness. Trends in Cognitive Sciences, 3, 452–460.

Troje, N. F., & Bülthoff, H. H. (1996). Face recognition under varying poses: The role of texture and shape. Vision Research, 36, 1761–1771.

Wiederman, M. W. (1993). Evolved gender differences in mate preferences: Evidence from personal advertisements. Ethology and Sociobiology, 14, 331–351.

Willis, J., & Todorov, A. (2006). First impressions: Making up your mind after a 100-ms exposure to a face. Psychological Science, 17, 592–598.

Winkielman, P., Halberstadt, J., Fazendeiro, T., & Catty, S. (2006). Prototypes are attractive because they are easy on the mind. Psychological Science, 17, 799–806.

Yonemura, K., Ono, F., & Watanabe, K. (2013). Back view of beauty: A bias in attractiveness judgement. Perception, 42, 95–102.

Zebrowitz, L. A. (1997). Reading faces: Window to the soul? . Westview Press.
Funding
This work was supported by Japan Society for the Promotion of Science [KAKENHI Grant Number JP17K17909] to AA.
Ethics declarations
Conflict of interest
The authors declare that they have no conflict of interest.
Consent for Publication
Written informed consent was obtained from all participants before and after the experiment.
Code Availability
The program code for this experiment is available at https://doi.org/10.7910/DVN/DBFVGI.
Ethics Approval
All experimental procedures were reviewed and approved by the Institutional Review Board of Hiroshima University, Japan.
Additional information
Publisher's Note
Springer Nature remains neutral with regard to jurisdictional claims in published maps and institutional affiliations.
About this article
Cite this article
Ichimura, F., Moriwaki, M. & Ariga, A. Romantic Bias in Judging the Attractiveness of Faces from the Back. J Nonverbal Behav (2021). https://doi.org/10.1007/s10919-021-00361-7
Keywords
Facial attractiveness

Back-view bias

Gender difference

Social cognition