Abstract
The adaptations for a particular locomotor type (e.g., fossorial or saltatorial) could affect limb bone morphology throughout ontogeny. We explore how the measurements of the forelimbs and functional indices change along the postnatal ontogeny of 92 specimens of sigmodontines belonging to four genera (Akodon, Eligmodontia, Oligoryzomys, and Oxymycterus) with different locomotor types (ambulatory, quadrupedal-saltatorial, scansorial, and semifossorial). We examined individuals of different age categories: juveniles, young adults, and adults. Eleven linear measurements of long bones (humerus, radius, and ulna) corresponding to functional diameters and lengths were taken and analyzed through simple regressions (RMA) using geometric mean transformations. Six morphofunctional indices were then calculated and analyzed through multivariate analysis (MANOVA). The allometric patterns and morphofunctional indices show that the forelimb tends to be elongated and slender in the ambulatory, scansorial, and quadrupedal-saltatorial species, and short and thicker in the semifossorial species. Morphofunctional indices do not separate our sample concerning age categories, possibly indicating that the juveniles of different rodent species are born with similar morphology to the adults in terms of locomotion.
Access options
Buy single article
Instant access to the full article PDF.
US$ 39.95
Tax calculation will be finalised during checkout.
Subscribe to journal
Immediate online access to all issues from 2019. Subscription will auto renew annually.
US$ 79
Tax calculation will be finalised during checkout.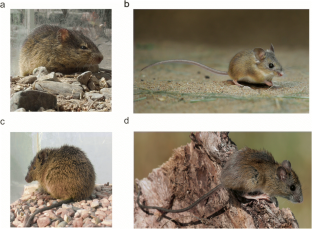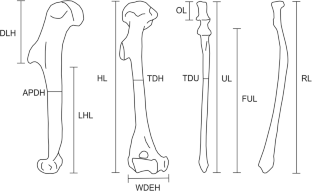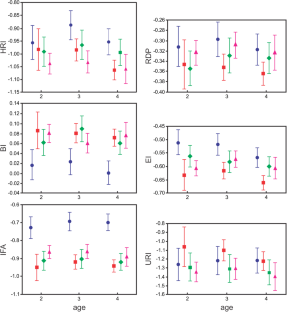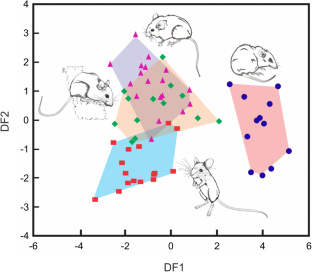 References
Argot C (2001) Functional-adaptive anatomy of the forelimb in the Didelphidae, and the paleobiology of the Paleocene marsupials Mayulestes ferox and Pucadelphys andinus. J Morphol 247:51–79

Biewener AA (1983) Allometry of quadrupedal locomotion: the scaling of duty factor, bone curvature and limb orientation to body size. J Exp Biol 105:147–171

Biewener AA (1989) Scaling body support in mammals: limb posture and muscle mechanics. Science 245:45–48

Bisceglia SBC, Pereira JA, Teta P, Quintana RD (2011) Rodent selection by Geoffroy's cats in a semi-arid scrubland of central Argentina. J Arid Environ 75:1024–1028

Bou J, Casinos A, Ocaña J (1987) Allometry of the limb long bones of insectivores and rodents. J Morphol 192:113–123

Breno M, Leirs H, Van Dongen S (2011) Traditional and geometric morphometrics for studying skull morphology during growth in Mastomys natalensis (Rodentia: Muridae). J Mammal 92:1395–1406

Camargo NF, Sano NY, Ribeiro JF, Vieira EM (2016) Contrasting the realized and fundamental niche of the arboreal walking performance of neotropical rodents. J Mammal 97:155–166

Campos CM, Ojeda RA, Monge S, Dacar M (2001) Utilization of food resources by small and medium-sized mammals in the Monte Desert biome, Argentina. Aust Ecol 26:142–149

Candela A, Picasso MBJ (2008) Functional anatomy of the limbs of Erethizontidae (Rodentia, Caviomorpha): indicators of locomotor behavior in Miocene porcupines. J Morphol 269:552–593

Carrano MT (1999) What, if anything, if a cursor? Categories versus continua for determining locomotor habit in mammals and dinosaurs. J Zool 247:29–42

Carrier DR (1983) Postnatal ontogeny of the musculo-skeletal system in the black-tailed jack rabbit (Lepus californicus). J Zool 201:27–55

Carrier DR (1996) Ontogenetic limits on locomotor performance. Physiol Zool 69:467–488

Carrier DR, Leon LR (1990) Skeletal growth and function in the California gull (Larus californicus). J Zool 222:375–389

Carrizo LV, Tulli MJ, Abdala V (2014b) An ecomorphological analysis of forelimb musculo-tendinous system in sigmodontine rodents (Rodentia: Cricetidae: Sigmodontinae). J Mammal 95:843–854

Carrizo LV, Tulli MJ, Abdala V (2018) Postnatal growth of forelimb musculo-tendinous systems in sigmodontine rats (Rodentia: Cricetidae). J Mammal 99:1217–1228

Carrizo LV, Tulli MJ, Dos Santos DA, Abdala V (2014a) Interplay between postcranial and locomotor types in Neotropical sigmodontine rodents. J Anat 224:469–481

Clarke MRB (1980) The reduced major axis of a bivariate sample. Biometrika 67:44–446

Coutinho LC, Alves de Oliveira J, Pessoa LM (2013) Morphological variation in appendicular skeleton of Atlantic Forest sigmodontine rodents. J Morphol 274:779–792

Coutinho LC, Oliveira JA (2017) Relating appendicular skeletal variation of sigmodontine rodents to locomotion modes in a phylogenetic context. J Anat 4:543–567

Currey JD (1977) Problems of scaling in the skeleton. In: Pedley TJ (ed) Scale Effects in Animal Locomotion. Academic Press, London, pp 153–167

Currey JD, Butler G (1975) The mechanical properties of bone tissue in children. J Bone Joint Surg 57:810–814

Christiansen P (1999) Scaling of mammalian long bones: small and large mammals compared. J Zool 247:333–348

Derrickson EM (1992) Comparative reproductive strategies of altricial and precocial eutherian mammals. Funct Ecol 6:57–65

Echeverría AI, Becerra F, Vassallo AI (2014) Postnatal ontogeny of limb proportions and functional indices in the subterranean rodent Ctenomys talarum (Rodentia: Ctenomyidae). J Morphol 275:902–913

Eilam D (1997) Postnatal development of body architecture and gait in several rodent species. J Exp Biol 200:1339–1350

Elissamburu A, Vizcaíno SF (2004) Limb proportions and adaptations in caviomorph rodents (Rodentia: Caviomorpha). J Zool 262:145–159

Fabre PH, Hautier L, Dimitrov D, Douzery EJP (2012) A glimpse on the pattern of rodent diversification: a phylogenetic approach. BMC Evol Biol 12:88

Fernández ME, Vassallo AI, Zárate M (2000) Functional morphology and palaeobiology of the Pliocene rodent Actenomys (Caviomorpha: Octodontidae): the evolution to a subterranean mode of life. Biol J Linnean Soc 71:71–90

Fischer MS (1994) Crouched posture and high fulcrum, a principle in the locomotion of small mammals: the example of the rock hyrax (Procavia capensis) (Mammalia: Hyracoidea). J Hum Evol 26:501–524

Fischer MS, Lehmann R (1998) Application of cineradiography for the metric and kinematic study of in-phase gaits during locomotion of the pika (Ochotona rufescens, Mammalia: Lagomorpha). Zoology 101:148–173

García LV (2003) Controlling the false discovery rate in ecological research. Trends Ecol Evol 18:553–554

Giannoni SM, Dacar M, Taraborelli P, Borghi CE (2001) Seed hoarding by rodents of the Monte Desert, Argentina. Aust Ecol 26:259–263

González LA, Murúa R, Jofré C (2000) Habitat utilization of two muroid species in relation to population outbreaks in southern temperate forests of Chile. Rev Chil Hist Nat (Chile) 73: 489–95

Hammer Ø, Harper DA, Ryan PD (2001) PAST: paleontological statistics software package for education and data analysis. Palaeontol Electron 4:9

Hamrick MW (2003) Evolution and development of mammalian limb integumentary structures. J Exp Zool B 298:152–163

Heinrich RE, Ruff CB, Adamczewski JZ (1999) Ontogenetic changes in mineralization and bone geometry in the femur of muskoxen (Ovibos moschatus). J Zool 247:215–223

Hernandez G, García S, Vilela JF, de la Sancha NU (2017) Ontogenetic variation of an omnivorous generalist rodent: the case of the montane akodont (Akodon montensis). J Mammal 98:1741–1752

Hildebrand M (1985) Functional Vertebrate Morphology. Belknap Press of Harvard University, Cambridge

Hingst-Zaher E, Marcus LF, Cerqueira R (2000) Application of geometric morphometrics to study of postnatal size and shape changes in the skull of Calomys expulsus. Hystrix 11:99–113

Huberty CJ, Hussein MH (2003) Some problems in reporting use of discriminant analysis. J Exp Educ 71:177–191

Jayat JP, Ortiz PE, Salazar-Bravo J, Pardiñas UFJ (2010) The Akodon boliviensis species group (Rodentia: Cricetidae: Sigmodontinae) in Argentina: species limits and distribution, with the description of a new entity. Zootaxa 2409:1–61

Kilbourne BM, Makovicky PJ (2012) Postnatal long bone growth in terrestrial placental mammals: allometry, life history, and organismal traits. J Morphol 273:1111–1126

Lammers AR, German RZ (2002) Ontogenetic allometry in the locomotor skeleton of specialized half-bounding mammals. J Zool 258:485–495

Lessa EP, Vassallo AI, Verzi DH, Mora MS (2008) Evolution of morphological adaptations for digging in living and extinct ctenomyid and octodontid rodents. Biol J Linnean Soc 95:267–283

Maestri R, Fornel R, Freitas TR, Marinho JR (2015) Ontogenetic allometry in the foot size of Oligoryzomys flavescens (Waterhouse, 1837) (Rodentia, Sigmodontinae). Braz J Biol 75:435–441

Maestri R, Monteiro LR, Fornel R, Upham NS, Patterson BD, Ochotorena de Freitas TR (2017) The ecology of a continental evolutionary radiation: is the radiation of sigmodontine rodents adaptive? Evolution 71:610–632

Moran MD (2003) Arguments for rejecting the sequential Bonferroni in ecological studies. Oikos 110:403–405

Morgan CC, Verzi DH (2006) Morphological diversity of the humerus of the South American subterranean rodent Ctenomys (Rodentia, Ctenomyidae). J Mammal 87:1252–1260

Moscarella T, Aguilera M (1999) Growth and reproduction of Oryzomys albigularis (Rodentia: Sigmodontinae) under laboratory conditions. Mammalia 3:349–362

Nakagawa S (2004) A farewell to Bonferroni: the problems of low statistical power and publication bias. Behav Ecol 15:1044–1045

Nikolai JC, Bramble DM (1983) Morphological structure and function in desert heteromyid rodents. Great Basin Nat Mem 7:44–64

Oliveira JA (1998) Morphometric assessment of species groups in the South American rodent genus Oxymycterus (Sigmodontinae), with taxonomic notes based on the analysis of type material. Dissertation, University Texas, Austin

Patterson BD (1992) A new genus and species of long-clawed mouse (Rodentia: Muridae) from temperate rainforests of Chile. Zool J Linnean Soc 106:127–145

Patton JL, Pardiñas UFJ, D'Elía G (eds) (2015) Mammals of South America. 2. Rodents. University of Chicago Press, Chicago

Peters S (1983) Postnatal development of gait behaviour and functional allometry in the domestic cat (Felis catus). J Zool 46:1–486

Polly D (2007) Limb in mammalian evolution. In: Hall BK (ed) Fins into Limbs: Evolution, Development, and Transformation. University of Chicago Press, Chicago, pp 245–268

Prado JR, Percequillo AR (2011) Ontogenetic and sexual variation in cranial character of Aeglialomys xanthaeolus (Thomas, 1984) (Cricetidae: Sigmodontinae) from Ecuador and Peru. Pap Avulsos Zool 51:155–177

Price MV (1993) A functional-morphometric analysis of forelimbs in bipedal and quadrupedal heteromyid rodents. Biol J Linnean Soc 50:339–360

R Development Core Team (2013) R: a language and environment for statistical computing. R Foundation for Statistical Computing, Vienna. http://cran.r-project.org

Rivas BA, D'Elia G, Linares O (2010) Diferenciación morfológica en Sigmodontinos (Rodentia: Cricetidae) de las Guayanas venezolanas con relación a su locomoción y hábitat. Mastozool Neotrop 17:97–109

Samuels JX, Van Valkenburgh B (2008) Skeletal indicators of locomotor adaptations in living and extinct rodents. J Morphol 269:1387–1411

Schilling N, Petroviitch A (2006) Postnatal allometry of the skeleton in Tupaia glis (Scandentia: Tupaiidae) and Galea musteloides (Rodentia: Caviidae) – A test of the three-segment limb hypothesis. Zoology 109:148–163

Stein B (1988) Morphology and allometry in several genera of semiaquatic rodents (Ondatra, Nectomys, and Oryzomys). J Mammal 69:500–511

Stein BR (2000) Morphology of subterranean rodents. In: Lacey EA, Patton JL, Cameron GN (eds) Life Underground. The Biology of Subterranean Rodents. University of Chicago Press, Chicago, pp 19–61

Straccia PC, De Santis LJ (2000) Análisis morfofuncional preliminar de la locomoción de Eligmodontia (Rodentia, Sigmodontinae) de la Argentina. XV Jornadas Argentinas de Mastozoología Noviembre 8–10, La Plata

Taraborelli P, Corbalán V, Giannoni S (2003) Locomotion and escape modes in rodents of the Monte Desert (Argentina). Ethology 109:475–485

Torzilli PA, Takebe K, Burnstein AH, Zika M, Heiple KG (1982) The material properties of immature bone. ASME J Biomech Eng 104:12–20

Tulli MJ, Carrizo LV, Samuels JX (2016) Morphological variation of the forelimb and claw in Neotropical sigmodontine rodents (Rodentia: Cricetidae). J Mammal Evol 23:81–91

Vassallo AI (1998) Functional morphology, comparative behaviour, and adaptation in two sympatric subterranean rodents genus Ctenomys (Caviomorpha: Octodontidae). J Zool 244:415–427
Acknowledgements
We especially thank Guillermo Cassini, Néstor Toledo, and Sergio Vizcaíno for inviting us to participate in this tribute to L.B. Radinsky within the framework of the Symposium: "El paradigma de correlación forma-función en mastozoología: un tributo a Leonard Radinsky (1937–1985)," which took place during the XXXI Jornadas Argentinas de Mastozoología, in La Rioja, Argentina. 25 October, 2018. We also thank to Ulyses Pardiñas (Colección de Mamíferos del Centro Nacional Patagónico), Pablo Teta (Museo Argentino de Ciencias Naturales), Ricardo Ojeda (Colección de vertebrados del Instituto Argentino de Investigaciones de las Zonas Áridas), Diego Verzi (Museo de La Plata), and P. Jayat for allowing access to the study material. P. Jayat and D. Podestá provided photographs. Thank also to Juan M. Ferro for helped us to improvements to English grammar of the manuscript considerably. Also, thanks to two anonymous reviewers for their valuable comments that improved the quality of this work.
Funding
LVC was funded by PICT 2015–2864 and VA by PICT 2016–2772, AGENCIA PIP 389.
Ethics declarations
Conflict of Interest
The authors declare that they have no conflict of interest.
About this article
Cite this article
Carrizo, L.V., Tulli, M.J. & Abdala, V. Functional Indices and Postnatal Ontogeny of Long Bones of the Forelimb in the Sigmodontine Rodents (Rodentia: Cricetidae). J Mammal Evol 28, 75–85 (2021). https://doi.org/10.1007/s10914-020-09512-x
Keywords
Bone growth

Ecomorphology

Locomotor type

Sigmodontinae