Hydrothermal Synthesis and Crystal Structure of a Novel 2-Fold Interpenetrated Framework Based on Tetranuclear Homometallic Cluster
Abstract
A novel 2-fold parallel interpenetrated polymer, Zn2(OH)(pheno)(p-BDC)1.5 · H2O (1) (pheno = phenanthrene-9,10-dione; p-BDC = 1,4-benzenedicarboxylate) was prepared by hydrothermal synthesis and characterized by IR spectra, elemental analysis and single crystal X-ray diffraction. Complex 1 crystallizes in the orthorhombic space group Pbca and affords a three-dimensional (3D) six-connected α-Po network.
Graphical Abstract
Hydrothermal Synthesis and Crystal Structure of a Novel 2-Fold Interpenetrated Framework Based on Tetranuclear Homometallic Cluster
Rong-Yi Huang, Xue-Jun Kong and Guang-Xiang Liu
A intriguing feature of complex 1 is a pair of identical 3D single nets is interlocked with each other, thus directly leading to the formation of a 2-fold interpenetrated 3D → 3D architecture.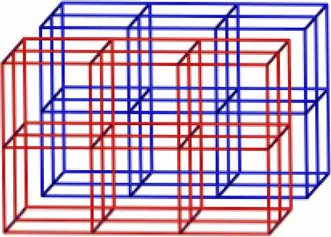 Keywords
Carboxylate ligand 
Homometallic complex 
α-Po 
Notes
Acknowledgments
This work was supported by the National Natural Science Foundation of China (20731004) and the Natural Science Foundation of the Education Committee of Anhui Province, China (KJ2008B004).
Copyright information
© Springer Science+Business Media, LLC 2008