Abstract
This paper aims to analyse the job satisfaction of recent graduates that finished their studies at the Facultad de Ciencias Económicas of the Universidad Nacional de Córdoba. Using a database specially designed for this project, we first look at the relationship between overall job satisfaction and its subdomains. Second, we inquiry on the relationships of overall job satisfaction and some of its subdomain with the degree of matching between the graduate's education and skills with those required by his/her job, controlling by a set of variables related with individual characteristics, relationship statuses, personality traits, household context, human capital background, occupational context, institutional background, and job status. Finally, we look at the recent graduates' job satisfaction by differentiating specific subgroups: by gender and matched/mismatched job statuses. The evidence shows that eight subdomains are positively associated with overall job satisfaction; they are satisfaction with pay, fringe benefits, general work environment, relationship with supervisors, intellectual challenge, job responsibilities, the possibility of professional development, and working hours. Additionally, the econometric analysis shows that overall job satisfaction and its subdomains are affected differently by individual characteristics, social and economic context, personality traits, occupational context, job status, among others. Importantly, a better match between formal education and job requirements impact positively on job satisfaction and its subdomains. These results give support to the approach of splitting overall job satisfaction into different dimensions to identify the sources of the values of job satisfaction differences.
Access options
Buy single article
Instant access to the full article PDF.
US$ 39.95
Tax calculation will be finalised during checkout.
Subscribe to journal
Immediate online access to all issues from 2019. Subscription will auto renew annually.
US$ 79
Tax calculation will be finalised during checkout.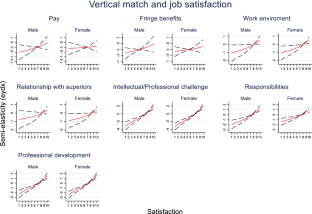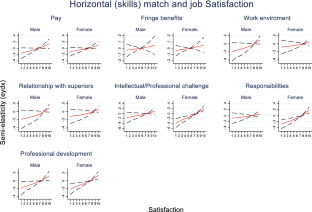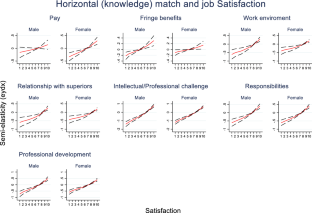 Notes
1.

In that case, one would expect compensating wage differentials.

2.

As authors remark, any job characteristics that influence job satisfaction may offset, or reinforce, the effect of over-qualification; therefore, it is necessary to condition the analysis on the characteristics of the job.

3.

Some studies evidence a strong negative relationship between job satisfaction and a comparison income, which is measured in different manners. For example, Clark (1996) analyses the job satisfaction of a person, conditional on own wage, to the wages of their partners and the average wage of other household members. Kifle (2014) analyses the case of Australian workers finding that both own wages and comparison wages have an impact on overall job satisfaction. However, the way the comparison group is constructed also matters, when the comparison wage is constructed using the ranked position of an individual's wage in each cell, the effect of comparison wages on job satisfaction is almost equal to that of own wages. For the case of Chile, Montero and Vásquez (2015) find an important impact of comparison wages on job satisfaction, with a 10% increase in the reference group wage requiring be compensated for by a 24.9% increase in the own wage to provide the same level of job satisfaction.

4.

See Clark et al. (1996) for other alternative explanations.

5.

An important number of students come from the provinces of Catamarca, La Rioja, Santiago del Estero, Tucumán, Salta and Jujuy. Historically, the UNC has been the destiny of students coming from neighboring countries, especially Bolivia, Paraguay and Peru. Recently there has been an important influx of students from Venezuela.

6.

Alternative procedures would be to use a systematic evaluation of the characteristics of each job, usually referred as "objective measure" of overeducation, and the so-called "empirical method", in which a person is compared to a group of his/her peers using the mean or modal values of formal education, usually measured in years, as point of reference.

7.

Following the suggestion of an anonymous referee, we also estimated all equations with a lineal panel data model, either with fixed or random effects. It is important to note that, as pointed out by García‑Mainar and Montuenga‑Gómez (2020), the use of a lineal model assumes cardinality, which is more restrictive than the assumption of ordinality associated to ordered probit/logit models. Regardless the magnitude of the coefficients of the lineal models are not directly comparable with the ones from the non-lineal ordered Probit, the results are in line with Ferrer-i-Carbonell and Frijters (2004), who reports that assuming either ordinality or cardinality of happiness scores has little effect on the qualitative empirical results, whilst allowing for fixed-effects can have an impact. In our case, the results from the lineal models are very similar to the ones presented below, in terms of coefficients' signs and statistical significance.

8.

It is interesting to note that in another study we find that having working experience, and not necessarily in areas related to the field of study, has a positive effect on income, and helps to reduce the negative impact of being overeducated.

9.

As Sect. 2 describes, these results are common in the related literature. Remarkable, Álvarez and Sinde-Cantorna (2014) explain that is not self-employment by itself what drives job satisfaction, but the greater work autonomy and flexibility attached to that status. They highlight the importance of including variables that measure flexibility and autonomy in the job when dealing with the estimation of the effect of self-employment on job satisfaction, since once these variables are taken into account the usual positive effect of self-employment on job satisfaction might disappear, and even it becomes negative.

10.

Robst and Van Gilder (2016) compare the effects of a mismatch in terms of the major chosen by the graduates. They find out that a mismatch has a smaller effect on some aspects of job satisfaction for economics graduates compared to business graduates.
References
Allen, J., & van der Velden, R. (2001). Educational mismatches versus skill mismatches: Effects on wages, job satisfaction, and on-the-job search. Oxford Economic Papers, 53, 434–452.

Álvarez, G., & Sinde-Cantorna, A. I. (2014). Self-employment and job satisfaction: An empirical analysis. International Journal of Manpower, 35, 688–702.

Badillo-Amador, L., & Vila, L. (2008). Can job/worker mismatches help to explain wages and job satisfaction differences among comparable workers? Investigaciones de Economía de la Educación, 3, 355–365.

Badillo-Amador, L., & Vila, L. (2013). Education and skill mismatches: Wage and job satisfaction consequences. International Journal of Manpower, 34, 416–428.

Béduwé, C., & Giret, J.-F. (2011). Mismatch of vocational graduates: What penalty on French labour market? Journal of Vocational Behavior, 78, 68–79.

Bönte, W., & Krabel, S. (2014). You can't always get what you want: Gender differences in job satisfaction of university graduates. Applied Economics, 46, 2477–2487.

Burgard, C., & Görlitz, K. (2014). Continuous training, job satisfaction and gender: An empirical analysis using German panel data. Evidence-based HRM: A Global Forum for Empirical Scholarship, 2(2), 126–144. https://doi.org/10.1108/EBHRM-11-2012-0016.

Clark, A. E. (1996). Job satisfaction in Britain. British Journal of Industrial Relations, 34(2), 189–217.

Clark, A. E. (1997). Job satisfaction and gender: Why are women so happy at work? Labour Economics, 4, 341–372.

Clark, A., Frijters, E. P., & Shields, M. A. (2008). A survey of the income happiness gradient. Journal of Economic Literature, 46(95), 144.

Clark, A. E., Oswald, A., & Warr, P. (1996). Is job satisfaction u-shaped in age? Journal of Occupational and Organizational Psychology, 69, 57–81.

Cronbach, L. J. (1990). Essentials of psychological testing. New York: Harper Collins Publishers.

De Vellis, R. F. (2017). Scale development. Theory and applications. Los Angeles: Sage Publications.

Donohue, S., & Heywood, J. (2004). Job satisfaction and gender: An expanded specification from the NLSY. International Journal of Manpower, 25, 211–238.

Ferrer-i-Carbonell, A., & Frijters, P. (2004). How important is methodology for the estimates of the determinants of happiness? The Economic Journal, 114, 641–659.

Freeman, R. B. (1978). Job satisfaction as an economic variable. American Economic Review, 68(2), 135–141.

Gajderowicz, T., Grotkowska, G., & Wincenciak, L. (2014). Graduates' job satisfaction across domains of study. International Journal of Manpower, 35, 470–499.

García-Mainar, I., García-Martín, G., & Montuenga, V. M. (2016). Gender differences in occupations, job attributes, and job satisfaction. Revista de Economía Aplicada, 71, 39–67.

García-Mainar, I., & Montuenga-Gómez, V. M. (2020). Over-qualification and the dimensions of job satisfaction. Social Indicators Research, 147, 591–620.

Gazioglua, S., & Tanselb, A. (2006). Job satisfaction in Britain: Individual and job related factors. Applied Economics, 38, 1163–1171.

Hu, L. T., & Bentler, P. M. (1999). Cutoff criteria for fit indexes in covariance structure: Conventional criteria versus new alternatives. Structural Equation Modeling, 6, 1–55.

Kaiser, L. C. (2007). Gender-job satisfaction differences across Europe. International Journal of Manpower, 28, 77–94.

Kifle, T. (2014). Do comparison wages play a major role in determining overall job satisfaction? Evidence from Australia. Journal of Happiness Studies, 15, 613–638.

Kucel, A., & Vilalta-Bufí, M. (2013). Job satisfaction on university graduates. Revista de Economía Aplicada, 61, 29–55.

MacCallum, R. C., Browne, M. W., & Sugawara, H. M. (1996). Power analysis and determination of sample size for covariance structure modeling. Psychological Methods, 1, 130–149.

Mateos Romero, L., & Salinas-Jiménez, M. (2018). Skills use in the workplace and its effects on wages and on job satisfaction: An application to the Spanish case. Personnel Review, 47, 494–516.

Mateos-Romero, L., & Salinas-Jiménez, M. (2018). Labor mismatches: Effects on wages and on job satisfaction in 17 OECD countries. Social Indicators Research, 140, 369–391.

Mavromaras, K., Mcguinness, S., O'Leary, N., & Wei, Z. (2013). Job mismatches and labour market outcomes: Panel evidence on university graduates. Economic Record, 89, 382–395.

McGuinness, S., & Sloane, P. (2011). Labour market mismatch among UK graduates: An analysis using REFLEX data. Economics of Education Review, 30, 130–145.

Montero, R., & Vásquez, D. (2015). Job satisfaction and reference wages: Evidence for a developing country. Journal of Happiness Studies, 16, 1493–1507.

Mora, T., & Ferrer-i-Carbonell, A. (2009). The job satisfaction gender gap among young recent university graduates: Evidence from Catalonia. The Journal of Socio-Economics, 38, 581–589.

Naguib, C., Baruffini, M., & Maggi, R. (2019). Do wages and job satisfaction really depend on educational mismatch? Evidence from an international sample of master graduates. Education Training, 61, 201–221.

Nunnally, J. C., & Bernstein, I. H. (1994). Psychometric theory. New York: McGraw-Hill.

Perrot, B., Bataille, E., & Hardouin, J.-B. (2018). validscale: A command to validate measurement scales. The Stata Journal, 18, 29–50.

Polit, D. F., & Yang, F. (2016). Measurement and the measurement of change: A primer for health professionals. Philadelphia: Lippincott, Williams and Wilkins Publishing.

Pujol-Cols, L., & Dabos, G. (2018). Job satisfaction: A literature review of its main antecedents. Estudios Gerenciales, 34, 3–18.

Robst, J., & Van Gilderb, J. (2016). Salary and job satisfaction among economics and business graduates: The effect of match between degree field and job. International Review of Economics Education, 21, 30–40.

Sam, V. (2018). Education-job mismatches and their impacts on job satisfaction: an analysis among university graduates in Cambodia. MPRA. https://mpra.ub.uni-muenchen.de/id/eprint/87928.

Shevchuk, A., Strebkov, D., & Davis, S. N. (2015). Educational mismatch, gender, and satisfaction inself-employment: The case of Russian-language internet freelancers. Research in Social Stratification and Mobility, 40, 16–28.

Sloane, P., & Williams, H. (2000). Job satisfaction, comparison earnings, and gender. LABOR, 14(3), 473–502.

Trivellas, P., Akrivouli, Z., Tsifora, E., & Paraskevi, T. (2015). The impact of knowledge sharing culture on job satisfaction in accounting firms. The mediating effect of general competencies. Procedia Economics and Finance, 19, 238–247.

Van Praag, B., & Ferrer-i-Carbonell, A. (2008). Happiness quantified. A satisfaction calculus approach. Oxford: Oxford University Press.
Acknowledgements
This research was financially supported by FONCyT (PICT 2015-1771) and SeCyT-UNC (Projects 2016-2018: 05/E406 and 05/E424). All responsibility rests solely with the authors.
Additional information
Publisher's Note
Springer Nature remains neutral with regard to jurisdictional claims in published maps and institutional affiliations.
About this article
Cite this article
De Santis, M., Florensa, M., Gáname, M.C. et al. Job Satisfaction of Recent University Graduates in Economics Sciences: The Role of the Match Between Formal Education and Job Requirements. J Happiness Stud (2021). https://doi.org/10.1007/s10902-021-00360-x
Keywords
Job satisfaction

Subdomains

Economic sciences graduates

Education-job match

Universidad Nacional de Córdoba
JEL Classification