Abstract
Chinese parents are highly renowned for their enthusiasm in children's education and for extremely high expectations for their children's scholastic performance. Using the China Family Panel Studies from 2010 to 2014, this paper examines the effects of children's academic performance on their parents' life satisfaction in China. We find that a one-unit rise in the class ranking of the child increases the parent's life satisfaction score by 3.4 percentage points. Conversely, parents' excessive educational involvement can have an adverse impact on their life satisfaction. The significant positive relationship between children's academic performance and parents' life satisfaction was, though, apparent only for middle-income, urban and single-child families, and only in provinces that are highly influenced by Confucianism. Our study also provides a partial socio-economic insight into Chinese parents' obsession with their children's education, and offers some important implications for policy makers in China.
Access options
Buy single article
Instant access to the full article PDF.
US$ 39.95
Tax calculation will be finalised during checkout.
Subscribe to journal
Immediate online access to all issues from 2019. Subscription will auto renew annually.
US$ 79
Tax calculation will be finalised during checkout.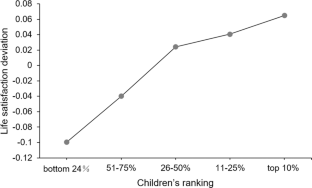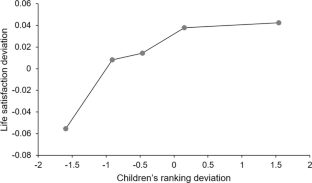 Notes
1.

In China, 93% of parents pay for private tuition, and the average spending on children's education from primary through to undergraduate education has been reported to be US$42,892. In this regard, Hong Kong parents ranked first, spending on average US$132,161 on one child's education. Singapore, Taiwan and Mainland China ranked third, fifth and sixth respectively among the 15 countries and regions surveyed (which included North American and European countries, among others) (HSBC 2017). According to statistics published by the Chinese Society of Education, there are around 200,000 extra-class tutoring institutions across China, and the market for primary and middle school tutoring alone was to be some RMB800 billion in 2016. There were 137,000,000 students participating in extra-class education and around 8 million teachers involved (Chinese Society of Education 2016).

2.

Many Chinese parents move home to be within the catchment area (in China, termed the "neighborhood school policy") of a high-quality school, and houses within such catchment areas are usually exceptionally expensive for that very reason.

3.

The closest study to ours is that of Chang and Greenberger (2012), which investigates ethnic differences in the parenting satisfaction of mothers who have college-enrolled children, using cross-sectional survey data from 140 mothers living in the U.S. Our study, aside from looking at a different cultural and ethnic group, differs from theirs by looking at students in primary, middle and high school, as opposed to college students.

4.

The elimination of the employment substitution (dingti) system for workers in the public sector in China has also led to changes in employment. Dingti refers to an option available to an adult–child to take a parent's job after that parent leaves work as a result of sudden death, prolonged illness, or retirement (Davis 1988). First appearing in state enterprises in 1953 as a form of welfare for families in financial hardship, this system was extended to all state employees in 1978, but was abolished in 1986, when the system of contract labor became the officially sanctioned recruitment method. However, owing to loose enforcement of the new system, dingti continued until the mid-1990s, by which time it had lasted more than 40 years. According to Davis (1988), in the eight enterprises she visited in 1979, on average 80% of retirees used the dingti option in the first half of 1979, and nearly all new employees were children of retirees.

5.

We convert the 1–5 scale to a 0-–10 scale by subtracting 1 and multiplying by 2.5, consistent with Liebman and Mahoney (2017).

6.

First, we obtain the average ranking in class by taking the average of the specific numbers of the two ranks and then dividing them by class size. Second, we classify average ranking in class into five categories: 1 (top 10%), 2 (top 11–25%), 3 (top 26–50%), 4 (top 51–75%), and 5 (bottom 24%).

7.

Ferrer-i-Carbonell and Frijters (2004) pointed out that as long as the model is set up correctly, it does not matter whether subjective well-being is seen as a sequential variable estimated using ordered probit or seen as a continuous variable estimated using OLS. We use the OLS individual fixed-effect model with robust standard errors, since it is easier to interpret the coefficient. Nevertheless, similar conclusions are obtained from ordered probit specifications for the results in the robustness tests, reported below.

8.

In our sample, for the low-income families, annual household per capita income was less than RMB3833 in 2010, less than RMB5000 in 2012 and less than RMB5892 in 2014. For middle-income families, annual household per capita income was RMB3833–9025 in 2010, RMB5000–11,975 in 2012, and RMB5892–13,333 in 2014. For high-income families, annual household per capita income was more than RMB9025 in 2010, more than RMB11,975 in 2012, and more than RMB13,333 in 2014.

9.

Partly due to the "one child policy" established in 1979, Chinese families have become smaller in size and hence, according to our hypothesis, parents' expectations of each child are greater (Dello-Iacovo 2009).

10.

We also divided the sample according to whether the families had 2 children or more than 2 children, and the findings are robust. The results are available upon request.

11.

One major concern of the endogeneity problem in our case is that we may overvalue the impact of children's academic performance, since it is endogenous to parents' life satisfaction. However, the point estimates from employing instrumental variables are greater (0.3693 and 0.2510) than that (0.0340) of the baseline regression, which implies that the impact from the baseline regression has not been overvalued or undervalued. The substantial increase in the point estimate using IV may contribute to local average treatment effects.

12.

Because of the ordinal nature of the dependent variable, "life satisfaction" or "happiness," an ordered probit method is used to estimate a happiness equation as the robustness check.
References
Andreoni, J., & Sprenger, C. (2012). Risk preferences are not time preferences. American Economic Review, 102(7), 3357–3376.

Angeles, L. (2010). Children and life satisfaction. Journal of Happiness Studies, 11(4), 523–538.

Berger, E. M., & Spiess, C. K. (2011). Maternal life satisfaction and child outcomes: Are they related? Journal of Economic Psychology, 32(1), 142–158.

Bodycott, P. (2009). Choosing a higher education study abroad destination: What mainland Chinese parents and students rate as important. Journal of Research in International Education, 8(3), 349–373.

Bosker, M., Brakman, S., Garretsen, H., & Schramm, M. (2012). Relaxing hukou: Increased labor mobility and China's economic geography. Journal of Urban Economics, 72(2–3), 252–266.

Buchmann, C., & Hannum, E. (2001). Education and stratification in developing countries: A review of theories and research. Annual Review of Sociology, 27, 77–102.

Cao, Y., Qian, Y., & Weingast, B. R. (1999). From federalism, Chinese style to privatization, Chinese style. Economics of Transition, 7(1), 103–131.

Chan, K. W. (2010). The household registration system and migrant labor in China: Notes on a debate. Population and Development Review, 36(2), 357–364.

Chang, E. S., & Greenberger, E. (2012). Parenting satisfaction at midlife among European- and Chinese-American mothers with a college-enrolled child. Asian American Journal of Psychology, 3(4), 263–274.

Charbonneau, É., & Van Ryzin, G. G. (2012). Performance measures and parental satisfaction with New York City schools. American Review of Public Administration, 42(1), 54–65.

Chen, T., Kung, J. K.-S., & Ma, C. (2017). Long live Keju! The persistent effects of China's imperial examination system. Working paper.

Cheng, T., & Selden, M. (1994). The origins and social consequences of China's hukou system. China Quarterly, 139, 644–668.

Chinese Society of Education. (2016). Survey report on current situation of teachers in Chinese tutoring education and tutoring institutions. Beijing: The Chinese Society of Education.

Clark, A. E., Frijters, P., & Shields, M. A. (2008). Relative income, happiness, and utility: An explanation for the Easterlin paradox and other puzzles. Journal of Economic Literature, 46(1), 95–144.

Coleman, J. S. (1988). Social capital in the creation of human capital. American Journal of Sociology, 94, S95–S120.

Connelly, R., & Zheng, Z. (2003). Determinants of school enrollment and completion of 10 to 18 year olds in China. Economics of Education Review, 22(4), 379–388.

Cook, S. (2002). From rice bowl to safety net: Insecurity and social protection during China's transition. Development Policy Review, 20(5), 615–635.

Davis, D. (1988). Unequal chances, unequal outcomes: Pension reform and urban inequality. China Quarterly, 114, 223–242.

Dello-Iacovo, B. (2009). Curriculum reform and 'Quality Education' in China: An overview. International Journal of Educational Development, 29(3), 241–249.

Diener, E. (2000). Subjective well-being: The science of happiness and a proposal for a national index. American Psychologist, 55(1), 34–43.

Diener, E., Gohm, C. L., Suh, E., & Oishi, S. (2000). Similarity of the relations between marital status and subjective well-being across cultures. Journal of Cross-Cultural Psychology, 31(4), 419–436.

Ding, W., Lehrer, S. F., Rosenquist, J. N., & Audrain-McGovern, J. (2009a). The impact of poor health on academic performance: New evidence using genetic markers. Journal of Health Economics, 28(3), 578–597.

Ding, X., Yue, C., & Sun, Y. (2009b). The influence of China's entry into the WTO on its education system. European Journal of Education, 44(1), 9–19.

Duran, B. J., & Weffer, R. E. (1992). Immigrants' aspirations, high school process, and academic outcomes. American Educational Research Journal, 29(1), 163–181.

Easterlin, R. A. (2001). Income and happiness: Towards a unified theory. Economic Journal, 111(473), 465–484.

Easterlin, R. A., McVey, L. A., Switek, M., Sawangfa, O., & Zweig, J. S. (2010). The happiness–income paradox revisited. Proceedings of the National Academy of Sciences, 107(52), 22463–22468.

Feng, H., & Lu, M. (2013). School quality and housing prices: Empirical evidence from a natural experiment in Shanghai, China. Journal of Housing Economics, 22(4), 291–307.

Ferrer-i-Carbonell, A., & Frijters, P. (2004). How important is methodology for the estimates of the determinants of happiness? The Economic Journal, 114(497), 641–659.

Gelber, A., & Isen, A. (2013). Children's schooling and parents' behavior: Evidence from the Head Start Impact Study. Journal of Public Economics, 101(1), 25–38.

Gibbons, S., & Silva, O. (2011). School quality, child wellbeing and parents' satisfaction. Economics of Education Review, 30(2), 312–331.

Goldenberg, C., Gallimore, R., Reese, L., & Garnier, H. (2001). Cause or effect? A longitudinal study of immigrant Latino parents' aspirations and expectations, and their children's school performance. American Educational Research Journal, 38(3), 547–582.

Greyling, T., & Rossouw, S. (2017). Non-economic quality of life and population density in South Africa. Social Indicators Research, 134(3), 1051–1075.

Greyling, T., & Tregenna, F. (2017). Construction and analysis of a composite quality of life index for a region of South Africa. Social Indicators Research, 131(3), 887–930.

Grupe, D. W., & Nitschke, J. B. (2013). Uncertainty and anticipation in anxiety: An integrated neurobiological and psychological perspective. Nature Reviews Neuroscience, 14(7), 488–501.

Hannum, E., & Adams, J. (2007). Girls in Gansu, China: Expectations and aspirations for secondary schooling. In M. A. Lewis & M. E. Lockheed (Eds.), Exclusion, gender and schooling: Case studies from the developing world (pp. 71–98). Washington, DC: Center for Global Development.

Hannum, E., & Adams, J. (2009). Beyond cost: Rural perspectives on barriers to education. In D. Davis & F. Wang (Eds.), Creating wealth and poverty in postsocialist China (pp. 156–171). Stanford: Stanford University Press.

Hansen, T. (2012). Parenthood and happiness: A review of folk theories versus empirical evidence. Social Indicators Research, 108(1), 29–64.

HSBC. (2017). The value of education: Higher and higher. Global report. London: HSBC Holdings plc.

Hvistendahl, M. (2009). A poor job market and a steady currency feed "overseas-study fever" in China. Chronicle of Higher Education, 55(25), 29.

Kalil, A. (2015). Inequality begins at home: The role of parenting in the diverging destinies of rich and poor children. In P. R. Amato, A. Booth, S. M. McHale, & J. Van Hook (Eds.), Families in an era of increasing inequality: Diverging destinies (pp. 63–82). Cham: Springer.

Kim, J.-S. (2013). Stratification phenomenon of educational aspirations-with a focus on 'cooling-down pattern' of educational aspirations among the working-class. Asia-Pacific Collaborative Education Journal, 9(1), 27–39.

Kim, J.-S., & Bang, H. (2017). Education fever: Korean parents' aspirations for their children's schooling and future career. Pedagogy, Culture & Society, 25(2), 207–224.

Knight, J., & Gunatilaka, R. (2010). Great expectations? The subjective well-being of rural–urban migrants in China. World Development, 38(1), 113–124.

Knight, J., & Shi, L. (1996). Educational attainment and the rural–urban divide in China. Oxford Bulletin of Economics and Statistics, 58(1), 83–117.

Lam, C.-C., Ho, E. S. C., & Wong, N.-Y. (2002). Parents' beliefs and practices in education in Confucian heritage cultures: The Hong Kong case. Journal of Southeast Asian Education, 3(1), 99–114.

Lareau, A. (2003). Unequal childhoods: Class, race, and family life. Berkeley: University of California Press.

Larsen, J., Axhausen, K. W., & Urry, J. (2006). Geographies of social networks: Meetings, travel and communications. Mobilities, 1(2), 261–283.

Lei, X., Shen, Y., Smith, J. P., & Zhou, G. (2015). Do social networks improve Chinese adults' subjective well-being? The Journal of the Economics of Ageing, 6, 57–67.

Leung, J. T. Y., & Shek, D. T. L. (2011). Expecting my child to become "dragon" - development of the Chinese parental expectation on child's future scale. International Journal on Disability and Human Development, 10(3), 257–265.

Li, H., Li, L., Wu, B., & Xiong, Y. (2012). The end of cheap Chinese labor. Journal of Economic Perspectives, 26(4), 57–74.

Liebman, J. B., & Mahoney, N. (2017). Do expiring budgets lead to wasteful year-end spending? Evidence from federal procurement. American Economic Review, 107(11), 3510–3549.

Lin, J., & Zhang, Y. (2006). Educational expansion and shortages in secondary schools in China: The bottle neck syndrome. Journal of Contemporary China, 15(47), 255–274.

Lu, Y., & Treiman, D. J. (2008). The effect of sibship size on educational attainment in China: Period variations. American Sociological Review, 73(5), 813–834.

Lucas-Thompson, R. G., Goldberg, W. A., & Prause, J. (2010). Maternal work early in the lives of children and its distal associations with achievement and behavior problems: A meta-analysis. Psychological Bulletin, 136(6), 915–942.

MacLeod, J. (2018). Ain't no makin'it: Aspirations and attainment in a low-income neighborhood. New York: Routledge.

Margolis, R., & Myrskyla, M. (2016). Children's sex and the happiness of parents. European Journal of Population, 32(3), 403–420.

Mayer, S. E. (1997). What money can't buy: Family income and children's life chances. Cambridge: Harvard University Press.

Mok, K. H., Wong, Y. C., & Zhang, X. (2009). When marketisation and privatisation clash with socialist ideals: Educational inequality in urban China. International Journal of Educational Development, 29(5), 505–512.

Mullainathan, S., & Shafir, E. (2013). Decision making and policy in contexts of poverty. In E. Shafir (Ed.), Behavioral foundations of public policy (pp. 281–300). Princeton: Princeton University Press.

Nelson, S. K., Kushlev, K., English, T., Dunn, E. W., & Lyubomirsky, S. (2013). In defense of parenthood: Children are associated with more joy than misery. Psychological Science, 24(1), 3–10.

Nomaguchi, K. M. (2012). Parenthood and psychological well-being: Clarifying the role of child age and parent–child relationship quality. Social Science Research, 41(2), 489–498.

Ogbu, J. U. (1987). Variability in minority school performance: A problem in search of an explanation. Anthropology & Education Quarterly, 18(4), 312–334.

Oketch, M., Mutisya, M., & Sagwe, J. (2012). Parental aspirations for their children's educational attainment and the realisation of universal primary education (UPE) in Kenya: Evidence from slum and non-slum residences. International Journal of Educational Development, 32(6), 764–772.

Ott, J. C. (2010). Good governance and happiness in nations: Technical quality precedes democracy and quality beats size. Journal of Happiness Studies, 11(3), 353–368.

Phalet, K., & Schönpflug, U. (2001). Intergenerational transmission of collectivism and achievement values in two acculturation contexts: The case of Turkish families in Germany and Turkish and Moroccan families in the Netherlands. Journal of Cross-Cultural Psychology, 32(2), 186–201.

Portes, A., & Rumbaut, R. G. (2001). Legacies: The story of the immigrant second generation. Berkeley: University of California Press.

Posel, D. R., & Casale, D. M. (2011). Relative standing and subjective well-being in South Africa: The role of perceptions, expectations and income mobility. Social Indicators Research, 104(2), 195–223.

Pushkar, D., Bye, D., Michael, C., Wrosch, C., Chaikelson, J., Etezadi, J., et al. (2014). Does child gender predict older parents' well-being? Social Indicators Research, 118(1), 285–303.

Ram, R. (2009). Government spending and happiness of the population: Additional evidence from large cross-country samples. Public Choice, 138(3–4), 483–490.

Reyes-García, V., Angelsen, A., Shively, G. E., & Minkin, D. (2019). Does income inequality influence subjective wellbeing? Evidence from 21 developing countries. Journal of Happiness Studies, 20(4), 1197–1215.

Seirawan, H., Faust, S., & Mulligan, R. (2012). The impact of oral health on the academic performance of disadvantaged children. American Journal of Public Health, 102(9), 1729–1734.

Sharma, Y. (2013). Asia's parents suffering "education fever." BBC News, October 22, 2013. Retrieved July 7, 2018, from https://www.bbc.com/news/business-24537487.

Song, Y. (2014). What should economists know about the current Chinese hukou system? China Economic Review, 29, 200–212.

Wang, X., Bai, Y., Zhang, L., & Rozelle, S. (2017). Migration, schooling choice, and student outcomes in China. Population and Development Review, 43(4), 625–643.

Wang, M.-T., & Holcombe, R. (2010). Adolescents' perceptions of school environment, engagement, and academic achievement in middle school. American Educational Research Journal, 47(3), 633–662.

Wu, Y. (2013). The keypoint school system, tracking, and educational stratification in China, 1978–2008. Sociological Studies, 4, 179–202. (in Chinese).

Wu, X. (2017). Higher education, elite formation and social stratification in contemporary China: Preliminary findings from the Beijing College Students Panel Survey. Chinese Journal of Sociology, 3(1), 3–31.

Wu, Y., & Zhu, J. (2016). When are people unhappy? Corruption experience, environment, and life satisfaction in Mainland China. Journal of Happiness Studies, 17(3), 1125–1147.

Xu, H., & Xie, Y. (2015). The causal effects of rural-to-urban migration on children's well-being in China. European Sociological Review, 31(4), 502–519.

Yuan, H. (2016). Structural social capital, household income and life satisfaction: The evidence from Beijing, Shanghai and Guangdong-Province, China. Journal of Happiness Studies, 17(2), 569–586.

Zheng, R. (2017). How children's education became the new luxury status symbol for Chinese parents. Jing Daily, October 10, 2017. Retrieved July 10, 2018, from https://jingdaily.com/how-childrens-education-became-a-luxury-status-symbol/.

Zhou, Y., & Wang, D. (2015). The family socioeconomic effect on extra lessons in Greater China: A comparison between Shanghai, Taiwan, Hong Kong, and Macao. Asia-Pacific Education Researcher, 24(2), 363–377.
Acknowledgements
We appreciate the Institute of Social Science Survey at Peking University for providing us with the China Family Panel Studies (CFPS) data. This paper has greatly benefitted from comments of Kezhong Zhang, Yuanyuan Ma and Xin Wan, and comments from seminar participants at Huazhong University of Science and Technology, Zhongnan University of Economics and Law, and comments from participants at 28th Annuals Conference of Chinese Economics Association in the UK. This paper was partly written while I was visiting University of Nottingham and I am very grateful to Lina Song, Jing Zhang, Kun Bao, Zhiyi Ren and professors in Chinese Studies Centre for their help and their hospitality.
Funding
This study was funded by National Natural Science Foundation of China (Grant No. 71403296), National Social Science Foundation of China (Grant No. 15BJL088) and Humanities and Social Sciences Foundation of the Ministry of Education of China (Grant No. 19YJC790090).
Ethics declarations
Conflict of interest
The authors declare that they have no conflict of interest.
Additional information
Publisher's Note
Springer Nature remains neutral with regard to jurisdictional claims in published maps and institutional affiliations.
Appendix
Appendix
See Table 8.
About this article
Cite this article
Chen, Y., Huang, R., Lu, Y. et al. Education Fever in China: Children's Academic Performance and Parents' Life Satisfaction. J Happiness Stud 22, 927–954 (2021). https://doi.org/10.1007/s10902-020-00258-0
Keywords
Children's academic performance

Parents' life satisfaction

Education fever

Middle class