Abstract
The purpose of the study was to investigate the relative importance of child and adolescent social and academic pathways to well-being in adulthood (32-years) indicated by a sense of meaning, social engagement, positive coping and prosocial values. Data were drawn from a 15 wave (32-year) longitudinal study of the health and development of around 1000 New Zealanders (Dunedin Multidisciplinary Health and Development Study, New Zealand). Moderate continuity in social connectedness (0.38) and high continuity in academic ability (0.90) was observed across childhood and adolescence. Adolescent social connectedness was a better predictor of adult well-being than academic achievement (0.62 vs. 0.12). There was evidence of an indirect pathway from adolescent academic achievement to adult well-being through social connectedness (0.29). Indicators of well-being in adulthood appear to be better explained by social connection rather than academic competencies pathways. Implications for promoting longer term well-being during the school years are discussed.
Access options
Buy single article
Instant access to the full article PDF.
USD 39.95
Price excludes VAT (USA)
Tax calculation will be finalised during checkout.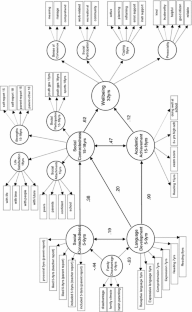 References
Antonovsky, A. (1993). The structure and properties of the sense of coherence scale. Social Science and Medicine, 36(6), 725–733.

Aristotle. (2004). The Nicomachean ethics. (trans: Thomson, J.A.K.). London: Penguin, Penguin Classics.

Armsden, G. C., & Greenberg, M. T. (1987). The inventory of parent and peer attachment: Individual differences and their relationship to psychological well-being in adolescence. Journal of Youth and Adolescence, 16(5), 427–454.

Astington, J. W., & Jenkins, J. M. (1995). Theory of mind development and social understanding. Cognitive & Emotion, 9(2), 151–165.

Bentham, J. (1789). An introduction to the principles of morals and legislation. Garden City: Doubleday.

Bond, L., Bulter, H., Thomas, L., Carlin, J., Glover, S., Bowes, G., et al. (2007). Social and school connectedness in early secondary school as predictors of late teenage substance use, mental health, and academic outcomes. Journal of Adolescent Health, 40(4), 357.e9–357.e18.

Bond, L., Patton, G., Glover, S., Carlin, J., Butler, H., Thomas, L., et al. (2004). The gatehouse project: Can a multilevel school intervention affection emotional wellbeing and health risk behaviours? Journal of Epidemiology and Community Health, 58, 997–1003.

Carroll, J. M., Maughan, B., Goodman, R., & Meltzer, H. (2005). Literacy difficulties and psychiatric disorders: Evidence for comorbidity. Journal of Child Psychology and Psychiatry, 46(5), 524–532.

Carver, C. S. (1997). You want to measure coping but your protocol's too long: Consider the brief cope. International Journal of Behavioral Medicine, 4(1), 92–100.

Diener, E., & Oishi, S. (2003). Money and happiness: Income and subjective wellbeing across nations. In E. Diener & E. M. Suh (Eds.), Culture and subjective wellbeing. Cambridge, Massachusetts: The MIT Press.

Education S. C. f. R. i. (1976). The burt word reading test-1974 revision. London: Hoddeer & Stoughton.

Elliott, D. S., & Voss, H. L. (1974). Delinquency and dropout. Lexington, Massachusetts: D. C. Heath and Co.

Erikson, E. H. (1968). Identity: Youth and crisis. London: Faber and Faber Ltd.

Eriksson, M., & Lindstrom, B. (2005). Validity of Antonovsky's sense of coherence scale: A systematic review. Journal of Epidemiology and Community Health, 59, 460–466.

Feather, N. T. (1995). Values, valences, and choice: The influence of values on the perceived attractiveness and choice of alternatives. Journal of Personality and Social Psychology, 68(6), 1135–1151.

Gonzales, N. A., Cauce, A. M., Friedman, R. J., & Mason, C. A. (1996). Family, peer, and neighbourhood influences on academic achievement among african-american adolescence: One-year prospective effects. American Journal of Community Psychology, 24(3), 365–387.

Irwin, T. H. (1994). Happiness, virtue and morality. Ethics, 105, 153–177.

Kirk, S. A., McCarthy, J. M., & Kirk, W. D. (1968). The illinois test of psycholinguistic abilities. Urbana IL: University Press.

Kurzban, R., & Leary, M. R. (2001). Evolutionary orgins of stigmatization: The functions of social exclusion. Psychological Bulletin, 127(2), 187–208.

Masten, A. S., Roisman, G. I., Long, J. D., Burt, K. B., Obradovic, J., Riley, J. R., et al. (2005). Developmental cascades: Linking academic achievement and externalizing and internalizing symptoms over 20-years. Developmental Psychology, 41(5), 733–746.

Maughan, B., Rowe, R., Loeber, R., & Stouthamer-Loeber, M. (2003). Reading problems and sepressed mood. Journal of Abnormal Child Psychology, 31(2), 219–229.

McGee, R., Feehan, M., Williams, S., Partridge, F., Silva, P. A., & Kelly, J. (1990). DSM-III disorders in a large sample of adolescents. Journal of the American Academy of Child and Adolescent Psychiatry, 29, 611–619.

McGee, R., Prior, M., Williams, S., Smart, D., & Sanson, A. (2002). The long-term significance of teacher-rated hyperactivity and reading ability in childhood: Findings from two longitudinal studies. Journal of Child Psychology and Psychiatry and Allied Disciplines, 43(8), 1004–1017.

McGee, R., & Williams, S. M. (1991). Social competence in adolescence: Preliminary findings from a longitudinal study of New Zealand 15 year olds. Psychiatry, 54, 281–291.

McGee, R., Williams, S., Howden-Chapman, P., Martin, J., & Kawachi, I. (2006). Participation in clubs and groups from childhood to adolescence and its effects on attachment and self-esteem. Journal of Adolescence, 29(1), 1–17.

McGee, R., Williams, S., & Nada-Raja, S. (2001). Low self-esteem and hopelessness in childhood and suicidal ideation in early adulthood. Journal of Abnormal Child Psychology, 29(4), 281–291.

Muthén, L. K., & Muthén, B. O. (1998-2007). Mplus user's guide. Los Angeles, CA: Muthen & Muthen.

Nada Raja, S., McGee, R., & Stanton, W. R. (1992). Perceived attachments to parents and peers and psychological well-being in adolescence. Journal of Youth and Adolescence, 21(4), 471–485.

Nadler, A., & Liviatan, I. (2006). Intergroup reconcilliation: Effects of adversary's expression of empathy, responsiblity, and recipients' trust. Personality and Social Psychology Bulletin, 32(4), 459–470.

Newton, K. (2007). Social and political trust. In R. J. Dalton & H.-D. Klingemann (Eds.), Oxford handbook of political behavior. Oxford: Oxford University Press.

Park, N., & Peterson, C. (2009). The cultivation of character strengths. In M. Ferrari & G. Potworowski (Eds.), Teaching for wisdom (pp. 59–77). Netherlands: Springer.

Poulton, R., Hancox, R., Milne, B., Baxter, J., Scott, K., & Wilson, N. (2006). The dunedin multidisciplinary health and development study: Are its findings consistent with the overall New Zealand population? New Zealand Medical Journal, 199(1235), U2002.

Resnick, M., Harris, L. J., & Blum, R. W. (1993). The impact of caring and connectedness on adolescent health and well-being. Journal of Paediatrics and Child Health, 29(S1), S3–S9.

Reynell, J. (1969). Reynell developmental language scales. London: National Foundation for Educational Research.

Richardson, D. R., Hammock, G. S., Smith, S. M., Gardner, W., & Signo, M. (2006). Empathy as a congitive inhibitor of interpersonal agression. Aggressive Behavior, 20(4), 275–289.

Rogers, C. R. (1961). On becoming a person. Boston: Houghton Mifflin.

Rutter, M., Tizard, J., & Whitmore, K. (1970). Education, health and behaviour. London: Longmans.

Ryan, R. M., & Deci, E. L. (2001). On happiness and human potentials: A review of research on hedonic and eudaimonic wellbeing. Annual Review of Psychology, 52, 141–166.

Ryff, C. (1989). Happiness is everything or is it? Explorations on the meaning of psychological wellbeing. J. Personality and Social Psychology, 57, 1069–1081.

Schultz, P. W. (2000). Empathising with nature: The effects of perspective taking on concern for environmental issues. Journal of Social Issues, 56(3), 391–406.

Seligman, M. E. P., & Czikszentmihalyi, M. (2000). Positive psychology: An introduction. America Psychologist, 55, 5–14.

Sheldon, K. M., Arndt, J., & Hauser-Marko, L. (2003). In search of the organismic valuing process: The human tendency to move towards beneficial goal choices. Journal of Personality, 71(5), 835–870.

Shochet, I. M., Dadds, M. R., Ham, D., & Montague, R. (2006). School connectedness is an underemphasized parameter in adolescent mental health: Results of a community prediction study. Journal of Clinical Child & Adolescent Psychology, 35(2), 170–179.

Simonelli, F., Guerreiro, A. I. F., Simonelli, I., & di Pasquale, C. (2010). Six assertions about the salutogenic approach and health promotion. Italian Journal of Public Health, 7(2), 94–101.

Tiberius, V. (2006). Well-being: Psychological pesearch for philosophers. Philosophy Compass, 1(5), 493–505.

Underwood, B., & Moore, B. (1982). Perspective-taking and altruism. Psychological Bulletin, 91(1), 143–173.

Vaillant, G. E., & Vaillant, C. O. (1981). Natural history of male psychological health, X: Work as a predictor of positive mental health. American Journal of Psychiatry, 138, 1433–1440.

Walen, S. R., DiGiuseppe, R., & Dryden, W. (1992). A practitioner's guide to rational emotive therapy. New York: Oxford University Press.

Waterman, A. S. (2004). Finding someone to be: Studies on the role of intrinsic motivation in identity formation. Identity, 4(3), 209–228.

Werner, E. E., & Smith, R. S. (1982). Vulnerable, but invincible: A longitudinal study of resilient children and youth. New York: McGraw-Hill.

Williams, S., & McGee, R. (1991). Adolescents' self-perceptions of their strengths. Journal of Youth and Adolescence, 20, 325–337.
About this article
Cite this article
Olsson, C.A., McGee, R., Nada-Raja, S. et al. A 32-Year Longitudinal Study of Child and Adolescent Pathways to Well-Being in Adulthood. J Happiness Stud 14, 1069–1083 (2013). https://doi.org/10.1007/s10902-012-9369-8
Published:

Issue Date:

DOI: https://doi.org/10.1007/s10902-012-9369-8
Keywords
Childhood

Adolescence

Language development

Academic achievement

Social connectedness

Well-being

Adulthood