Abstract
In Brazil, informal settlements house over 11 million dwellers in areas characterized by lower socio-economic conditions, insecure tenure and inadequate basic services. Despite these constrains, many informal dwellers engage in a continuous process to incrementally improve their housing units and community services. In this study, we develop a conceptual model that links studies in crime prevention through environmental design and place attachment to argue that incremental housing improvements in infrastructure can deter criminal activity. We estimate an empirical model using data from a survey of 45,000 households located in informal settlements for a Brazilian city. We conclude by pointing out how aesthetic finishes to external housing materials have a most prominent effect in deterring criminal activities than State provided infrastructure. The discussion highlights how crime is systemically concentrated in informal settlements, and that urbanization interventions must consider localized improvements to individual households in conjunction with the provision of basic services.
This is a preview of subscription content, log in to check access.
Access options
Buy single article
Instant access to the full article PDF.
US$ 39.95
Price includes VAT for USA
Subscribe to journal
Immediate online access to all issues from 2019. Subscription will auto renew annually.
US$ 99
This is the net price. Taxes to be calculated in checkout.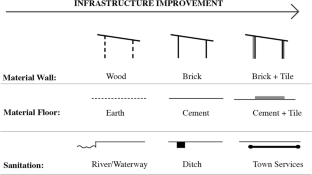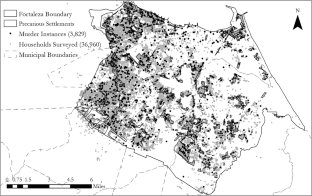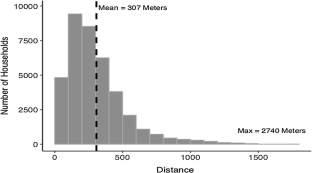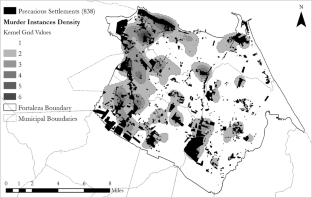 References
Alawadi, K. (2017). Place attachment as a motivation for community preservation: The demise of an old, bustling, Dubai community. Urban Studies, 54(13), 2973–2997.

Bailey, N., Kearns, A., & Livingston, M. (2012). Place attachment in deprived neighbourhoods: The impacts of population turnover and social mix. Housing Studies, 27(2), 208–231.

Belk, R. W. (1992). Attachment to possessions (pp. 37–62). New York: Plenum Press.

Blumstein, A. (1995). Youth violence, guns, and the illicit-drug industry. Journal of Criminal Law and Criminology, 86, 10–36.

Blumstein, A. (2006). Disaggregating the violence trends, book section 2 (pp. 13–41). Cambridge: Cambridge University Press.

Bonaiuto, M., Aiello, A., Perugini, M., Bonnes, M., & Ercolani, A. (1999). Multidimensional perception of residential environment quality and neighborhood attachment in the urban environment. Journal of Environmental Psychology, 19(4), 331–352.

Brown, B., Perkins, D., & Brown, G. (2003). Place attachment in a revitalizing neighborhood: Individual and block levels of analysis. Journal of Environmental Psychology, 23(3), 259–271.

Brown, B., Perkins, D., & Brown, G. (2004). Incivilities, place attachment and crime: Block and individual effects. Journal of Environmental Psychology, 24(3), 359–371.

Brown, G., Raymond, C. M., & Corcoran, J. (2015). Mapping and measuring place attachment. Applied Geography, 57, 42–53.

Caldieron, J. M. (2013). Land tenure and the self-improvement of two Latin American informal settlements in Puerto Rico and Venezuela. Urban Forum, 24(1), 49–64.

Caminha, C., Furtado, V., Pequeno, T. H. C., Ponte, C., Melo, H. P. M., Oliveira, E. A., et al. (2017). Human mobility in large cities as a proxy for crime. PLos ONE, 12(2), e0171609.

CatComm. Favela as a sustainable model (2016).

Cauwenberg, J., Donder, L., Clarys, P., Bourdeaudhuij, I., Buffel, T., Witte, N., et al. (2014). Relationships between the perceived neighborhood social environment and walking for transportation among older adults. Social Science Medicine, 104, 23–30.

Chang, D. (2009). Social crime or spatial crime? Exploring the effects of social, economical, and spatial factors on burglary rates. Environment and Behavior, 43(1), 26–52.

Choguill, C. L. (1999). Community infrastructure for low-income cities: The potential for progressive improvement. Habitat International, 23(2), 289–301.

Cisneros, H. (1996). Defensible space: Deterring crime and building community. Cityscape, 15–33. Retrieved May 31, 2020, from https://www.jstor.org/stable/20868434.

Cozens, P. M., Saville, G., & Hillier, D. (2005). Crime prevention through environmental design (CPTED): A review and modern bibliography. Journal of Property Management, 23(5), 328–356.

Csikszentmihalyi, M. (1982). The symbolic function of possessions: Towards a psychology of materialism. Washington, DC: American Psychological Association.

Curley, A. M. (2010). Relocating the poor: Social capiral and neighborhood resources. Journal of Urban Affairs, 32(1), 79–103.

Dallago, L., Perkins, D. D., Santinello, M., Boyce, W., Molcho, M., & Morgan, A. (2009). Adolescent place attachment, social capital, and perceived safety: A comparison of 13 countries. American Journal of Community Psychology, 44(1–2), 148–160.

de Souza, T. (2017). Prefeito cumpre palavra e, na base da força, derruba favela no jardim montevidéu.

Despres, C. (1991). The meaning of home: Literature review and directions for future research and theoretical development. Journal of Architectural and Planning Research, 8, 96–115.

Draus, P. J., Roddy, J., & McDuffie, A. (2014). 'We don't have no neighbourhood': Advanced marginality and urban agriculture in detroit. Urban Studies, 51, 2523–2538.

Hernández, B., Hidalgo, C. M., Salazar-Laplace, E. M., & Hess, S. (2007). Place attachment and place identity in natives and non-natives. Journal of Environmental Psychology, 27(4), 310–319.

Hope, T., & Karstedt, S. (2003). Towards a new social crime prevention. In H. Kury & J. Obergfell-Fuchs (Eds.), Crime prevention: New approaches (pp. 461–489). Mainz, De.: Weisse Ring Verlag-GmbH. https://doi.org/10.13140/2.1.4193.1847.

Huguet, C., & Szabó de Carvalho, I. (2008). Violence in the Brazilian favelas and the role of the police. New Directions for Youth Development, 119, 93–109.

Hull, R. B., Lam, M., & Vigo, G. (1994). Place identity: Symbols of self in the urban fabric. Landscape and Urban Planning., 28, 109–120.

Humanity, Habitat For. (2007). Sweat equity policy.

Hunter, A. (1975). The loss of community: An empirical test through replication. American Sociological Review, 40, 537–552.

IBGE. Censo demografico - 2010. (2010). Instituto Brasileiro de Geografia e Estatística.

Jacobs, J. (1961). The death and life of great American cities. New York: Random House.

Jeffery, C. R. (1971). Crime prevention through environmental design. American Behavioral Scientist, 14(4), 598–598.

Kasarda, J. D., & Janowitz, M. (1974). Community attachment in mass society. American Sociological Review, 39(3), 328–339.

Lewicka, M. (2005). Ways to make people active: The role of place attachment, cultural capital, and neighborhood ties. Journal of Environmental Psychology, 25(4), 381–395.

Lewicka, M. (2010). What makes neighborhood different from home and city? Effects of place scale on place attachment. Journal of Environmental Psychology, 30, 35–51.

Low, S. M., & Altman, I. (1992). Place attachment: A conceptual inquiry (pp. 1–12). New York: Plenum Press.

Malaque, I., Bartsh, K., & Scriver, P. (2015). Learning from informal settlements: Provision and incremental construction of housing for the urban poor in Davao city, Philippines. In 49th International conference of the architectural science association (pp. 163–172).

Mallach, A., & Brachman, L. (2013). Regenerating America's legacy cities. Cambridge: Lincoln Institute of Land Policy.

Manzo, L., & Perkins, D. (2006). Finding common ground: The importance of place attachment to community participation and planning. Journal of Planning Literature, 20(4), 335–350.

Marcus, C. C. (1992). Environmental memories (pp. 87–112). New York: Plenum Press.

McClain, V., & Waldorf, B. S. (2018). Longitudinal methods in regional science: A review. Journal of Geographical Systems,. https://doi.org/10.1007/s10109-018-0275-4.

Mesch, G. S., & Manor, O. (1998). Social ties, environmental perception and local attachment. Environment and Behavior, 30, 504–519.

Miceli, T. J., Sazama, G. W., & Sirmans, C. F. (1994). The role of limited-equity cooperatives in providing affordable housing. Housing Policy Debate, 5(4), 469–490.

Nakamura, S. (2014). Impact of slum formalization on self-help housing construction: A case of slum notification in India. Urban Studies, 51(16), 3420–3444.

Newman, O. (1973). Defensible space: People and design in the violent city. London: Architectural Press.

Nuijten, M., Koster, M., & De Vries, P. (2012). Regimes of spatial ordering in Brazil: Neoliberalism, leftist populism and modernist aesthetics in slum upgrading in recife. Singapore Journal of Tropical Geography, 33(2), 157–170.

Pellegrini, P. A., & Reader, S. (1996). Duration modeling of spatial point patterns. Geographical Analysis, 28(3), 219–243.

Pithan, S. (2014). Delegado promete fazer buraco quente "ferver".

Proshansky, H. M., Fabian, A. K., & Kaminoff, R. (1983). Place-identity. Journal of Environmental Psychology, 3, 57–83.

Riger, S., & Lavrakas, P. J. (1981). Community ties: Patterns of attachment and social interaction in urban neighborhoods. American Journal of Community Psychology, 9, 55–66.

Rodrigues, E. (2016). Moradores de favela enfrentam guardas da prefeitura.

Rosenfeld, R., Messner, S. F., & Baume, E. P. (2001). Social capital and homicide. Social Forces, 80, 283–310.

Rosenström, U., Mickwitz, P., & Melanen, M. (2006). Participation and empowerment-based development of socio-cultural indicators supporting regional decision-making for eco-efficiency. Local Environment, 11, 183–200.

Shumaker, S. A., & Taylor, R. B. (1983). Toward a clarification of people-place relationships: A model of attachment to place. New York: Praeger.

Stokols, D., & Shumaker, S. A. (1981). People in places: A transactional view of settings (pp. 441–488). Hillsdale: Erlbaum.

Systems, Task Panel on Community Support. The president's commission on mental health. Report, U.S. Government Printing Office (1978).

Taylor, R., Gottfredson, S., & Brower, S. (1984a). Block crime and fear: Defensible space, local social ties, and territorial functioning. Journal of Research in Crime and Delinquency, 21(4), 303–331.

Taylor, R., Gottfredson, S., & Brower, S. (1984b). Neighborhood naming as an index of attachment to place. Population Environment, 7(2), 103–125.

Taylor, R., Gottfredson, S., & Brower, S. (1985a). Attachment to place: Discriminant validity, and impacts of disorder and diversity. American Journal of Community Psychology, 13(5), 525–542.

Taylor, R. B., Shumaker, S. A., & Gottfredson, S. D. (1985b). Neighborhood-level links between physical features and local sentiments: Deterioration, fear of crime, and confidence. Journal of Architectural and Planning Research, 2, 261–275.

UN-Habitat. (2003−2004). The challenge of slums: Global report on human settlements 2003.

Weisburd, D., & Eck, J. E. (2004). What can police do to reduce crime, disorder, and fear? The Annals of the American Academy of Political and Social Science, 593(1), 42–65.

Wilson, J. Q., & Kelling, G. L. (2011). "Broken windows" atlantic monthly (1982). City Reader, 5th Edn., pp. 263–273.

Zhu, Y., Breitung, W., & Li, S.-M. (2011). The changing meaning of neighbourhood attachment in Chinese commodity housing estates: Evidence from guangzhou. Urban Studies, 49(11), 2439–2457.
Acknowledgements
The authors acknowledge the support from Dr. Flavia Montenegro-Menezes in developing this research and the feedback from the reviewers. We also thank the Coordenação de Aperfeiçoamento de Pessoal de Nivel Superior (CAPES, Brazil) for funding this research.
Additional information
Publisher's Note
Springer Nature remains neutral with regard to jurisdictional claims in published maps and institutional affiliations.
About this article
Cite this article
Furtado, L., Renski, H. Place attachment in self-built informal housing: improving spaces of crime. J Hous and the Built Environ (2020). https://doi.org/10.1007/s10901-020-09755-3
Received:

Accepted:

Published:
Keywords
Crime

Housing improvements

Informal settlements

Place attachment