Abstract
Information on sustainability features in the Australian residential property market is available but not always shared with buyers by property practitioners (real estate agents, property valuers/appraisers and financiers/mortgage lenders and brokers), as it is not a regulatory requirement. This paper examines the perspectives of property practitioners on a range of sustainability features in residential property. Drawing insights from combined questionnaires and interviews, property practitioners seem to attribute different levels of importance to sustainability related information depending on whether they view the information from their professional perspective or from their clients' perspective. The results obtained in both 2015 and 2017 confirm that practitioners' perspectives seem to limit the amount and/or type of information they pass on to their clients. Clients are not considering sustainability features as they may not be aware on the existence of such information and are not informed by practitioners about the value of such information. If practitioners share more complete information within the property market buyers would be able to make more informed purchase decisions regarding energy efficiency, sustainable homes, and reduction in operation costs. The property practitioners themselves can utilise this information to have more targeted and information rich marketing strategies.
Access options
Buy single article
Instant access to the full article PDF.
US$ 39.95
Tax calculation will be finalised during checkout.
Subscribe to journal
Immediate online access to all issues from 2019. Subscription will auto renew annually.
US$ 79
Tax calculation will be finalised during checkout.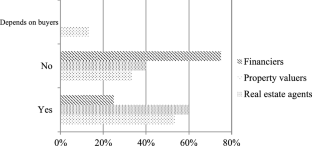 References
Aluko, B. T. (2007). Examining valuer's judgement in residential property valuations in metropolitan Lagos, Nigeria. Property Management, 25(1), 98–107.

Arndt, A., Harrison, D. M., Lane, M. A., Seiler, M. J., & Seiler, V. L. (2013). Can agents influence property perceptions through their appearance and use of pathos? Housing Studies, 28(8), 1105–1116.

Australian Property Institute. (2016). Certified property practitioner. Retrieved September 19, 2016, from https://www.api.org.au/certified-property-practitioner.

Bihari, S. C. (2010). Green banking-towards socially responsible banking in India. International Journal of Business Insights & Transformation, 4(1), 82–87.

Bock, T., Linner, T., & Hartmann, I. D.-K. K. (2010). Sustainable/"Green" buildings in Germany-Status Quo, advantages and future strategies. Building, 54(12), 14–19.

Boyarchenko, N., Fuster, A., & Lucca, D. O. (2014). Understanding mortgage spreads. New York: Federal Reserve Bank of New York.

Cole, R. (2005). Building environmental assessment methods: Redefining intentions and roles. Building Research and Informantion, 33(5), 455–467.

Connolly, J., McDonagh, P., Polonsky, M., & Prothero, A. (2007). Green marketing and green consumers: Exploring the myths. In D. Marinova, D. Annandale, & J. Phillimore (Eds.), The international handbook on environmental technology management (pp. 251–268). Cheltenham: Edward Edgar Publishing Ltd.

Cucchiarelli, P., & McGreal, S. (2012). Real estate agents. International encyclopedia of housing and home (pp. 16–21). San Diego: Elsevier.

Dunning, R. J., & Grayson, A. (2014). Homebuyers and the representation of spatial markets by information providers. International Journal of Housing Markets and Analysis, 7(3), 292–306.

Elkington, J. (1994). Towards the suitable corporation: Win–win–win business strategies for sustainable development. California Management Review, 36(2), 90.

Ferreira, F. A. F., Spahr, R. W., Gavancha, I. F. M. D., & Çipi, A. (2013). Readjusting trade-offs among criteria in internal ratings of credit-scoring: An empirical essay of risk analysis in mortgage loans. Journal of Business Economics and Management, 14(4), 715–740.

Fuerst, F., & Warren-Myers, G. (2018). Does voluntary disclosure create a green lemon problem? Energy-efficiency ratings and house prices. Energy Economics, 74, 1–12.

Goodwin, K. R., Waller, B. D., & Weeks, H. S. (2014). The impact of broker vernacular in residential real estate. Journal of Housing Research, 23(2), 143–161.

Hooker, L. J. (2014). Have you invested in any of these features in your home? Retrieved May 22, 2014, from http://www.ljhooker.com.au/sell/liveability/17things#DyJELiTxqldaSv8x.99.

Ifegbesan, A. P., Rampedi, I. T., & Annegarn, H. J. (2016). Nigerian households' cooking energy use, determinants of choice, and some implications for human health and environmental sustainability. Habitat International, 55, 17–24.

Kain, C., Warren-Myers, G., & Davidson, K. (2019). Insight into the property valuer's perspective of energy efficiency in housing. Low Carbon Living CRC. Retrieved from http://www.lowcarbonlivingcrc.com.au/sites/all/files/publications_file_attachments/rp3017u1_final_report.pdf.

Kupke, V. (2008). Factors important in the decision to buy a first home. Paper presented at the 14th Pacific Rim Real Estate Society Conference, Kuala Lumpur, Malaysia.

Kwofie, T. E., Adinyira, E., & Fugar, F. (2016). Modelling the effect of housing design unit contract packaging on mass housing project team communication performance. Journal of Construction in Developing Countries, 21(1), 35–50. https://doi.org/10.21315/jcdc2016.21.1.3.

Le, T. T., & Warren-Myers, G. (2019). An examination of sustainability reporting in valuation practice. Property Management, 37(1), 136–153.

Lorenz, D., & Lützkendorf, T. (2011). Sustainability and property valuation: Systematisation of existing approaches and recommendations for future action. Journal of Property Investment & Finance, 29(6), 644–676.

Lorenz, D., Trück, S., & Lützkendorf, T. (2007). Exploring the relationship between the sustainability of construction and market value. Property Management, 25(2), 119–149.

Lützkendorf, T., & Lorenz, D. (2005). Sustainable property investment: Valuing sustainable buildings through property performance assessment. Building Research and Information, 33(3), 212–234.

Lützkendorf, T., & Lorenz, D. (2011). Capturing sustainability-related information for property valuation. Building Research & Information, 39(3), 256–273.

Mallinson, M., & French, N. (2000). Uncertainty in property valuation—The nature and relevance of uncertainty and how it might be measured and reported. Journal of Property Investment & Finance, 18(1), 13–32.

McGee, C., Partridge, E., Carrard, N., & Milne, G. (2008). Mainstreaming sustainable housing: Policies and programs that work. Paper presented at the World sustainable building conference (world SB08), Melbourne, September, 21–25.

Michl, P., Lorenz, D., Lützkendorf, T., & Sayce, S. (2016). Reflecting sustainability in property valuation—A progress report. Journal of Property Investment & Finance, 34(6), 552–577.

Miller, W., Stenton, J., Worsley, H., & Wuersching, T. (2014). Strategies and solutions for housing sustainability: Building information files and performance certificates. Brisbane: Queensland University of Technology.

Munro, M., & Smith, S. J. (2008). Calculated affection? Charting the complex economy of home purchase. Housing Studies, 23(2), 349–367.

Nelms, C., Russell, A. D., & Lence, B. J. (2005). Assessing the performance of sustainable technologies for building projects. Canadian Journal of Civil Engineering, 32(1), 114–128.

Opoku, R. A., & Abdul-Muhmin, A. G. (2010). Housing preferences and attribute importance among low-income consumers in Saudi Arabia. Habitat International, 34(2), 219–227.

Pagourtzi, E., Assimakopoulos, V., Hatzichristos, T., & French, N. (2003). Real estate appraisal: A review of valuation methods. Journal of Property Investment & Finance, 21(4), 383–401.

Pinto, E. J. (2006). System and method for processing a secured collateral loan. Google Patents.

Rahadi, R. A., Wiryono, S. K., Koesrindartoto, D. P., & Syamwil, I. B. (2015). Comparison of the property practitioners and consumer preferences on housing prices in the Jakarta metropolitan region. International Journal of Housing Markets and Analysis, 8(3), 335–358.

Reed, R., & Wilkinson, S. (2007). Green buildings-issues for the valuation process (part 2). Australian and New Zealand Property Journal, 1(3), 205–215.

REINSW. (2016) Real Estate Institute of New South Wales: Code of practice. Retrieved September 19, 2016, from http://www.reinsw.com.au/imis15_prod/REINSW_Docs/REINSW_Code_of_Practice_web.pdf.

Rutherford, R. C., Springer, T. M., & Yavas, A. (2005). Conflicts between principals and agents: Evidence from residential brokerage. Journal of Financial Economics, 76(3), 627–665.

Sauvé, S., Bernard, S., & Sloan, P. (2016). Environmental sciences, sustainable development and circular economy: Alternative concepts for trans-disciplinary research. Environmental Development, 17, 48–56. https://doi.org/10.1016/j.envdev.2015.09.002.

Susilawati, C. (2018). Multi-stakeholder partnership promotes sustainable housing supply chain. In Sara Wilkinson, Tim Dixon, Sarah Sayce, & Norm Miller (Eds.), The Routledge handbook of sustainable real estate (pp. 319–331). London: Routledge Taylor and Francis.

Tapsuwan, S., Mathot, C., Walker, I., & Barnett, G. (2018). Preferences for sustainable, liveable and resilient neighbourhoods and homes: A case of Canberra, Australia. Sustainable Cities and Society, 37, 133–145.

The Centre for Liveability Real Estate. (2017). Liveability real estate specialist training. Retrieved September 14, 2017, from https://liveability.com.au/wp-content/uploads/2017/01/LRES-117-ABOUT-A4-website-22_5.pdf.

Warren-Myers, G. (2012). The value of sustainability in real estate: A review from a valuation perspective. Journal of Property Investment & Finance, 30(2), 115–144.

Warren-Myers, G. (2016). Sustainability evolution in the Australian property market: Examining valuers' comprehension, knowledge and value. Journal of Property Investment & Finance, 34(6), 578–601.

Whipple, R. T. M. (2006). Property valuation and analysis. NSW: Lawbook.

Wilkinson, S., Van Der Kallen, P., & Phui Kuan, L. (2014). The relationship between the occupation of residential green buildings and pro-environmental behavior and beliefs. Journal of Sustainable Real Estate, 5(1), 1–22.

Wong, S. Y., Susilawati, C., Miller, W., & Mardiasmo, D. (2018). Improving information gathering and distribution on sustainability features in the Australian residential property market. Journal of Cleaner Production, 184, 342–352.

Wong, S. Y., Susilawati, C., Miller, W. F., & Mardiasmo, D. (2016). Understanding Australian real estate agent perspectives in promoting sustainability features in the residential property market. In Proceedings of the 7th international conference on energy and envrionment of residential buildings. Queensland University of Technology.

Wood, G. (2010). The environmental sustainability of Australia's private rental housing stock.

World Green Building Council. (2019). About green building. Retrieved September 27, 2019, from https://www.worldgbc.org/what-green-building.

Yang, J., & Yang, Z. (2015). Critical factors affecting the implementation of sustainable housing in Australia. Journal of Housing and Built Environment, 30, 275–292. https://doi.org/10.1007/s10901-014-9406-5.

Zedan, S., & Miller, W. (2015). Using relationship mapping to understand sustainable housing stakeholders' actions. Paper presented at the Sustainable Human–Building Ecosystems, Carnegie Mellon University, Pittsburgh, PA. Retrieved December 14, 2016, from http://eprints.qut.edu.au/93131/.

Zhou, X., Gibler, K., & Zahirovic-Herbert, V. (2015). Asymmetric buyer information influence on price in a homogeneous housing market. Urban Studies, 52(5), 891–905.
Funding
This research is part of an Australian Research Council project (ARC LP 130100650 From innovators to mainstream market: A Toolkit for transforming Australian housing and maximising sustainability outcomes for stakeholders) funded by the Australian Government and industry. The funding bodies had no input into the study design; collection, analysis and interpretation of data; the writing of the report or in the decision to submit the article for publication.
Additional information
Publisher's Note
Springer Nature remains neutral with regard to jurisdictional claims in published maps and institutional affiliations.
Appendix
Appendix
See Table 9.
About this article
Cite this article
Wong, S.Y., Susilawati, C., Miller, W. et al. Perspectives of Australian property practitioners on sustainability features in residential property. J Hous and the Built Environ 35, 783–805 (2020). https://doi.org/10.1007/s10901-019-09726-3
Received:

Accepted:

Published:

Issue Date:
Keywords
Sustainability features

Residential property market

Real estate agents

Property valuers

Financiers