Abstract
This study aimed to correlate happiness with housing, housing area and neighborhood satisfaction based on the results of different studies that have shown that satisfaction with housing and the neighborhood affects residents' perceptions of happiness. Unlike the related researches in the literature, this study controls for the negative consequences arising from financial concerns in its examination of the effect of housing, housing area and neighborhood satisfaction on happiness. The Balat neighborhood in Bursa, Turkey, which is popular with high-income residents, was selected for this study considering these issues. The participants were asked to indicate the importance they attribute to and their satisfaction levels with their housing estates, residences and neighborhood. Data were collected from 217 residents of 6 sites in the neighborhood who were selected using stratified sampling. Reliability analysis, frequency distributions, descriptive statistics and Chaid analysis were used to evaluate the data. The analysis found that the variable that most affected perceptions of happiness was housing estate satisfaction. According to the results obtained from the second stage of the analysis, satisfaction with the residence increased satisfaction with the housing estate, and therefore positively affected happiness. The third stage of the analysis indicated that the importance of the properties of the residential area on the housing site affected satisfaction with housing. This study discusses its results, the factors that determine housing and housing estate satisfaction and the relationship of the properties of the residential area with the happiness of residents.
Access options
Buy single article
Instant access to the full article PDF.
US$ 39.95
Tax calculation will be finalised during checkout.
Subscribe to journal
Immediate online access to all issues from 2019. Subscription will auto renew annually.
US$ 79
Tax calculation will be finalised during checkout.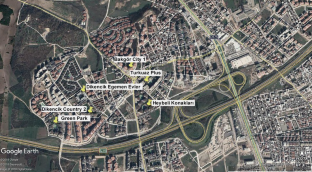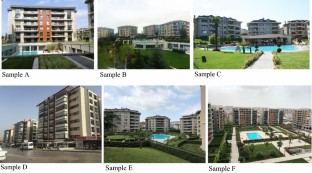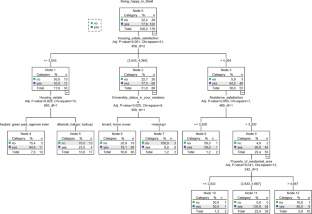 References
Adams, R. E. (1992). Is happiness a home in the suburbs? The influence of urban versus suburban neighborhoods on psychological health. Journal of Community Psychology,20, 353–372.

Bailey, T. C., & Snyder, C. (2010). Satisfaction with life and hope: A look at age and marital status. The Psychological Record,57(2), 5.

Blakely, E. J., & Synder, M. G. (1997). Fortress America: Gated communities in the United States. Washington: Brookings Institution Press.

Bonaiuto, M., Fornara, F., & Bonnes, M. (2003). Indexes of perceived residential environment quality and neighbourhood attachment in urban environments: A confirmation study on the City of Rome. Landscape and Urban Planning,65(1–2), 41–52.

Carvalho, M., George, R. V., & Anthony, K. H. (1997). Residential satisfaction in condominios exclusivos (gate-guarded neighborhoods) in Brazil. Environment and Behavior,29(6), 734–768. https://doi.org/10.1177/0013916597296002.

Chapman, D. W., & Lombard, J. R. (2006). Determinants of neighborhood satisfaction in fee-based gated and nongated communities. Urban Affairs Review,41(6), 769–799.

Clapham, D., Foye, C., & Christian, J. (2018). The concept of subjective wellbeing in housing research. Housing Theory and Society,35(3), 261–280. https://doi.org/10.1080/14036096.2017.1348391.

DeLeire, T., & Kalil, A. (2010). Does consumption buy happiness? Evidence from the United States. International Review of Economics,57(2), 163–176.

Diener, E. (2000). Subjective well-being: The science of happiness and a proposal for a national index. American Psychologist,55(1), 34–43.

Diener, E., Lucas, R., Schimmack, U., & Helliwell, J. (2009). Well-being for public policy. Oxford: Oxford University Press.

Diener, E., & Seligman, M. E. P. (2002). Very happy people. Psychological Science,13, 81–84.

Dunn, E. W., Wilson, T. D., & Gilbert, D. T. (2003). Location, location, location: The misprediction of satisfaction in housing lotteries. Personality and Social Psychology Bulletin,29(11), 1421–1432.

Easterlin, R. A. (2003). Explaining happiness. PNAS,100(19), 11176–11183.

Elsinga, M., & Hoekstra, J. (2005). Homeownership and housing satisfaction. Journal of Housing and the Built Environment,20, 401–424.

Fallahi, B., & Mehrad, A. (2015). A review of housing and job satisfaction and its link to life happiness. The Online Journal of Counseling and Education,4(2), 40–50.

Feist, G. J., Bodner, T. E., Jacobs, J. F., Miles, M., & Tan, V. (1995). Integrating top-down and bottom-up structural models of subjective well-being: A longitudinal investigation. Journal of Personality and Social Psychology,68(1), 138–150.

Foye, C. (2017). The relationship between size of living space and subjective well-being. Journal of Happiness Studies,18(2), 427–461.

Foye, C., Clapham, D., & Gabrieli, T. (2018). Home-ownership as a social norm and positional good: Subjective wellbeing evidence from panel data. Urban Studies.,55(6), 1290–1312.

Frijters, P., Johnston, D. W., & Shields, M. A. (2011). Life satisfaction dynamics with quarterly life event data. Scandinavian Journal of Economics,113(1), 190–211.

Fujiwara, D. (2013). The social impact of housing providers, HACT. Retrieved July 6, 2018 from https://www.hact.org.uk/sites/default/files/uploads/Archives/2013/02/The%20Social%20Impact%20of%20Housing%20FINALpdf.pdf.

Galiani, S., Gertler, P.J., & Undurraga, R. (2015). The half-life of happiness: Hedonic adaptation in the subjective well-being of poor slum dwellers to a large improvement in. The National Bureau of Economic Research. Retrieved June 29, 2018 from https://www.nber.org/papers/w21098.

Gür, M., & Sezer, F. Ş. (2018). Popularity in house preference: A research on user satisfaction: Bursa Balat Sample. International Refereed Journal of Architecture and Design,14, 1–27.

Gurney, C. M. (1999). Pride and prejudice: Discourses of normalisation in public and private accounts of home ownership. Housing Studies,14(2), 163–183.

Headey, B., & Wearing, A. (1992). Understanding happiness: A theory of subjective well-being Longman Cheshire. Australia: Melbourne.

Hoare, R. (2004). Using CHAID for classification problems. Paper presented at New Zealand Statistical Association 2004 conference, Wellington

Hu, F. (2013). Homeownership and subjective wellbeing in urban China: Does owning a house make you happier? Social Indicators Research,110(3), 951–971.

Huang, Z., Du, X., & Yu, X. (2015). Home ownership and residential satisfaction: Evidence from Hangzhou, China. Habitat International,49, 74–83.

Kahneman, D. (1999). Objective happiness. In D. Kahneman, E. Diener, & N. Schwartz (Eds.), Well-being: The foundations of hedonic psychology (pp. 3–25). New York: Russell Sage Foundation.

Kass, G. V. (1980). An exploratory technique for investigating large quantities of categorical data. Applied Statistics,29(2), 119–127.

Kowaltowski, D. C. C. K., De Silva, V. G., Pina, S. A. M. G., Labaki, L. C., Ruschel, R. C., & Moreira, D. C. (2006). Quality of life and sustainability issues as seen by the population of low-income housing in the region of Campinas, Brazil. Habitat International,30, 1100–1114.

Larsen, R., Diener, E., & Emmons, R. (1985). An evaluation of subjective well-being measures. Social Indicators Research,17, 1–17.

Larsen, R. J., & Eid, M. (2008). Ed Diener and the science of subjective well-being. In R. J. Larsen & M. Eid (Eds.), The science of subjective well-being (pp. 1–13). New York: Guilford.

Lu, M. (1999). Determinants of residential satisfaction: Ordered logit vs. regression models. Growth and Change,30(2), 264–287.

Lyubomirsky, S., Tkach, C., & Dimatteo, R. M. (2006). What are the differences between happiness and self-esteem? Social Indicators Research,78, 63–404.

Marans, R. W. (2003). Understanding environmental quality through quality of life studies: The 2001 DAS and its use of subjective and objective indicators. Landscape and Urban Planning,65(1–2), 73–83. https://doi.org/10.1016/S0169-2046(02)00239-6.

Martin, F. (2012). Perceptions of links between quality of life areas: Implications for measurement and practice. Social Indicators Research,106(1), 95–107.

Michalos, A. C. (1980). Satisfaction and happiness. Social Indicators Research,8(4), 385–422.

Michalos, A. C. (1983). Satisfaction and happiness in a rural northern resource community. Social Indicators Research,13, 225–252.

Mutlu, E., & Varol, Ç. (2017). Sosyo-ekonomik farklılaşma ve mekânsal ayrışma: Bursa metropoliten alanı analizi. Megaron,12(1), 87–105.

Myers, D. G., & Diener, E. (1996). The pursuit of happiness. Scientific American,274(5), 54–56.

Pavot, W., & Diener, E. (2008). The satisfaction with life scale and the emerging construct of life satisfaction. The Journal of Positive Psychology,3(2), 137–152.

Ratner, B. (2015). Market segmentation: defining target markets with CHAID. Dm Stat-1. Retrieved June 9, 2019 from http://www.dmstat1.com/res/MarketSegmentationWithCHAID.html.

Ren, H., & Folmer, H. (2017). Determinants of residential satisfaction in urban China: A multi-group structural equation analysis. Urban Studies,54(6), 1407–1425.

Rohe, W. M., & Basolo, V. (1997). Long-term effects of homeownership on the self-perceptions and social interaction of low-income persons. Environment and Behavior,29(6), 793–819.

Roitman, S. (2005). Who segregates whom? The analysis of a gated community in Mendoza, Argentina. Housing Studies,20(2), 303–321.

Rokach, L., & Maimon, O. (2015). Data mining with decision trees theory and applications (2nd ed.). Singapore: World Scientific Publishing Co., Pte. Ltd.

Rözer, J., Mollenhorst, G., & Poortman, A.-R. (2016). Family and friends: Which types of personal relationships go together in a network? Social Indicators Research,127, 809–826.

Ryff, C. D. (1989). Happiness is everything, or is it? Explorations on the meaning of psychological well-being. Journal of Personality and Social Psychology,57(6), 1069–1081.

Sirgy, M. J., & Cornwell, T. (2002). How neighborhood features affect quality of life. Social Indicators Research,59(1), 79–114.

Tran, T. Q., & Van Vu, H. (2018). A microeconometric analysis of housing and life satisfaction among the Vietnamese elderly. Quality & Quantity,52, 849–867.

Van Kamp, I., Leidelmeijer, K., Marsman, G., & De Hollander, A. (2003). Urban environmental quality and human well-being: Towards a conceptual framework and demarcation of concepts; A literature study. Landscape and Urban Planning,65(1–2), 5–18.

Veenhoven, R. (2000). The four qualities of life: Ordering concepts and measures of the good life. Journal of Happiness Studies,1, 1–39.

Vera-Toscano, E., & Ateca-Amestoy, V. (2008). The relevance of social interactions on housing satisfaction. Social Indicators Research,86, 257–274.

Wolbring, T. (2017). Home sweet home! Does moving have (lasting) effects on housing satisfaction? Journal of Happiness Studies,18, 1359–1375.

Zhang, F., Zhang, C., & Hudson, J. (2014). Housing conditions and life satisfaction in urban China. Cities,29(3), 319–338.
Additional information
Publisher's Note
Springer Nature remains neutral with regard to jurisdictional claims in published maps and institutional affiliations.
Electronic supplementary material
Below is the link to the electronic supplementary material.
About this article
Cite this article
Gür, M., Murat, D. & Sezer, F.Ş. The effect of housing and neighborhood satisfaction on perception of happiness in Bursa, Turkey. J Hous and the Built Environ 35, 679–697 (2020). https://doi.org/10.1007/s10901-019-09708-5
Received:

Accepted:

Published:

Issue Date:
Keywords
Happiness

Residence satisfaction

Housing estate satisfaction

Property values

Chaid analysis