Abstract
The aim of this study was to find out what is the prevalence of pathological in Romanian teenagers. We questioned one thousand thirty-two teenagers in Cluj-Napoca and Harghita counties. Participants completed a questionnaire with 40 items including gamblers anonymous twenty questions. The sample included teenagers aged 11–19 years; 65.57% were male and 34.43% were female. The subjects were divided into three groups: non-gambling/recreational gambling or occasional gambling (0–1 positive answers —Level 1)—753 subjects (72.96%) [316 females and 437 males]; problem gambling (2–6 points—Level 2)—243 subjects (23.54%) [43 females and 200 males]; pathological gambling (above 7 points—Level 3)—36 subjects (3.48%) [3 females and 33 males]. The mean age of pathological gamblers was 16.48 years. Gender differences were as expected, males engaging in pathological gambling (91.66% from pathological gamblers) more than females did (8.33% from pathological gamblers). Data revealed that the most encountered games practiced weekly were sport bets and slot machines in the case of 36.11% of the pathological gamblers; lotto, internet casino and pool bets each with 25%, followed by roulette and black-jack with 22.22%.From those who reported practicing gambling at a pathological level 66.66% engaged in alcohol consumption, 13.88% illicit drug use and 19.44% licit drugs. Just 16.66% smoke cigarettes. Data revealed higher rates of prevalence in Romanian teenagers than in other Central and Eastern European countries. A prevalence study at a national level should be designed.
Access options
Buy single article
Instant access to the full article PDF.
US$ 39.95
Tax calculation will be finalised during checkout.
Subscribe to journal
Immediate online access to all issues from 2019. Subscription will auto renew annually.
US$ 79
Tax calculation will be finalised during checkout.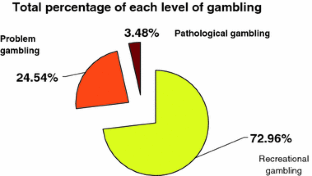 References
Derevensky, J. L., & Gupta, R. (1996). Risk-taking and gambling behavior among adolescents: An empirical examination. Paper presented at the annual meeting of the National Conference on Compulsive Gambling, Chicago.

Derevensky, J. L., & Gupta, R. (2004). Adolescents with gambling problems: A synopsis of our current knowledge. eGambling: The Electronic Journal of Gambling Issues, 10. Available at http://www.camh.net/egambling.

Gamblers Anonymous (1984). (3rd ed.). Los Angeles, CA: Gamblers Anonymous Publishing.

Griffiths, M. D. (2009). Problem gambling in Europe: An overview. International Gaming. Research Unit. Division of Psychology. Apex Communications, UK: Nottingham Trent University.

Hayer, T., Griffiths, M. & Meyer, G. (2005). Gambling In T.P. Gullotta, G.R. Adams (Eds.) Handbook of adolescent behavioral problems: Evidence-based approaches to prevention and treatment (pp.467–486). Berlin: Springer Science Business Media, Inc.

Johansson, A., & Götestam, K. G. (2003). Gambling and problematic gambling with money among Norwegian youth (12–18 years). Nordic Journal of Psychiatry, 57, 317321.

Lesieur, H. R., & Klein, R. (1987). Pathological gambling among high school students. Addictive Behaviors, 12, 129–135.

Lupu, V. (2009). Gambling in Romania. In G. Meyer, T. Hayer, & M. D. Griffiths (Eds.), Problem gambing in Europe: Challenges, prevention, and interventions. New York: Springer.

Lupu, V., Boros, S., Miu, A., Iftene, F. & Geru, A. (2001). Factori de risc pentru jocul patologic de noroc la adolescentii români. Revista SNPCAR, [Risk factors in pathological gambling in Romanian adolescents], SNPCAR Magazine, 4(4), 33–38.

Lupu, V., Onaca, E., & Lupu, D. (2002). The prevalence of pathological gambling in Romanian teenagers. Minerva Medica, 93, 413–418.

Lupu, V., Todiriţă, I. R. (2010). Problem Gambling in Romania: Updates, http://www.easg.org/media/file/vienna2010/presentations/Thursday/1600/P3/2_Viorel_Lupu_Izabela_Ramona_Todirita.pdf (Accessed July 17, 2011).

Lupu,V. (2008). Jocul patologic de noroc la adolescenţi. [Pathological gambling in adolescents]. Cluj-Napoca, Editura Risoprint.

Moodie, C., & Finnigan, F. (2006). Prevalence and correlates of youth gambling in Scotland. Addiction Research and Theory, 14, 365–385.

Nower, L., Gupta, R., Blaszczynski, A., & Derevensky, J. (2004). Suicidality ideation and depression among youth gamblers: A preliminary examination of three studies. International Gambling Studies, 4(1), 69–80.

Olason, D., & Gretarsson, S. J. (2009). Gambling in Germany. In G. Meyer, T. Hayer, & M. D. Griffiths (Eds.), Problem gaming in Europe: Challenges, prevention, and interventions. New York: Springer.

Rossow, I. & Hansen, M. (2003): Underholdning med bismak. Ungdom og pengespil [Entertainment with an after-taste. Money gambling among youths]. Report no. 1/03. Norsk Institut for forskning om oppvekst, velferd og aldring.

Shaffer, H. J., & Hall, M. N. (1996). Estimating prevalence of adolescent gambling disorders: A quantitative synthesis and guide toward standard gambling nomenclature. Journal of Gambling Studies, 12, 193–214.

Stinchfield, R., Cassuto, N., Winters, K., & Latimer, W. (1997). Prevalence of gambling among Minnesota public school students in 1992 and 1995. Journal of Gambling Studies, 13, 25–48.

Toneatto, T. (2008). Reliability and validity of the gamblers anonymous twenty questions. Journal of Psychopathology and Behavioral Assessment, 30, 71–78. doi:10.1007/s10862-007-9070-0.

Wood, R. T. A., & Griffiths, M. D. (1998). The acquisition, development and maintenance of lottery and scratch card gambling in adolescence. Journal of Adolescence, 21, 265–273.

Wynne, H. J., Smith, G, J., & Jacobs, D. F. (1996). Adolescent gambling and problem gambling in Alberta. Prepared for the Alberta Alcohol and Drug Abuse Commission. Edmonton: Wynne Resources LTD. http://www.insse.ro/cms/files/RPL2002INS/vol1/tabele/t15.pdf (Accessed Sep 17, 2011).
About this article
Cite this article
Lupu, V., Todirita, I.R. Updates of the Prevalence of Problem Gambling in Romanian Teenagers. J Gambl Stud 29, 29–36 (2013). https://doi.org/10.1007/s10899-012-9296-y
Keywords
Prevalence

Problem gambling

Pathological gambling

Romanian

Children

Adolescents

Teenagers