Abstract
There remains considerable societal support for child corporal punishment, despite much research about its ineffectiveness and potential harm to children. We examined attitudes toward Section 43 of the Canadian Criminal Code which gives parents the right to use reasonable physical force for discipline purposes. We also examined attitude change and predictors of this change. Participants (N = 212) completed an on-line study, which found that 39.2 % disagreed with ending Section 43. Upon presentation of corporal punishment-related information, the majority (63.8–70.5 %) now indicated being in favor of ending Section 43. Attitude change was highest for information on the potential for child abuse. Socio-demographics (ethnicity, religion), childhood disciplinary experiences (non-punitive discipline), and discipline perceptions (parental warmth/involvement) predicted attitude change. Results indicate that providing information about corporal punishment is key to changing attitudes toward parents' legal right to its use. Also, parental background and childhood discipline characteristics may differentially influence the amount of attitude change.
This is a preview of subscription content,
to check access.
Access this article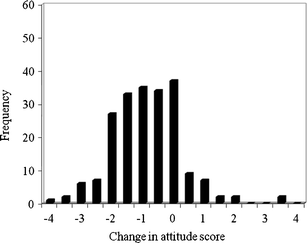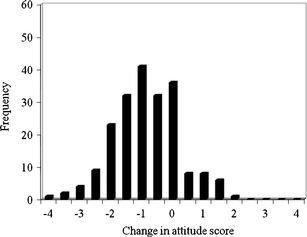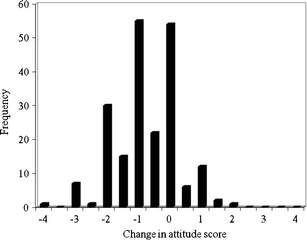 Similar content being viewed by others
References
American Academy of Pediatrics, Committee on Psychosocial Aspects of Child and Family Health. (1998). Guidance for effective discipline. Pediatrics, 101, 723–728. Retrieved from http://pediatrics.aappublications.org/content/101/4/723.full.html.

Anderson, C. A., Benjamin, A. J., Wood, P. K., & Bonacci, A. M. (2006). Development and testing of the velicer attitudes toward violence scale: evidence of a four-factor model. Aggressive Behavior, 32, 122–136. doi:10.1002/ab.20112.

Ateah, C. A., & Durrant, J. E. (2005). Maternal use of physical punishment in response to child misbehaviour: implications for child abuse prevention. Child Abuse & Neglect, 29, 169–185. doi:10.1016/j.chiabu.2004.10.010.

Ateah, C. A., & Parkin, C. M. (2002).Childhood experiences with, and current attitudes toward, corporal punishment. Canadian Journal of Community Mental Health, 21(1), 35–46. Retrieved from http://cjcmh.metapress.com/openurl.asp?genre=article&issn=0713-3936&volume=21&issue=1&spage=35.

Bell, T., & Romano, E. (2012). Opinions about child corporal punishment and influencing factors. Journal of Interpersonal Violence, 27, 2208–2229. doi:10.1177/0886260511432154.

Canadian Paediatric Society. (2004). Effective discipline for children. Paediatrics and Child Health, 9, 37–41. Retrieved http://www.cps.ca/en/documents/position/discipline-for-children.

Canadian Psychological Association. (2004). Board of the Canadian Psychological Association policy statement on physical punishment of children and youth submitted by the Executive of the Section on Clinical Psychology Public Statement. Retrieved from http://www.cpa.ca/documents/policy3.pdf.

Clément, M. E., & Chamberland, C. (2009). The role of parental stress, mother's childhood abuse and perceived consequences of violence in predicting attitudes and attribution in favor of corporal punishment. Journal of Child and Family Studies, 18(2), 163–171. doi:10.1007/s10826-008-9216-z.

Criminal Code, R.S.C., c. C-46 § 43 (1985).

Day, D. E., & Roberts, M. W. (1983). An analysis of the physical stick component of a parent training program. Journal of Abnormal Child Psychology, 11, 141–152. doi:10.1007/BF00912184.

Deater-Deckard, K., Lansford, J. E., Dodge, K. A., Pettit, G. S., & Bates, J. E. (2003). The development of attitudes about physical punishment: an 8-year longitudinal study. Journal of Family Psychology, 17, 351–360. doi:10.1037/0893-3200.17.3.351.

Durrant, J. E. (2000). Trends in youth crime and well-being since the abolition of corporal punishment in Sweden. Youth & Society, 31, 437–455. doi:10.1177/0044118X00031004003.

Durrant, J. E. (2003). Legal reform and attitudes toward physical punishment in Sweden. The International Journal of Children's Rights, 11(2), 147–174. doi:10.1163/092755603322397241.

Durrant, J. E., & Ensom, R. (2012). Physical punishment of children: lessons from 20 years of research. Canadian Medical Association Journal Advance online publication.. doi:10.1503/cmaj.101314.

Durrant, J. E., Rose-Krasnor, L., & Broberg, A. G. (2003). Physical punishment and maternal beliefs in Sweden and Canada. Journal of Comparative Family Studies, 34, 585–604. Retrieved from http://soci.ucalgary.ca/jcfs/.

Durrant, J. E., Ensom, R., & Coalition on Physical Punishment of Children and Youth. (2004). Joint statement on physical punishment of children and youth. Ottawa, Canada: Coalition on Physical Punishment of Children and Youth. Retrieved from http://www.cheo.on.ca/en/physicalpunishment.

Gagné, M. H., Tourigny, M., Joly, J., & Pouliot-Lapointe, J. (2007). Predictors of adult attitudes toward corporal punishment of children. Journal of Interpersonal Violence, 22, 1285–1304. doi:10.1177/0886260507304550.

Gershoff, E. T. (2002). Corporal punishment by parents and associated child behaviors and experiences: a meta-analytic and theoretical review. Psychological Bulletin, 128, 539–579. doi:10.1037//0033-2909.128.4.539.

Gershoff, E. T. (2010). More harm than good: A summary of scientific research on the intended and unintended effects of corporal punishment on children. Law and Contemporary Problems, 73, 30–56. Retrieved from http://scholarship.law.duke.edu/lcp/vol73/iss2/3/.

Graziano, A. M., & Namaste, K. A. (1990). Parental use of physical force in child discipline: a survey of 679 college students. Journal of Interpersonal Violence, 5, 449–463. doi:10.1177/088626090005004002.

Hastings, P. D., & Grusec, J. E. (1998). Parenting goals as organizers of responses to parent–child disagreement. Developmental Psychology, 34, 465–479. doi:10.1037/0012-1649.34.3.465.

Murray-Swank, A., Mahoney, A., & Pargament, K. I. (2006). Sanctification of parenting: links to corporal punishment and parental warmth among biblically conservative and liberal mothers. The International Journal for the Psychology of Religion, 16, 271–287. doi:10.1207/s15327582ijpr1604_3.

Robinson, D. H., Funk, D. C., Beth, A., & Bush, A. M. (2005). Changing beliefs about corporal punishment: increasing knowledge about ineffectiveness to build more consistent moral and informational beliefs. Journal of Behavioral Education, 14(2), 117–139. doi:10.1007/s10864-005-2706-9.

Rodriguez, C. M., & Price, B. L. (2004). Attributions and discipline history as predictors of child abuse potential and future discipline practices. Child Abuse & Neglect, 28, 845–861. doi:10.1016/j.chiabu.2004.02.003.

Scholer, S. J., Hamilton, E. C., Johnson, M. C., & Scott, T. A. (2010). A brief intervention may affect parents' attitudes toward using less physical punishment. Family & Community Health, 33, 106–116. Retrieved from www.ncbi.nlm.nih.gov/pubmed/20216353.

Simons, D. A., & Wurtele, S. K. (2010). Relationships between parents' use of corporal punishment and their children's endorsement of spanking and hitting other children. Child Abuse & Neglect, 34, 639–636. doi:10.1016/j.chiabu.2010.01.012.

Smith, B. L. (2012, April).The case against spanking. Monitor on Psychology, 43(4). Retrieved from http://www.apa.org/monitor/2012/04/spanking.aspx.

Straus, M. A. (2001). Beating the devil out of them: Corporal punishment in American families (2nd ed.). New Brunswick: Transaction.

Straus, M. A., & Fauchier, A. (2007). Manual for the Dimensions of Discipline Inventory (DDI). Durham, NH: Family Research Laboratory, University of New Hampshire. Retrieved from http://pubpages.unh.edu/~mas2/DDI01R13%20Manual.pdf.

Straus, M. A., & Stewart, J. H. (1999). Corporal punishment by American parents: national data on prevalence, chronicity, severity, and duration in relation to child and family characteristics. Clinical Child and Family Psychology Review, 2(2), 55–70. doi:10.1023/A:1021891529770.

Toronto Public Health. (2003). National survey of Canadians' attitudes on Section 43 of the criminal code. Retrieved from http://www.toronto.ca/health/pdf/ssl_survey.pdf.
Acknowledgments
We would like to thank Dr. Dwayne Schindler for help with statistical analyses.
About this article
Cite this article
Romano, E., Bell, T. & Norian, R. Corporal Punishment: Examining Attitudes Toward the Law and Factors Influencing Attitude Change. J Fam Viol 28, 265–275 (2013). https://doi.org/10.1007/s10896-013-9494-0
Published:

Issue Date:

DOI: https://doi.org/10.1007/s10896-013-9494-0
Keywords