Abstract
Pheromone-baited traps can be excellent tools for sensitive detection of insects of conservation concern. Here, identification of the sex pheromone of Trichopteryx polycommata (Denis & Schiffermüller, 1775), an under-recorded UK priority species, is reported. In analyses of extracts of the pheromone glands of female T. polycommata by gas chromatography coupled to electroantennographic recording from the antenna of a male moth, a single active component was detected. This was identified as (Z,Z)-6,9-nonadecadiene (Z,Z6,9-19:H) by comparison of its mass spectrum and retention times with those of the synthetic standard. In a pilot field trial in Kent, UK, T. polycommata males were caught in pheromone traps baited with lures loaded with 1 mg and 2 mg (Z,Z)-6,9-19:H. Optimum lure loading was identified in a further five trials in Kent, Sussex and Lancashire where lures of 0, 0.001, 0.01, 0.1, 1, 2, 5 and 10 mg loadings were tested. Traps baited with 1 to 10 mg of ZZ6,9-19:H caught significantly more T. polycommata than traps baited with 0 mg and 0.001 mg. In a pilot survey of T. polycommata using pheromone lures around Morecambe Bay, UK, T. polycommata males were captured at 122 new sites within the three counties where trials took place, demonstrating the potential of pheromone monitoring to increase knowledge of abundance, distribution and ecology of this elusive species.
Access options
Buy single article
Instant access to the full article PDF.
US$ 39.95
Tax calculation will be finalised during checkout.
Subscribe to journal
Immediate online access to all issues from 2019. Subscription will auto renew annually.
US$ 119
Tax calculation will be finalised during checkout.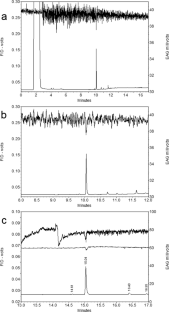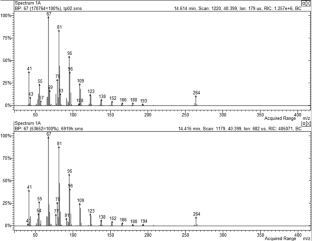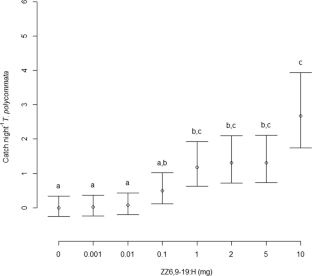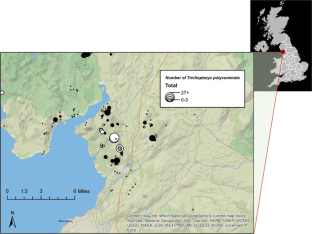 References
Andersson K, Bergman KO, Andersson F, Hedenström E, Jansson N, Burman J, Winde I, Larsson MC, Milberg P (2014) High-accuracy sampling of saproxylic diversity indicators at regional scales with pheromones: the case of Elater ferrugineus (Coleoptera, Elateridae). Biol Conserv 171:156–166. https://doi.org/10.1016/j.biocon.2014.01.007

Bogenschütz H, Knauf W, Tröger EJ, Bestmann HJ, Vostrowsky O (1985) Pheromones 49: males of Geometridae caught by C19-polyenes in pine stands. Z Angew Entomol 100:349–354

Brooks DR, Bater JE, Clark SJ, Monteith DT, Andrews C, Corbett SJ, Beaumont DA, Chapman JW (2012) Large carabid beetle declines in a United Kingdom monitoring network increases evidence for a widespread loss in insect biodiversity. J Appl Ecol 49:1009–1019. https://doi.org/10.1111/j.1365-2664.2012.02194.x

Burman J, Westerberg L, Ostrow S, Ryrholm N, Bergman KO, Winde I, Nyabuga FN, Larsson MC, Milberg P (2016) Revealing hidden species distribution with pheromones: the case of Synanthedon vespiformis (Lepidoptera: Sesiidae) in Sweden. J Insect Conserv 20:11–21. https://doi.org/10.1007/s10841-015-9835-9

Cardoso P, Erwin TL, Borges PAV, New TR (2011) The seven impediments in invertebrate conservation and how to overcome them. Biol Conserv 144:2647–2655. https://doi.org/10.1016/j.biocon.2011.07.024

Chittamuru S (2000) Studies on the female sex pheromone of the pine looper moth, Bupalus piniaria L.(Lepidoptera: Geometridae). Thesis University of Greenwich

Choi SW (2007) Taxonomic study of the genus Trichopteryx Hübner (Lepidoptera: Geometridae) in Korea. Entomol Res 37:46–53. https://doi.org/10.1111/j.1748-5967.2007.00052.x

Conrad KF, Warren MS, Fox R, Parsons MS, Woiwod IP (2006) Rapid declines of common, widespread British moths provide evidence of an insect biodiversity crisis. Biol Conserv 132:279–291. https://doi.org/10.1016/j.biocon.2006.04.020

Dunn RR (2005) Modern insect extinctions, the neglected majority. Conserv Biol 19:1030–1036

ESRI (Environmental Systems Resource Institute) (2014) ArcMap 10.2. ESRI, Redlands, California

Fonseca CR (2009) The silent mass extinction of insect herbivores in biodiversity hotspots. Conserv Biol 23:1507–1515. https://doi.org/10.1111/j.1523-1739.2009.01327.x

Francke W, Brunnemann U, Bergmann J, Plass E (1998) Semiochemistry at junctions, volatile compounds from desert locusts, caddisflies and geometrid moths. In: Int Conf Insect Phero pp 71–73

Giangregorio P (2015) Updated distribution of Osmoderma eremita in Abruzzo (Italy) and agro-pastoral practices affecting its conservation (Coleoptera: Scarabaeidae). Fragmenta Entomolica 47:139–146. https://doi.org/10.4081/fe.2015.142

Jenkins M (2003) Prospects for biodiversity. Science 302:1175–1177. https://doi.org/10.1126/science.1088666

JNCC (2007) UK BAP priority terrestrial invertebrate species. http://jncc.defra.gov.uk/page-5169. Accessed 3 Aug 2018

JNCC (2010) Trichopteryx polycommata version 2. http://jncc.defra.gov.uk/_speciespages/616.pdf. Accessed 3 Aug 2018

Kadej M, Zając K, Ruta R, Gutowski JM, Tarnawski D, Smolis A, Olbrycht T, Malkiewicz A, Myśków E, Larsson MC, Andersson F (2014) Sex pheromones as a tool to overcome the Wallacean shortfall in conservation biology: a case of Elater ferrugineus Linnaeus, 1758 (Coleoptera: Elateridae). J Insect Conserv 19:25–32. https://doi.org/10.1007/s10841-014-9735-4

Kellert SR (1993) Values and perceptions of invertebrates. Conserv Biol 7:845–855. https://doi.org/10.1046/j.1523-1739.1993.07040845.x

Kim KC (1993) Biodiversity, conservation and inventory: why insects matter. Biodivers Conserv 2:191–214

Kimber I (2018) UKMoths | guide to the moths of Great Britain and Ireland. In: UKMoths. http://www.ukmoths.org.uk/. Accessed 3 Aug 2018

Larigauderie A, Prieur-Richard AH, Mace GM, Lonsdale M, Mooney HA, Brussaard L, Cooper D, Cramer W, Daszak P, Díaz S, Duraiappah A (2012) Biodiversity and ecosystem services science for a sustainable planet: the DIVERSITAS vision for 2012-20. Curr Opin Environ Sustain 4:101–105. https://doi.org/10.1016/j.cosust.2012.01.007

Larsson MC, Svensson GP (2009) Pheromone monitoring of rare and threatened insects: exploiting a pheromone-kairomone system to estimate prey and predator abundance. Conserv Biol 23:1516–1525. https://doi.org/10.1111/j.1523-1739.2009.01263.x

Larsson MC, Hedin J, Svensson GP, Tolasch T, Francke W (2003) Characteristic odor of Osmoderma eremita identified as a male-released pheromone. J Chem Ecol 29:575–587. https://doi.org/10.1023/A:1022850704500

Lenth R (2019) Emmeans: estimated marginal means, aka least-squares means. R package version 1.3.3

Littlewood N, Stewart AJ, Woodcock B (2012) Science into practice - how can fundamental science contribute to better management of grasslands for invertebrates? Insect Conserv Diver 5:1–8. https://doi.org/10.1111/j.1752-4598.2011.00174.x

Millar JG, Giblin M, Barton D, Underhill EW (1992) Sex pheromone components of the geometrid moths Lobophora nivigerata and Epirrhoe sperryi. J Chem Ecol 18:1057–1068. https://doi.org/10.1007/BF00980062

Millar JG, Haynes KF, Dossey AT, McElfresh JS, Allison JD (2016) Sex attractant pheromone of the Luna moth, Actias luna (Linnaeus). J Chem Ecol 42:869–876. https://doi.org/10.1007/s10886-016-0751-6

Musa N, Andersson K, Burman J, Andersson F, Hedenström E, Jansson N, Paltto H, Westerberg L, Winde I, Larsson MC, Bergman KO (2013) Using sex pheromone and a multi-scale approach to predict the distribution of a rare saproxylic beetle. PLoS One 8:e66149. https://doi.org/10.1371/journal.pone.0066149

Oleander A, Burman J, Buswell V (2018) Fool me once, but rarely fool me twice': recapture rates and the effect of lure-ageing in pheromone traps for the burnet moth Zygaena filipendulae (Linnaeus, 1758) (Lepidoptera: Zygaenidae). Entomol Gaz 69:31–42. https://doi.org/10.31184/G00138894.691.1636

R Core Team (2018) R: a language and environment for statistical computing. R Foundation for Statistical Computing, Vienna. URL https://www.R-project.org/. Accessed May 2019

Samways MJ (2007) Insect conservation: a synthetic management approach. Annu Rev Entomol 52:465–487. https://doi.org/10.1146/annurev.ento.52.110405.091317

Santamaría L, Méndez PF (2012) Evolution in biodiversity policy - current gaps and future needs. Evol Appl 5:202–218. https://doi.org/10.1111/j.1752-4571.2011.00229.x

Shaw M (2010) Rediscovery of Earinus transversus Lyle (Hymenoptera: Braconidae: Agathidinae), a parasitoid of Trichopteryx polycommata (Denis and Schiffermuller) (Lepidoptera). In: Entomologist's Record and Journal of Variation. http://repository.nms.ac.uk/id/eprint/495. Accessed 3 Aug 2018

Subchev MA, Ganev JA, Vostrowsky O, Bestmann HJ (1986) Screening and use of sex attractants in monitoring of geometrid moths in Bulgaria. Z Naturforsch - Section C J Biosci 41:1082–1086. https://doi.org/10.1515/znc-1986-11-1223

Svensson GP, Oleksa A, Gawroński R, Lassance JM, Larsson MC (2009) Enantiomeric conservation of the male-produced sex pheromone facilitates monitoring of threatened European hermit beetles (Osmoderma spp.). Ent Exp Applic 133:276–282. https://doi.org/10.1111/j.1570-7458.2009.00923.x

Szőcs G, Tóth M, Kárpáti Z, Zhu J, Löfstedt C, Plass E, Francke W (2004) Identification of polyenic hydrocarbons from the northern winter moth, Operophtera fagata, and development of a species specific lure for pheromone traps. Chemoecology 14:53–58. https://doi.org/10.1007/s00049-003-0258-9

Thomas JA, Telfer MG, Roy DB, Preston CD, Greenwood JJ, Asher J, Fox R, Clarke RT, Lawton JH (2004) Comparative losses of British butterflies, birds, and plants and the global extinction crisis. Science 303:1879–1881. https://doi.org/10.1126/science.1095046

Waldron A, Mooers AO, Miller DC, Nibbelink N, Redding D, Kuhn TS, Roberts JT, Gittleman JL (2013) Targeting global conservation funding to limit immediate biodiversity declines. Proc Natl Acad Sci U S A 110:1–5. https://doi.org/10.5061/dryad.p69t1

Wigglesworth T, Parsons M, Warren M (2018) Barred tooth striped moth. http://butterfly-conservation.org/files/barred_tooth-striped-psf.pdf. Accessed 3 Aug 2018

Wong JW, Underhill EW, MacKenzie SL, Chisholm MD (1985) Sex attractants for geometrid and noctuid moths - field trapping and electroantennographic responses to triene hydrocarbons and monoepoxydiene derivatives. J Chem Ecol 11:727–756. https://doi.org/10.1007/BF00988302

Yamamoto M, Yamakawa R, Oga T, Takei Y, Kinjo M, Ando T (2008) Synthesis and chemical characterization of hydrocarbons with a 6,9,11-, 3,6,9,11-, or 1,3,6,9-polyene system, pheromone candidates in Lepidoptera. J Chem Ecol 34:1057–1064. https://doi.org/10.1007/s10886-008-9461-z

Yonce CE, Gentry CR, Tumlinson JH, Doolittle RE, Nielsen DG (1976) Lesser peachtree borer: influence of trap height, substrates, concentration, and trap design on capture of male moths with females and with a synthetic pheromone. Environ Entomol 5:417–420. https://doi.org/10.1093/ee/5.3.417

Zauli A, Chiari S, Hedenström E, Svensson GP, Carpaneto GM (2014) Using odour traps for population monitoring and dispersal analysis of the threatened saproxylic beetles Osmoderma eremita and Elater ferrugineus in Central Italy. J Insect Conserv 18:801–813. https://doi.org/10.1007/s10841-014-9687-8
Acknowledgements
We would like to thank Butterfly Conservation UK for recruiting field recorders and helping to coordinate distribution of lures. We would particularly like to thank Tony Davis for obtaining insect material, Martin Wain, Liz Davidson the numerous field recorders who volunteered to help with survey work in Morecambe Bay and Lancashire, and Colin Whiteman and for his help in Sussex trials. Thanks also go to the landowners who allowed access to their property in aid of insect conservation research, and Canterbury Christ Church University for funding the field research.
About this article
Cite this article
Oleander, A., Hall, D.R., Bray, D.P. et al. Identification of Female Sex Pheromone for Monitoring the Barred Tooth Striped Moth, Trichopteryx polycommata, a Priority Conservation Species. J Chem Ecol 45, 649–656 (2019). https://doi.org/10.1007/s10886-019-01093-1
Received:

Revised:

Accepted:

Published:

Issue Date:
Keywords
(Z,Z)-6,9-nonadecadiene

Electroantennography

Insect conservation

Lure

Detection of endangered species

Biodiversity

Mapping indicator species

Live-catching pheromone traps