Abstract
We describe a decision protocol for choosing among potentially efficacious toilet training interventions and tested its effects with 3 preschool participants with disabilities. We utilized a decision protocol (Keohane and Greer 2005) to determine whether to initially implement interval or rapid training interventions as well as to determine whether adequate progress was being made with a particular toilet training intervention. We utilized the decision protocol to individualize toilet training procedure and evaluated its effects in a delayed multiple baseline design. Results indicated that the toileting skills of all participants improved with increased numbers of target voids on the toilet and decreased numbers of accidents as a result of individualized training procedures.
Access options
Buy single article
Instant access to the full article PDF.
US$ 39.95
Tax calculation will be finalised during checkout.
Subscribe to journal
Immediate online access to all issues from 2019. Subscription will auto renew annually.
US$ 79
Tax calculation will be finalised during checkout.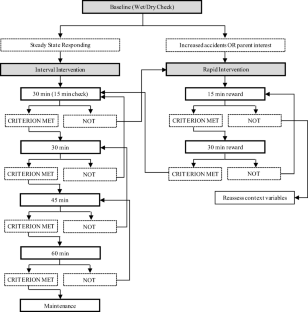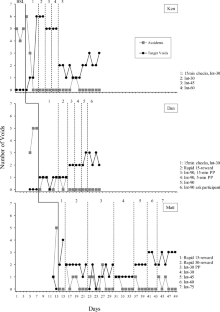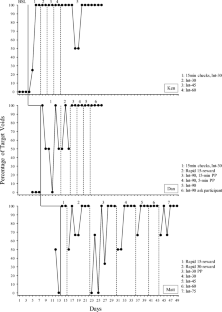 References
Azrin, N. H., & Foxx, R. M. (1971). A rapid method of toilet training the institutionalized retarded. Journal of Applied Behavior Analysis, 4, 89–99.

Cocchiola, M. A., Martino, G. M., Dwyer, L. J., & Demezzo, K. (2012). Toilet training children with autism and developmental delays: An effective program for school settings. Behavior Analysis in Practice, 5, 60–64.

Geiger, K. B., Carr, J. E., & LeBlanc, L. A. (2010). Function-based treatments for escape-maintained problem behavior: A treatment-selection model for practicing behavior analysts. Behavior Analysis in Practice, 3, 22–32.

Greer, D. R. (2002). Designing teaching strategies: An applied behavior analysis systems approach. San Diego: Academic Press.

Greer, B. D., Neidert, P. L., & Dozier, C. L. (2016). A component analysis of toilet-training procedures recommended for young children. Journal of Applied Behavior Analysis, 49, 69–84.

Halliday, S., Meadow, S. R., & Berg, I. (1987). Successful management of daytime enuresis using alarm procedures: A randomly controlled trial. Archives of Disease in Childhood, 62, 132–137.

Horner, R. H., Carr, E. G., Halle, J., McGee, G., Odom, S., & Wolery, M. (2005). The use of single-subject research to identify evidence-based practice in special education. Exceptional Children, 71, 165–179.

Ingham, P., & Greer, R. D. (1992). Changes in student and teacher responses in observed and generalized settings as a function of supervisor observations. Journal of Applied Behavior Analysis, 25, 153–164.

Keohane, D. D., & Greer, R. D. (2005). Teacher's use of verbally governed algorithm and student learning. International Journal of Behavioral Consultation and Therapy, 1, 252–271.

Kipfmiller, K. J., Brodhead, M. T., Wolfe, K., LaLonde, K., Sipia, E. S., Savana Bak, M. Y., & Fisher, M. H. (2019). Training front-line employees to conduct visual analysis using a clinical decision-making model. Advanced online copy. Journal of Behavioral Education, 28, 301–322. https://doi.org/10.1007/s10864-018-09318-1.

Kroeger, K. A., & Sorensen-Burnworth, R. (2009). Toilet training individuals with autism and other developmental disabilities: A critical review. Research in Autism Spectrum Disorders, 3, 607–618.

LeBlanc, L. A., Carr, J. E., Crossett, S. E., Bennett, C. M., & Detweiler, D. D. (2005). Intensive outpatient behavioral treatment of primary urinary incontinence of children with autism. Focus on Autism and Other Developmental Disabilities, 20, 98–105.

LeBlanc, L. A., Raetz, P. B., Sellers, T. P., & Carr, J. E. (2016). A proposed model for selecting measurement procedures for the assessment and treatment of problem behavior. Behavior Analysis in Practice, 9, 77–83.

Post, A. R., & Kirkpatrick, M. A. (2004). Toilet training for a young boy with pervasive developmental disorder. Behavioral Interventions, 19, 45–50.

Shelov, S. P. (2009) Caring for your baby and young child, birth to age 5 (5th ed.). American Academy of Pediatrics. Bentham: New York.

Vermandel, A., Weyler, J., De Wachter, S., & Wyndaele, J. J. (2008). Toilet training of healthy young toddlers: A randomized trial between a daytime wetting alarm and timed potty training. Journal of Developmental and Behavioral Pediatrics, 29, 191–196.
Ethics declarations
Ethical Approval
The school's Institutional Review Board deemed this research as exempt educational research. All procedures performed in studies involving human participants were in accordance with the ethical standards of the institutional and/or national research committee and 1964 Helsinki declaration and its later amendments or comparable ethical standard.
Informed Consent
Each participant's parent consented to the dissemination of data collected during regular educational activities.
Conflict of Interest
All three authors claim no conflict of interest.
Additional information
Publisher's Note
Springer Nature remains neutral with regard to jurisdictional claims in published maps and institutional affiliations.
About this article
Cite this article
Frank, M.R., Kim, J.Y. & Fienup, D.M. The Effects of a Decision-Protocol Informed Toilet Training Intervention for Preschoolers with Disabilities. J Dev Phys Disabil 32, 477–488 (2020). https://doi.org/10.1007/s10882-019-09703-2
Keywords
Preschoolers with disabilities

Decision protocol

Interval toilet training

Rapid toilet training

Toilet training