Abstract
With urban development, many small urban areas are being integrated into large ones, which leads to redundancy of domestic waste disposal facilities. How to optimize these facilities is a major problem of urban administrative departments. In this study, we consider three strategies to deal with this problem, which are redundant deletion, garbage bin redistribution, and system reconstruction, through which, we have carried out the redivision of facilities area and the relocation of facilities. Three mathematical models are designed, and Voronoi technology and a clustering algorithm are applied to handle them. Finally, a simulation case based on the regional integration of the Old Eastern, Old West, Chongwen, and Xuanwu Districts in Beijing is studied, and the research results show that the efficiency of the system is increased from 74.9% to 85.9%, to 95.6%, and to 100%.
This is a preview of subscription content, log in to check access.
Access options
Buy single article
Instant access to the full article PDF.
US$ 39.95
Price includes VAT for USA
Subscribe to journal
Immediate online access to all issues from 2019. Subscription will auto renew annually.
US$ 99
This is the net price. Taxes to be calculated in checkout.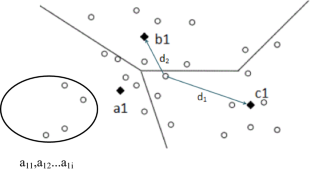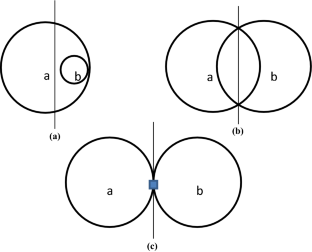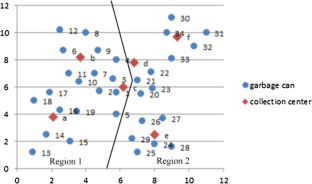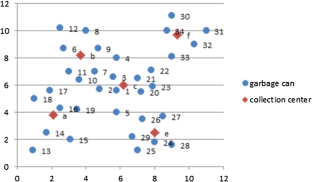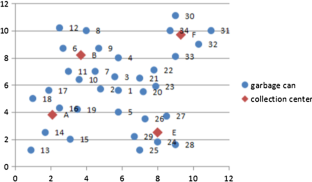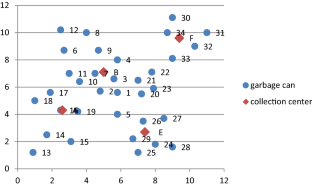 References
Asefi H, Lim S, Maghrebi M, Shahparvari S (2019) Mathematical modelling and heuristic approaches to the location-routing problem of a cost-effective integrated solid waste management. Ann Oper Res 273(1–2):75–110

Badran MF, El-Haggar SM (2006) Optimization of municipal solid waste management in Port Said – Egypt. Waste Manag 26:534–545

Bautista J, Jordi P (2006) Modeling the problem of locating collection areas for urban waste management: an application to the metropolitan area of Barcelona. Omega 34(6):617–629

China Statistical Yearbook. China Statistical Publishing House (2010)

Cortés J (2010) Coverage optimization and spatial load balancing by robotic sensor networks. IEEE Trans Autom Control 55(3):749–754

Coutinho-Rodrigues J, Tralhão L, Alçada-Almeida L (2012) A bi-objective modeling approach applied to an urban semi-desirable facility location problem. Eur J Oper Res 223(1):203–213

Erkut E et al (2008) A multicriteria facility location model for municipal solid waste management in North Greece. Eur J Oper Res 187(3):1402–1421

Farahbakhsh A, Forghani MA (2018) Sustainable location and route planning with GIS for waste sorting centers, case study: Kerman. Iran. Waste Manag Res 37:287–300

Ghiani G, Laganà D, Manni E, Triki C (2012) Capacitated location of collection sites in an urban waste management system. Waste Manag 32(7):1291–1296

Husson L et al (2018) Bayesian surface reconstruction of geodetic uplift rates: mapping the global fingerprint of glacial isostatic adjustment. J Geodyn 122:25–40

Kara SS, Onut S (2010) A stochastic optimization approach for paper recycling reverse logistics network design under uncertainty. Int J Environ Sci Technol 7(4):717–730

Kyriakis E, Psomopoulos C, Kokkotis P et al (2017) A step by step selection method for the location and the size of a waste-to-energy facility targeting the maximum output energy and minimization of gate fee. Environ Sci Pollut Res 25:1–10

Mahboubi H et al (2013) Distributed deployment strategies for improved coverage in a network of mobile sensors with prioritized sensing field. IEEE Trans Ind Inform 9(1):451–461

Onions J et al (2012) Subhaloes going Notts: the subhalo-finder comparison project. Mon Not R Astron Soc 423(2):1200–1214

Purkayastha D, Majumder M, Chakrabarti S (2015) Collection and recycle bin location-allocation problem in solid waste management: a review. Pollution 1(2):175–191

ReVelle CS, Eiselt HA (2005) Location analysis: a synthesis and survey. Eur J Oper Res 165(1):1–19

Song G et al (2015) Social cost accounting method and application of urban domestic waste landfill disposal taking beijing as an example. J Arid Land Resour Environ 29(8):57–63

Sun Y et al (2018) Voronoi diagram and crowdsourcing-based radio map interpolation for GRNN fingerprinting localization using WLAN. Sensors 18(10):3579

Vidović M, Ratković B, Bjelić N, Popović D (2016) A two-echelon location-routing model for designing recycling logistics networks with profit: mILP and heuristic approach. Expert Syst Appl 51:34–48

Wan S et al (2019) Multi-dimensional data indexing and range query processing via Voronoi diagram for internet of things. Future Gen Comput Syst 91:382–391

Yadav V, Karmakar S (2019) Sustainable collection and transportation of municipal solid waste in urban centers. Sustain Cities Soc 53:101937

Yadav V, Karmakar S, Dikshit AK, Vanjari S (2016) A feasibility study for the locations of waste transfer stations in urban centers: a case study on the city of Nashik, India. J Clean Prod 126:191–205

Yadav V, Bhurjee AK, Karmakar S, Dikshit AK (2017) A facility location model for municipal solid waste management system under uncertain environment. Sci Total Environ 603:760–771
Funding
The work was partly supported by National Key Research and Development Program of China (No. 2019YFC1906102), National Key Technology Research and Development Program of the Ministry of Science and Technology of China (No. 2015BAK39B00).
Additional information
Publisher's Note
Springer Nature remains neutral with regard to jurisdictional claims in published maps and institutional affiliations.
About this article
Cite this article
Xin, C., Liang, S. & Shen, F. Reconfiguration of garbage collection system based on Voronoi graph theory: a simulation case of Beijing region. J Comb Optim (2020). https://doi.org/10.1007/s10878-020-00614-z
Keywords
Location problem

Domestic waste collection system

Voronoi graph theory

Clustering algorithm