Abstract
Because the use of conventional digital palpation technique for the identification of cricothyroid membrane (CTM) has been widely believed to be unreliable, the 'laryngeal handshake' technique (LH) has been introduced for CTM identification in the event of cricothyroidotomy. To provide evidence for clinical practice, this pilot meta-analysis aimed at investigating whether identification of CTM with the LH is superior to that with the palpation technique. Studies that evaluated the accuracy of CTM identification by using LH or palpation techniques (i.e., LH group vs. Palpation group) were identified from electronic databases including PubMed, Embase, Medline, google scholar, Cochrane Central Register of Controlled Trials from inception to July 5, 2020. The primary outcome was the accuracy of both techniques. Four studies published from 2018 to 2020 were considered relevant and were read in full. We found no significant difference in success rate of CTM identification [Risk Ratio (RR) 1.09, 95% CI 0.89–1.34, p = 0.41] between the two groups. These preliminary results of the current study demonstrated no significant differences in success rate between the laryngeal handshake and conventional palpation techniques in cricothyroid membrane identification.
Access options
Buy single article
Instant access to the full article PDF.
US$ 39.95
Tax calculation will be finalised during checkout.
Subscribe to journal
Immediate online access to all issues from 2019. Subscription will auto renew annually.
US$ 79
Tax calculation will be finalised during checkout.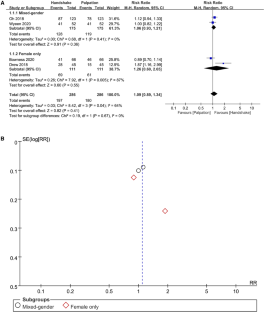 References
1.

Levitan RM. Cricothyrotomy. Airway Cam—airway management education and training. http://www.airwaycam.com/cricothyrotomy. Accessed 4 Aug 2015.

2.

Frerk C, Mitchell VS, McNarry AF, Mendonca C, Bhagrath R, Patel A, O'Sullivan EP, Woodall NM, Ahmad I, Difficult Airway Society Intubation Guidelines Working Group. Difficult Airway Society 2015 guidelines for management of unanticipated difficult intubation in adults. Br J Anaesth. 2015;115:827–48.

3.

Moore A, Curtis R, Umar M. A comparison of the laryngeal handshake method versus the traditional index finger palpation method in identifying the cricothyroid membrane, when performed by combat medic trainees. J Spec Oper Med. 2019;19:71–5.

4.

Bowness J, Taylor A, Le Saint-Grant A, Dalton A, Crawley S, Chisholm F, Varsou O, Teoh WH, Kristensen M, McGuire B. Identifying the cricothyroid membrane: a comparison of palpation, laryngeal handshake and ultrasound. Trends Anaesth Crit Care. 2020;30:e56.

5.

Drew T, McCaul C. Laryngeal handshake technique in locating the cricothyroid membrane: a non-randomised comparative study. Br J Anaesth. 2018;121:1173–8.

6.

Oh H, Yoon S, Seo M, Oh E, Yoon H, Lee H, Lee J, Ryu HG. Utility of the laryngeal handshake method for identifying the cricothyroid membrane. Acta Anaesthesiol Scand. 2018;62:1223–8.

7.

Wyeen KW, Masri SNNS, Yusof AM, Izaham A, Mahdi SNM, Nor NM. Accuracy of digital palpation and laryngeal handshake in identification of cricothyroid membrane: An observational study. Anaesth Pain Intensive Care. 2020;24:168–74.

8.

Lang S, Kleijnen J. Quality assessment tools for observational studies: lack of consensus. Int J Evid Based Healthc. 2010;8:247.

9.

Kristensen MS, Teoh WH, Rudolph SS. Ultrasonographic identification of the cricothyroid membrane: best evidence, techniques, and clinical impact. Br J Anaesth. 2016;117(Suppl 1):i39–48.
Ethics declarations
Conflict of interest
The authors declare that they have no conflicts of interest.
Additional information
Publisher's Note
Springer Nature remains neutral with regard to jurisdictional claims in published maps and institutional affiliations.
Supplementary Information
Below is the link to the electronic supplementary material.
About this article
Cite this article
Hung, KC., Lin, YT. & Sun, CK. Comparison between laryngeal handshake and palpation techniques in the identification of cricothyroid membrane: a meta-analysis. J Clin Monit Comput (2021). https://doi.org/10.1007/s10877-021-00649-5
Received:

Accepted:

Published:
Keywords
Laryngeal handshake

Cricothyroid membrane

Palpation technique

Cricothyroidotomy

Cricoid cartilage