Two Coordination Modes of Bidentate Aminopyrazine Ligands in Cubane-type Cluster Complex Re4Te4Cl8(C4N3H4)4 · 2DMF
Abstract
A new cubane-type cluster complex Re4Te4Cl4(C4H4N3)4 · 2DMF has been synthesized by reaction of Re4Te4Cl8(TeCl2)4 with 2-aminopyrazine C4H5N3 in DMF. The crystal structure of compound has been solved by X-ray single crystal diffraction method. Crystal data for Re4Te4Cl4(C4N3H4)4 · 2DMF: a = 22.8718(16) Å, b = 8.5936(7) Å, c = 20.5720(17) Å, β o = 106.493(2), V = 3877.1(5) Å3, R 1 = 0.0466, R w(F 2) = 0.1191. In the complex bidentate aminopyrazine ligands are coordinated in two different types, namely, two of four aminopyrazine ligands bind to a single rhenium atom, and each of two other ligands is coordinated as bridge between two rhenium atoms.
Graphical Abstract
A new cubane-type cluster complex Re
4
Te
4
Cl
4
(C
4
H
4
N
3
)
4
  · 2DMF with two coordination modes of bidentate aminopyrazine ligands has been synthesized and structurally characterized.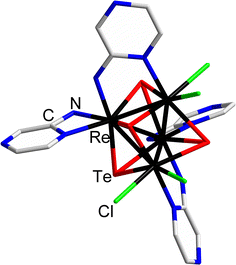 Keywords
Cubane Re4 cluster 
2-Aminopyrazine 
Synthesis 
Crystal structure 
Notes
Acknowledgments
The research was supported by the International Bureau of the Federal Ministry of Education and Research (Grant RUS 01/241, RUS 07/005) and by PECO-NEI (RFR Contract n° 370 from the French "Ministère de l'Education Nationale, Enseignement Supérieur et Recherche"), and ECO-NET (contract n°18845ZH from the French "Ministère des Affaires Etrangères").
Copyright information
© Springer Science+Business Media, LLC 2008