Abstract
Familial hemophagocytic lymphohistiocytosis (HLH) is a life-threatening hyperinflammatory syndrome resulting from defective cytotoxicity. A previously healthy 3-month-old female presented with fever, irritability, abdominal distention, and tachypnea. She ultimately met all eight HLH-2004 diagnostic criteria, accompanied by elevated CXCL9. Initial empiric anti-inflammatory treatment included anakinra and IVIg, which stabilized ferritin and cytopenias. She had molecular and genetic confirmation of perforin deficiency and was started on dexamethasone and etoposide per HLH-94. She clinically improved, though CXCL9 and sIL-2Ra remained elevated. She was readmitted at week 8 for relapsed HLH without clear trigger and HLH-94 induction therapy was reinitiated. Her systemic HLH symptoms failed to respond and she soon developed symptomatic CNS HLH. She was incidentally found to have multifocal lung and kidney nodules, which were sterile and consisted largely of histiocytes and activated, oligoclonal CD8 T cells. The patient had a laboratory response to salvage therapy with alemtuzumab and emapalumab, but progressive neurologic decline led to withdrawal of care. This report highlights HLH foci manifest as pulmonary/renal nodules, demonstrates the utility of monitoring an array of HLH biomarkers, and suggests possible benefit of earlier salvage therapy.
Access options
Buy single article
Instant access to the full article PDF.
US$ 39.95
Tax calculation will be finalised during checkout.
Subscribe to journal
Immediate online access to all issues from 2019. Subscription will auto renew annually.
US$ 79
Tax calculation will be finalised during checkout.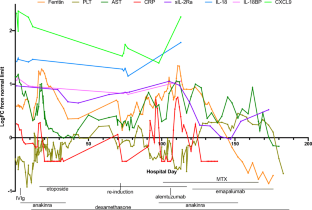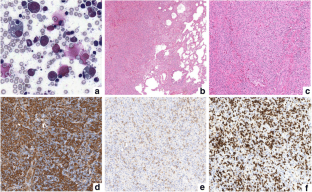 Data Availability
All data generated or analyzed during this study are included in this submission.
Abbreviations
HLH:

Hemophagocytic lymphohistiocytosis

FHL:

Familial hemophagocytic lymphohistiocytosis

HSCT:

Hematopoietic stem cell transplantation

VUS:

Variants of uncertain significance

NK:

Natural killer cell

CTL:

Cytotoxic T lymphocyte

sIL2-R:

Soluble interleukin-2 receptor

IL-18BP:

Interleukin-18 binding protein

CNS:

Central nervous system

CSF:

Cerebrospinal fluid

MRI:

Magnetic resonance imaging

IVIG:

Intravenous immunoglobulin

HD:

Hospital day
References
1.

Chinn IK, Eckstein OS, Peckham-Gregory EC, et al. Genetic and mechanistic diversity in pediatric hemophagocytic lymphohistiocytosis. Blood. 2018;132(1):89–100

2.

Stepp SE, Dufourcq-Lagelouse R, Le Deist F, et al. Perforin gene defects in familial hemophagocytic lymphohistiocytosis. Science (80- ). 1999;286(5446):1957–9.

3.

Henter JI, Horne AC, Aricó M, Egeler RM, Filipovich AH, Imashuku S, et al. HLH-2004: diagnostic and therapeutic guidelines for hemophagocytic lymphohistiocytosis. Pediatr Blood Cancer. 2007;48(2):124–31. https://doi.org/10.1002/pbc.21039.

4.

Otrock ZK, Daver N, Eby CS. Diagnostic challenges of hemophagocytic lymphohistiocytosis. Clin Lymphoma Myeloma Leuk. 2017;17:S105–10. https://doi.org/10.1016/j.clml.2017.02.017.

5.

Wada T, Kanegane H, Ohta K, Katoh F, Imamura T, Nakazawa Y, et al. Sustained elevation of serum interleukin-18 and its association with hemophagocytic lymphohistiocytosis in XIAP deficiency. Cytokine. 2014;65(1):74–8.

6.

Weiss ES, Girard-Guyonvarc' C, Holzinger D, et al. Interleukin-18 diagnostically distinguishes and pathogenically promotes human and murine macrophage activation syndrome. Blood. 2018;131(13):1442–55.

7.

Horne AC, Trottestam H, Aricò M, Egeler RM, Filipovich AH, Gadner H, et al. Frequency and spectrum of central nervous system involvement in 193 children with haemophagocytic lymphohistiocytosis. Br J Haematol. 2008;140(3):327–35. https://doi.org/10.1111/j.1365-2141.2007.06922.x.
Acknowledgements
SC is supported by R01HD098428 and the RK Mellon Institute for Pediatric Research. JD is supported by a Burroughs-Wellcome Physician-Scientist development award held by the University of Pittsburgh. MM-R is supported by the Marjorie K. Harmer Endowment for Research in Pediatric Pathology. JD is supported by T32HD071834.
Funding
SC has received research support for an ongoing clinical trial from AB2Bio, Ltd. All other authors have no financial relationships relevant to this article to disclose.
Ethics declarations
Ethical Approval
This study was performed in line with the principles of the Declaration of Helsinki. Approval was granted by the Institutional Review Board of the University of Pittsburgh (STUDY20010099).
Consent to Participate
Freely-given, written informed consent to participate in the study was obtained according the above-referenced protocol.
Consent to Publish
Consent to publish is included in the informed consent to participate in the above-referenced protocol.
Competing Interests
The authors declare no competing interests.
Additional information
Publisher's Note
Springer Nature remains neutral with regard to jurisdictional claims in published maps and institutional affiliations.
Supplementary Information
About this article
Cite this article
Segal, J.E., Daley, J., Barnum, J. et al. Systemic and Nodular Hyperinflammation in a Patient with Refractory Familial Hemophagocytic Lymphohistiocytosis 2. J Clin Immunol (2021). https://doi.org/10.1007/s10875-021-00986-9
Received:

Accepted:

Published:
Keywords
Hemophagocytic lymphohistiocytosis

perforin

cytokine storm

biomarkers

hyperinflammation

immunotherapy