Synthesis, Crystal Structures and DFT Calculations of Two New Phenol-Based Ester Derivatives
Abstract
Two new phenol-based ester derivatives, namely C13H9ClO2 (I) and C20H14O4 (II) have been synthesized and characterized by NMR spectroscopy, single crystal X-ray diffraction and density functional theory (DFT) geometry optimization and molecular orbital calculations. Compound I crystallizes in the orthorhombic space group Pca2(1),with a = 7.6297 (5) Å, b = 5.5875 (3) Å, c = 26.1624 (12) Å, α = β = γ = 90°, V = 1115.33(11) Å3 and Z = 4. Compound II crystallizes in the triclinic space group P \(\bar 1\), with a = 5.7970 (4) Å, b = 8.1366 (8) Å, c = 8.8057 (9) Å, α = 83.246 (8)°, β = 72.138 (8)°, γ = 76.696 (8)°, V = 384.22 (6) Å3 and Z = 1. Geometry optimization calculations for each compound is consistent with these observations. A comparison of the dihedral angles between mean planes of the benzene rings in the crystal with the DFT theoretical calculations and weak intermolecular hydrogen bond interactions has been included for each molecule. Electronic transitions have been predicted by DFT Molecular Orbital calculations and compared with experimental absorption spectra.
Graphical Abstract
Synthesis, crystal structures, DFT geometry optimization and molecular orbital surface calculations of two new phenol-based ester derivatives of 4-chlorophenyl benzoate, (I): C
13
H
9
ClO
2
and 1,4-phenylene dibenzoate, (II): C
20
H
14
O
4
.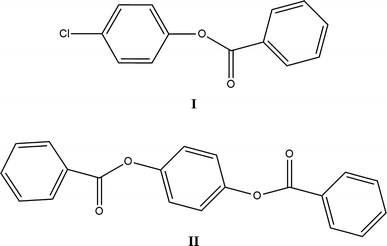 Keywords
Phenol-based ester derivatives 
Crystal structure 
DFT geometry optimization calculations 
Frontier molecular orbitals 
Notes
Acknowledgments
SKG thanks UGC (University Grants Commission, New Delhi) for financial assistance [Grant No. F.37-500/2009 (SR)]. JPJ acknowledges the NSF–MRI (Grant No. CHE1039027) for funds to purchase the X-ray diffractometer.
Copyright information
© Springer Science+Business Media New York 2016