Crystal and Molecular Structures of Three Salts from Aliphatic Amines (2,4-Dichlorophenoxy)-acetic acid, 4-Nitrophthalic Acid, and 1,5-Naphthalenedisulfonic Acid
Abstract
Three aliphatic amine derived supramolecular complexes were synthesized and structurally characterized by X-ray crystallography. All these structures adopted the hetero supramolecular synthons. Compound 1 crystallizes in the monoclinic, space group C2/c, with a = 40.328(7) Å, b = 7.2054(14) Å, c = 7.6464(17) Å, α = 90º, β = 97.364(16)º, γ = 90º, V = 2203.6(8) Å3, Z = 8. Compound 2 crystallizes in the monoclinic, space group P2(1)/n, with a = 7.4134(4) Å, b = 18.3749(14) Å, c = 12.1456(12) Å, α = 90º, β = 104.227(2)º, γ = 90º, V = 1603.7(2) Å3, Z = 4. Compound 3 crystallizes in the monoclinic, space group P2(1)/c, with a = 9.8804(7) Å, b = 10.5061(8) Å, c = 11.8262(9) Å, α = 90º, β = 104.674(2)º, γ = 90º, V = 1187.57(15) Å3, Z = 2. Analysis of the crystal packing of 1–3 suggests that there are N–H···O hydrogen bonds between the acids and the aliphatic amines in all of the compounds. Except the classical hydrogen bonds, the secondary propagating interactions including CH···O, CH2···O, CH2···Cl, CH3···π, and π···π interactions also play important roles in the structure extension. In conclusion, we have shown that 2D–3D structures can be constructed by the collective non-covalent interactions.
Graphical Abstract
The crystal structures of the salts from aliphatic amines, (2,4-dichlorophenoxy)-acetic acid, 4-nitrophthalic acid, and 1,5-naphthalenedisulfonic acid are predominantly stabilized by the classical hydrogen bonds as well as CH···O, CH
2
···O, CH
2
···Cl, CH
3
···π, and π···π interactions.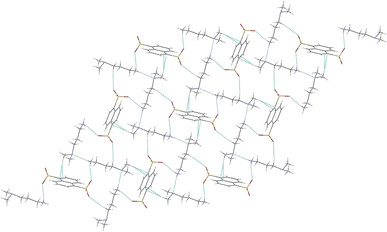 Keywords
Crystal structures 
Aliphatic amines 
Organic acids 
Hydrogen bonds 
Nonconventional interactions 
Notes
Acknowledgments
This research was supported by Zhejiang Provincial Natural Science Foundation of China under Grant No. LY14B010006, the Education Office Foundation of Zhejiang Province under Grant No. Y201017321, the National Training Programs of Innovation and Entrepreneurship of China for Undergraduates under Grant No. 201410341022, and the Open Foundation of Key Laboratory of Chemical Utilization of Forestry Biomass of Zhejiang Province, Zhejiang A & F University under Grant No. 2015CUFB02.
Copyright information
© Springer Science+Business Media New York 2015