Hydrogen Bonded Supramolecular Association in Organic Acid–Base Salts: Crystal Structures of Four Proton-Transfer Complexes Assembled from 2-Amino-4-methylpyridine with 2-Chloro, 4-Chloro, 3-Methyl and 4-Methylbenzoic Acid
Abstract
Four molecular salts, 2-amino-4-methylpyridinium 2-chlorobenzoate [(2A4MP)+·(2CBA)−] (A), 2-amino-4-methylpyridinium 4-chlorobenzoate [(2A4MP)+·(4CBA)−] (B), 2-amino-4-methylpyridinium 3-methylbenzoate [(2A4MP)+·(3MBA)−] (C), and 2-amino-4-methylpyridinium 4-methylbenzoate dihydrate [(2A4MP)+·(4MBA)−·(2H2O)] (D), were obtained from self-assembly of the corresponding acid with the 2-amino-4-methylpyridine, and their structures were fully characterized. All the four compounds are organic salts, with proton transfer occurring to the pyridine N of the 2-amino-4-methylpyridine moiety. All four molecular salts adopt supramolecular [R 2 2 (8)] heterosynthons [N+–H···O− (±) charge-assisted hydrogen bonds]. These heterosynthons are further connected via N–H···O hydrogen bonds to form supramolecular chain in all of the salts except in D. All supramolecular architectures of the adducts A–D involve extensive classical hydrogen bonds as well as other noncovalent interactions. The role of weak and strong noncovalent interactions in the crystal packing is ascertained. All the complexes displayed 1D–3D frameworks structure for the synergistic effect of the various non-covalent interactions.
Graphical Abstract
The crystal structure determinations of the proton-transfer compounds of 2-amino-4-methylpyridine with the aromatic carboxylic acids, 2-chloro, 4-chloro, 3-methyl and 4-methylbenzoic acid have allowed the description of the hydrogen-bonding features of the respective 1D–3D frameworks structures.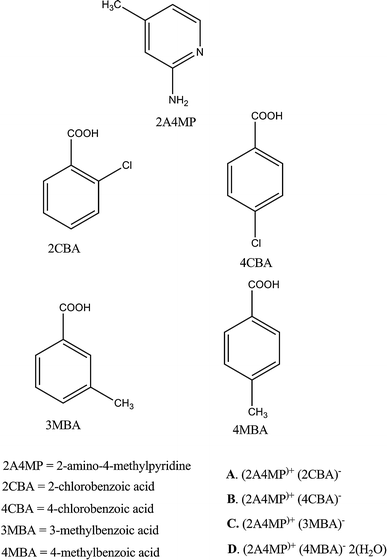 Keywords
X-ray diffraction 
Hydrogen bond 
Crystal structure 
Structure characterization 
Aminopyridine-acidic components 
Supramolecular heterosynthon 
Organic salt 
Notes
Acknowledgments
The authors thank the Malaysian Government and Universiti Sains Malaysia (USM) for the research facilities and USM Short Term Grant, No. 304/PFIZIK/6312078 to conduct this work. KT thanks the Academy of Sciences for the Developing World and USM for the TWAS–USM fellowship. NCK thanks the Ministry of Education Malaysia for the MyBrain15 Myphd scholarships.
Copyright information
© Springer Science+Business Media New York 2014