Identification and Analysis of a 2:1 Monoclinic Phase for the Organic Donor–Acceptor Complex o-Me2TTF-TCNB: Structural and Spectroscopic Studies of a New Solid State Configuration
Abstract
In this communication, we present the single crystal X-ray structure and spectroscopic properties for a newly discovered 2:1 phase for the organic donor–acceptor complex o-Me2TTF-TCNB. This new phase crystallizes in the monoclinic space group P2 1 /n with a = 7.6846(17) Å, b = 19.8987(19) Å, c = 9.1844(8) Å and β = 91.955(7)°. Valence sensitive bond distances, specifically the central C=C bond and four ancillary C–S bonds in o-Me2TTF and the cyanide groups of TCNB were compared to those from the free components and suggested that both the donor and acceptor molecules remained neutral in the complex. Additionally, infrared spectroscopy measurements were conducted and the corresponding vibrational frequencies for selected bands from the donor and acceptor molecules further support the hypothesis that neutral molecules were present.
Graphical Abstract
Herein we present the structure and infrared spectroscopic properties for the 2:1 monoclinic phase of the donor–acceptor complex
o
-Me
2
TTF-TCNB (
o
-Me
2
TTF = 
o
-3,4-dimethyltetrathiafulvalene; TCNB = 1,2,4,5-tetracyanobenzene), a complex which has already had its 1:1 triclinic form described.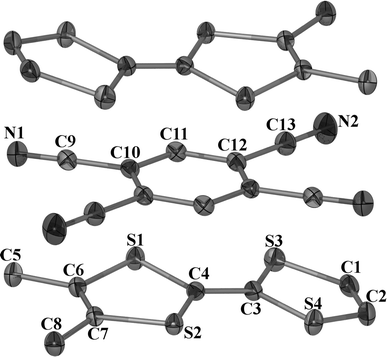 Keywords
TTF 
o-Me2TTF 
TCNB 
Notes
Acknowledgments
SPF and EWR would like to acknowledge California State University San Marcos for the funds necessary to purchase the Rigaku SCXMini X-ray diffractometer.
Copyright information
© Springer Science+Business Media New York 2014