Syntheses, Crystal Structures and Electrochemical Activities of Co(II) and Cu(II)-Complexes with 5-Aminosalicylate Derivatives
Abstract
Reaction of 5-aminosalicylic acid with 2-pyridinecarboxaldehyde or sodium chloroacetate gave two new ligands 5-((pyridin-2-yl)methyleneamino)-2-hydroxybenzoic acid (HL1) and 5-(bis(carboxymethyl)amino)-2-hydroxybenzoic acid (H2L2), respectively. Two compounds [Co(L1)2(H2O)2]·2H2O (1) and [Cu2(L2)2(phen)2] (2) (phen = 1,10-phenanthroline) were synthesized and characterized by IR, PXRD, TGA and cyclic voltammetry. Single crystal X-ray diffraction analysis reveals that complex 1 is a mononuclear structure and the metal center is coordinated in an octahedral geometry. Complex 2 is a dinuclear structure, in which the Cu atom is in a square pyramidal geometry.
Graphical Abstract
The cobalt ion is chelated by two 5-((pyridine-2-yl)methyleneamino)-2-hydroxybenzoinates to form a mononuclear structure. The compound an electrocatalytic activity of the reduction reaction from H
2
O
2
to H
2
O.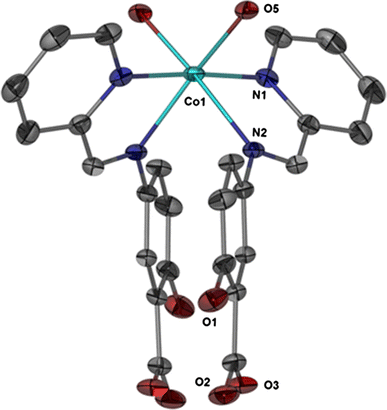 Keywords
Crystal structures 
Electrochemical activities 
Aminosalicylate derivatives 
Notes
Acknowledgments
This work was financially supported by the NSFC (20971075, 61078055), the Natural Science Foundation of Zhejiang province (LY12B01005), the State Key Laboratory of Structural Chemistry (20110010), Fujian Institute of Research on the Structure of Matter, CAS and sponsored K. C. Wong Magna Fund in Ningbo University.
Copyright information
© Springer Science+Business Media New York 2013