A Comparative Rietveld Refinement Study of Natisite Prepared in Different Morphology
Abstract
Two morphological types of the synthetic analogue of the mineral natisite Na2TiSiO5 have been prepared in the system Na2O–TiO2–SiO2–H2O. The crystal structures of the obtained pillow (A)- and coin (B)-shaped particles have been refined with similar parameters by the method of Rietveld, compared to each other and to the available single crystal X-ray diffraction data. Sample B showed bigger unit cell with longer a = b and shorter c-axis when compared with phase A. The shorter a = b axes in phase A led to compensative elongation of the c-axis and notably longer terminal bond distance in the TiO5 semi-octahedra. Analysis of the refined structural parameters showed that Ti–O bond of the unshared apical oxygen is the most responsive to the lattice strain. Additionally, the overall mechanism of structural response to the observed microstructural distortions is discussed.
Graphical Abstract
The possible influence of different particle morphology on the Rietveld refinement results of synthetic natisite has been evaluated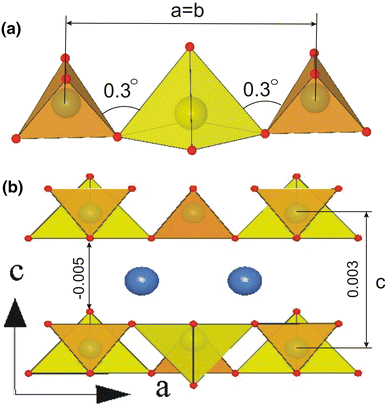 .
Keywords
Natisite 
Morphology 
Lattice strain 
Rietveld 
Notes
Acknowledgments
This work was supported by SEMAT and FCT, Project PTDC/CTM/108953/2008.
Copyright information
© Springer Science+Business Media New York 2013