Resolution of the Chiral (1R,2S) Enantiomer of cis-Cyclohexane-1,2-dicarboxylic Acid in the Brucinium Salt 2,3-Dimethoxy-10-oxostrychnidinium (1R,2S)-2-carboxycyclohexane-1-carboxylate Dihydrate
Abstract
The structure of the 1:1 brucinium salt of cis-cyclohexane-1,2-dicarboxylic acid, 2,3-dimethoxy-10-oxostrychnidinium (1R,2S)-2-carboxycyclohexane-1-carboxylate dihydrate, has revealed the resolved (1R,2S) enantiomer of the acid. Crystals of the compound are orthorhombic, space group P212121, with unit cell dimensions a = 8.1955(3), b = 12.4034(3), c = 29.9073(9) Å, and Z = 4. The asymmetric unit comprises the brucinium cation, the hydrogen cis-cyclohexane-1,2-dicarboxylate anion, in which the carboxylate group is disordered over two sites (58, 42%), and two water molecules of solvation, one of which is occupies two 50% occupancy sites. The classic undulating brucinium cation substructures are present with the anion and the water molecules occupying the interstitial cavities and are hydrogen-bonded to them in a two-dimensional network structure.
Graphical Abstract
The structure determination of the 1:1 proton-transfer hydrate salt of
cis
-cyclohexane-1,2-dicarboxylic acid with brucine has revealed the presence of the (1
R
,2
S
) enantiomeric form of the acid in a hydrogen-bonded structure.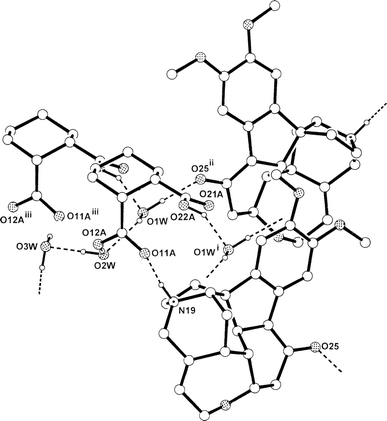 Keywords
Brucine 
cis-cyclohexane-1,2-dicarboxylic acid 
Proton-transfer compound 
Hydrogen bonding 
Notes
Acknowledgments
The authors acknowledge financial support from the Australian Research Council, the Science and Engineering Faculty (Queensland University of Technology) and Griffith University.
Copyright information
© Springer Science+Business Media, LLC 2012