Synthesis and Crystal Structures of Dioxomolybdenum(VI) Complexes with ONS-Donor Ligands
Abstract
Three dioxomolybdenum complexes namely dioxo(5-chlorosalicylaldehyde thiosemicarbazonato) dimethylsulfoxide molybdenum(VI) (C1), dioxo(5-chlorosalicylaldehyde 2-ethylthiosemicarbazonato) dimethylsulfoxide molybdenum(VI) (C2) and dioxo(5-chlorosalicylaldehyde N-phenylthiosemicarbazonato) dimethylsulfoxide molybdenum(VI) (C3) were prepared. The compounds all crystallize in the triclinic space group P-1 with a = 7.3184(3) Å, b = 7.5035(3) Å, c = 14.9713(6) Å, α = 85.005(2)°, β = 85.616(2)°, γ = 66.987(2)° for C1, a = 8.2339(1) Å, b = 10.1739(1) Å, c = 10.4017(1) Å, α = 78.486(1)°, β = 89.312(1)°, γ = 81.730(1)° for C2, a = 7.0591(1) Å, b = 9.5603(1) Å, c = 14.5762(2) Å, α = 76.280(1)°, β = 81.351(1)°, γ = 81.985(1)° for C3. In general, the overall geometry of these complexes can be regarded as a distorted octahedron with the tridentate thiosemicarbazonato ligands (L2−) bonded to the MoO2 2+ core, with the imine nitrogen, phenoxyl oxygen, sulfur atom and one of the terminal oxygen atoms of the dioxomolybdenum occupying the equatorial position. The sixth coordination site is occupied by the dimethylsulfoxide (DMSO) solvent molecules. The adjacent molecules of C1 are linked by N–H···N intermolecular hydrogen bonding, forming polymeric chains that run parallel to the bc plane. On the other hand, C2 is a discrete molecule while the molecules of C3 associate via weak N–H···O hydrogen bonding interaction to form a polymeric chain that runs along the a-axis.
Graphical Abstract
Crystal Structures Study of The Thiosemicarbanone Dioxomolybdenum(VI) Complexes.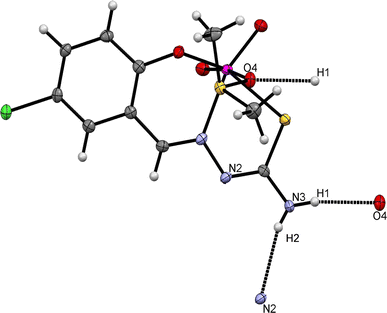 Keywords
Dioxomolybdenum(VI) complexes 
Schiff base 
Hydrogen bond 
ONS donor atoms 
Notes
Acknowledgment
We wish to thank the University of Malaya (PS378/2010B and RG020/09AFR) for supporting this study.
Copyright information
© Springer Science+Business Media, LLC 2011