Absence of Platinophilic Interactions in a Series of Tetracyanoplatinates Incorporating Cyclic Amines
Abstract
Three novel compounds have been synthesized and structurally characterized: [1,10-Hphen]2Pt(CN)4·2H2O (1a) space group P21/n, a = 8.73070(17) Å, b = 15.4609(2) Å, c = 9.82661(19) Å, β = 103.252(2)°; [2,2′-Hbipy]2Pt(CN)4·2H2O (1b) space group P21/n, a = 7.0859(14) Å, b = 12.940(2) Å, c = 13.7486(19) Å, β = 100.708(16)°; K2[Pt(CN)4]·2phen (phen = 1,10-phenanthroline) (2) space group P21/c, a = 8.1393(4) Å, b = 20.4050(9) Å, c = 8.4085(4) Å, β = 105.284°. All three structures contain isolated [Pt(CN)4]2− ions and they all illustrate the absence of Pt⋯Pt interactions due to the presence of bulky cyclic amines or ammoniums. The structures of 1a and 1b contain large organic cations, 2,2′-bipyridinium and 1,10-phenanthrolinium, respectively while compound 2 contains neutral 1,10-phenanthroline molecules co-crystallized between the potassium tetracyanoplatinate framework.
Graphical Abstract
The structures are presented for three non-isostructural tetracyanoplatinates all incorporating cyclic amines. All three structures are isolated as salts that lack Pt⋯Pt interactions. Structures
1a
and
1b
are stabilized through hydrogen bonding while structure
2
is a cocrystal with alternating layers of potassium tetracyanoplatinate and 1,10-phenanthroline.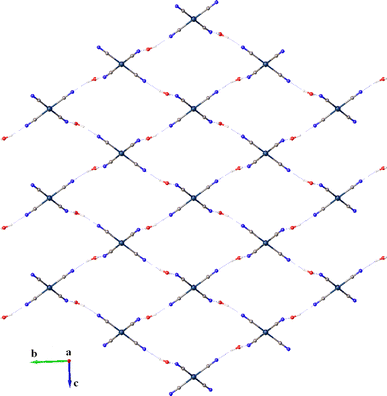 Keywords
Tetracyanoplatinate 
Single-crystal X-ray diffraction 
Hydrogen bonding 
2,2′-Bipyridinium 
1,10-Phenanthrolinium 
1,10-Phenanthroline 
Notes
Acknowledgment
The authors gratefully acknowledge the National Science Foundation for their generous support (NSF-CAREER grant to R.E.S., CHE-0846680).
Copyright information
© Springer Science+Business Media, LLC 2011